Gallery and Reports
New WI Adviser
Sue Butters presented with her certificate for successfully completing her WI Advisers Course - CONGRATULATIONS from all on the Board of Trustees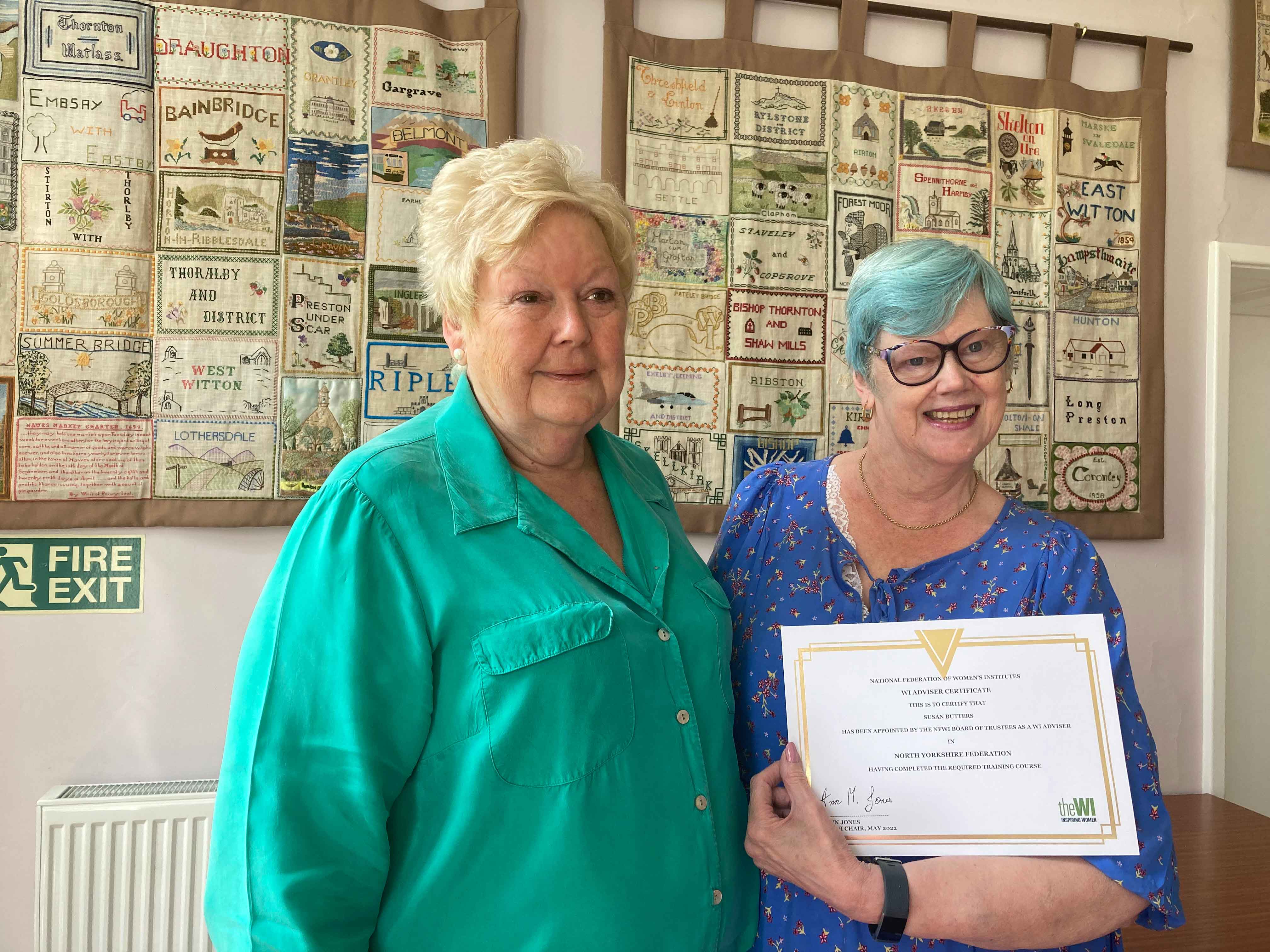 Bishop Monkton WI Celebrates 95 Years
Members enjoyed a buffet, singing, a proverbs quiz, toasts, raffle and delicious lemon and elderflower cake made by fellow villager Colin Hunter.
View video via this link
Pictured are past presidents- Margaret Simpson Florence Bowes Ann McDonnell Ruth Martin Joan McLaren, from Left to right.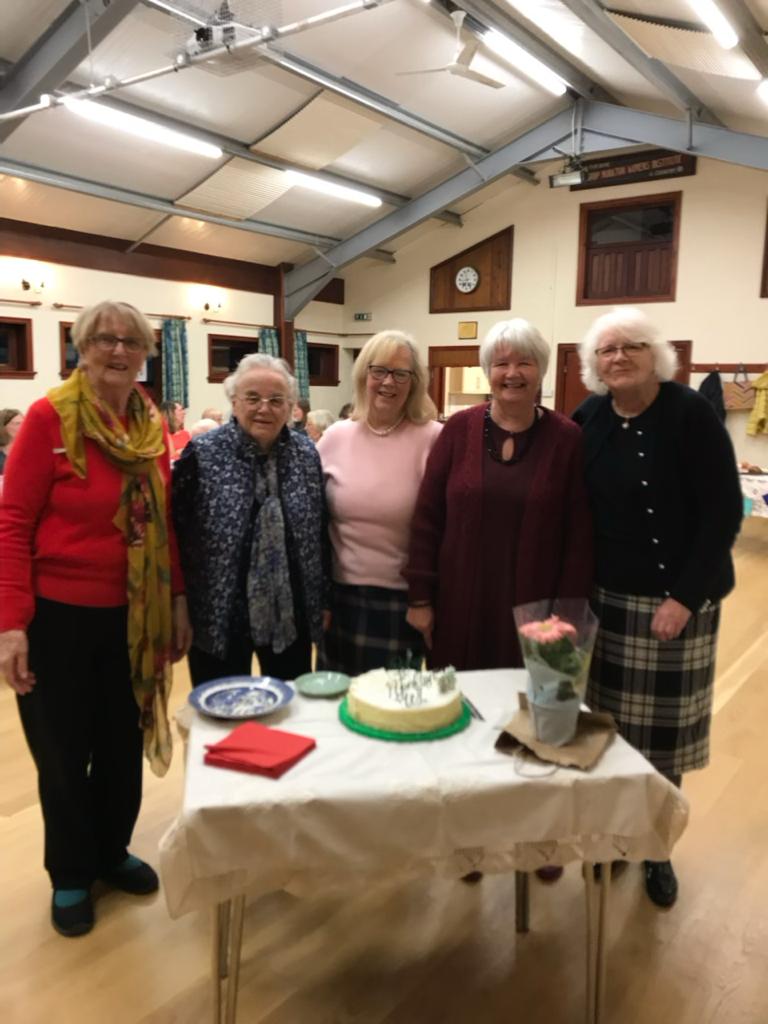 International Day - 23 April 2022
Some images from the day - the Gurkhas unfortunately were unable to attend.
Nepal Day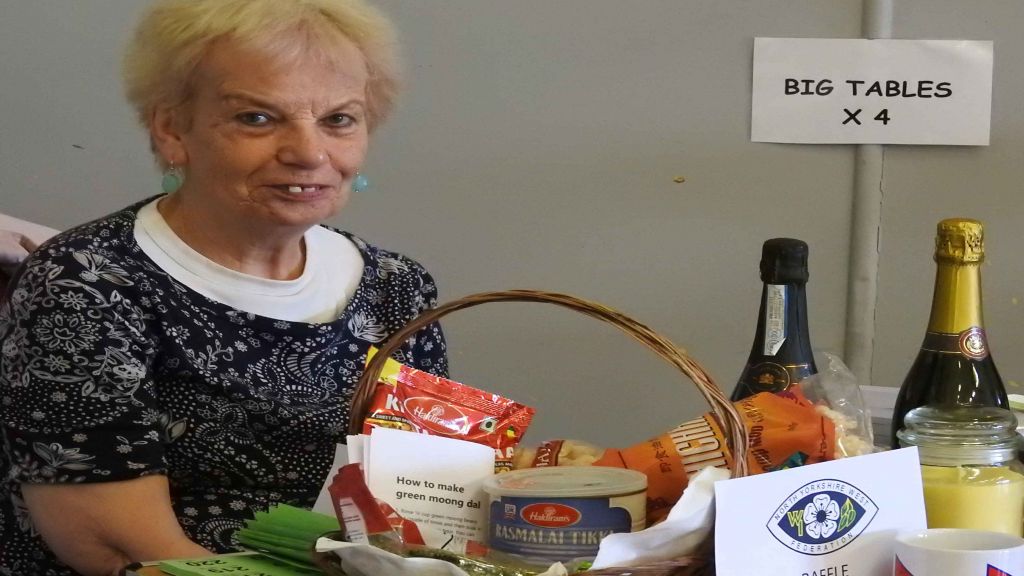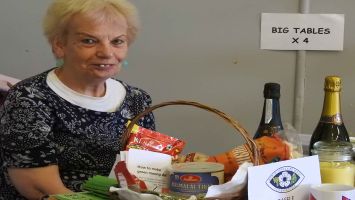 Spring Council
Harrogate
6 April 2022
A selection of images from the day including both our speakers - Anne Jones and Dulcie Gray.
Further images images of the day and Anne Jones presenting prizes and certificates - KEEP SCROLLING there are lots, any WI wanting original copies (which are not as squashed) please contact Hazel Smyth via web.nwyorkswi@yahoo.co.uk.
Spring Council 1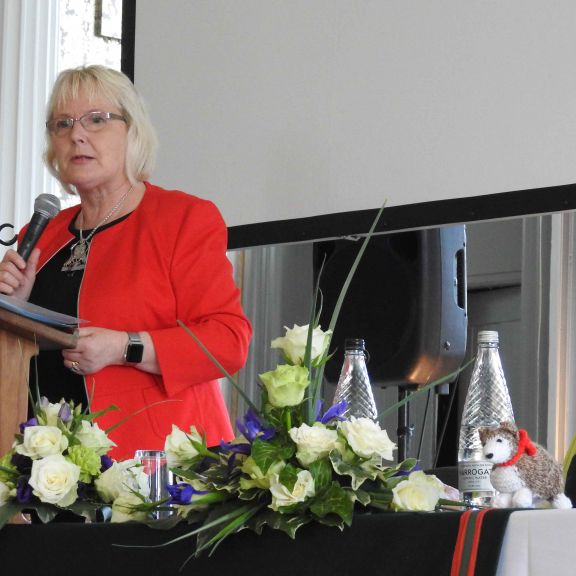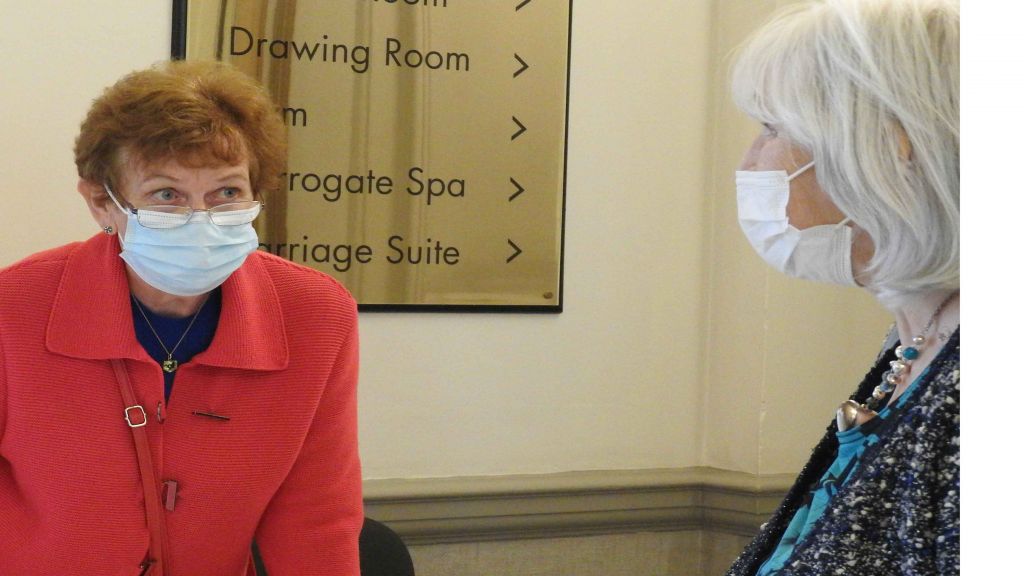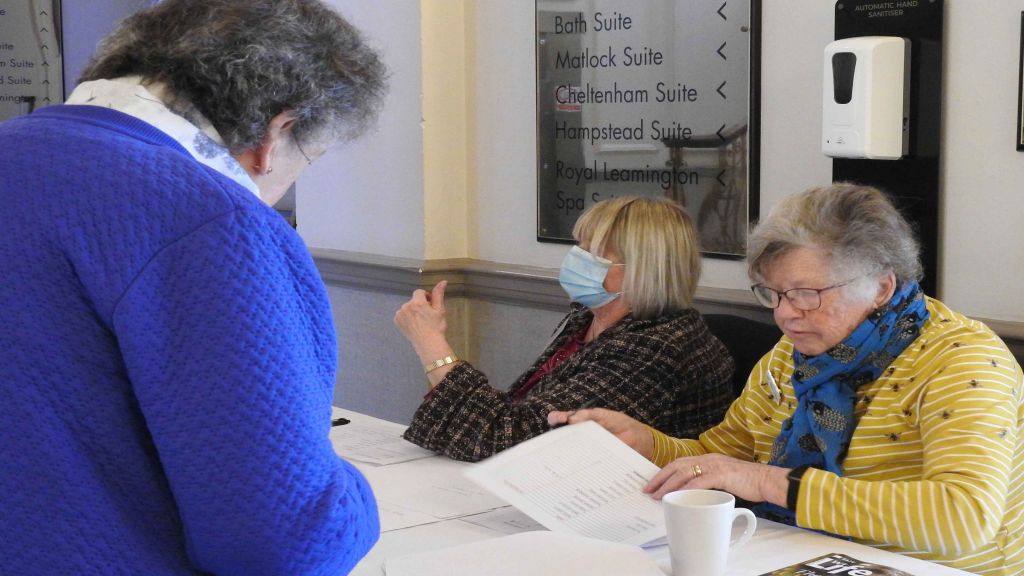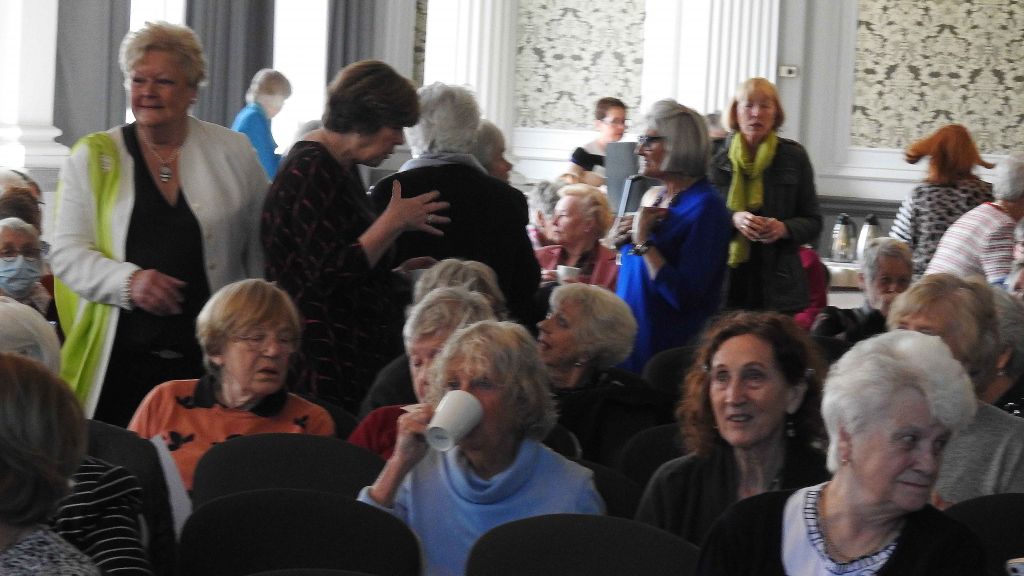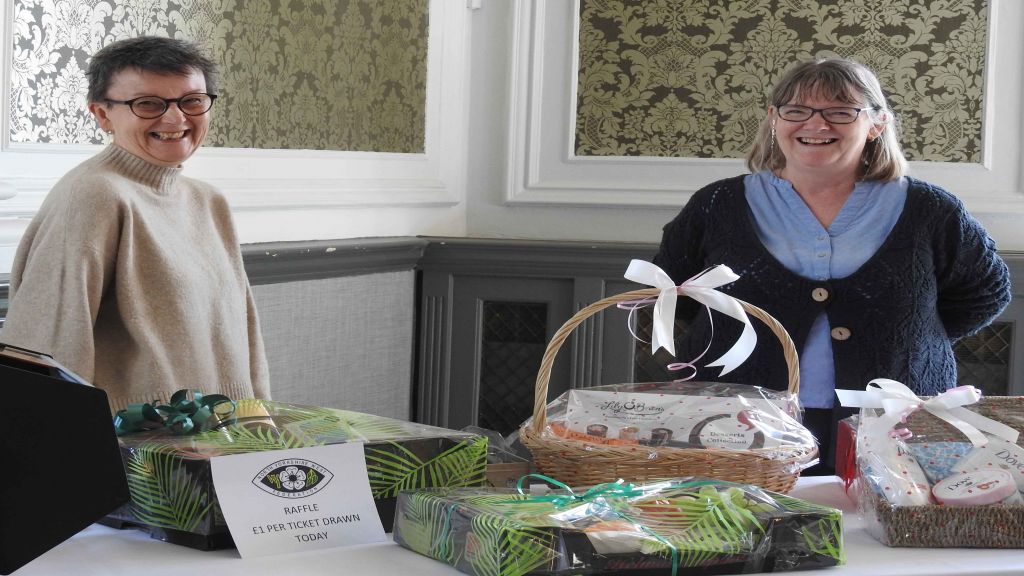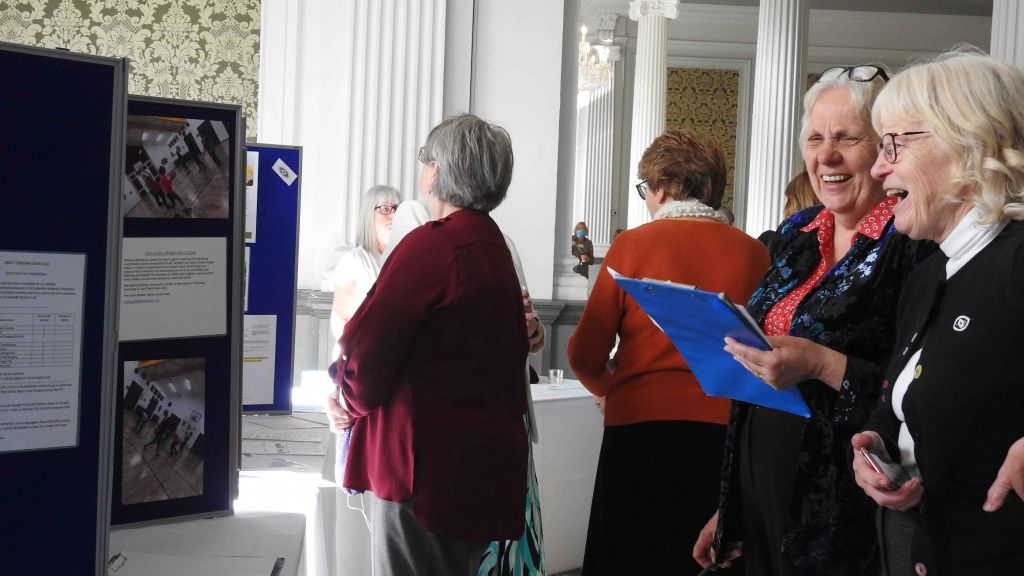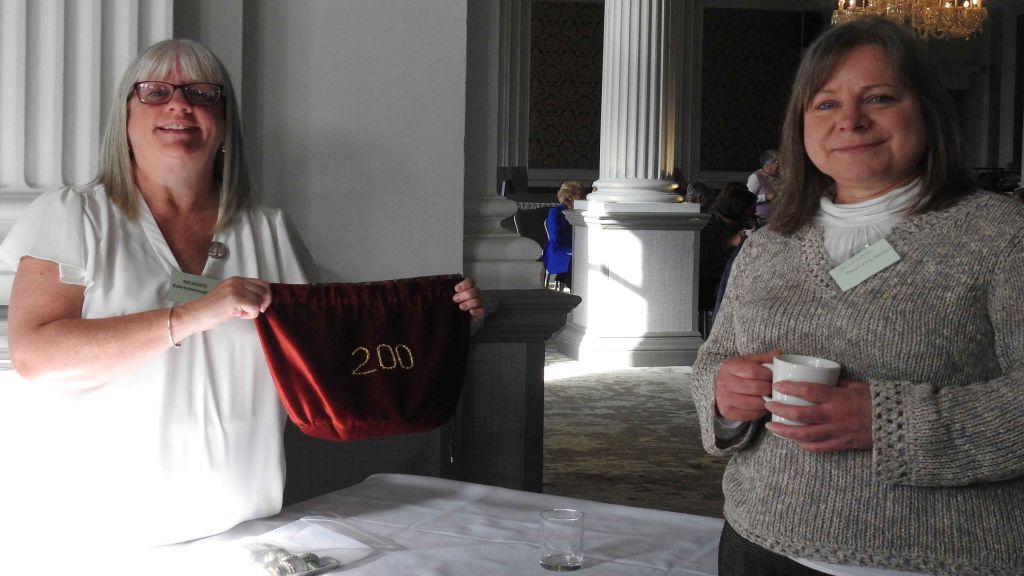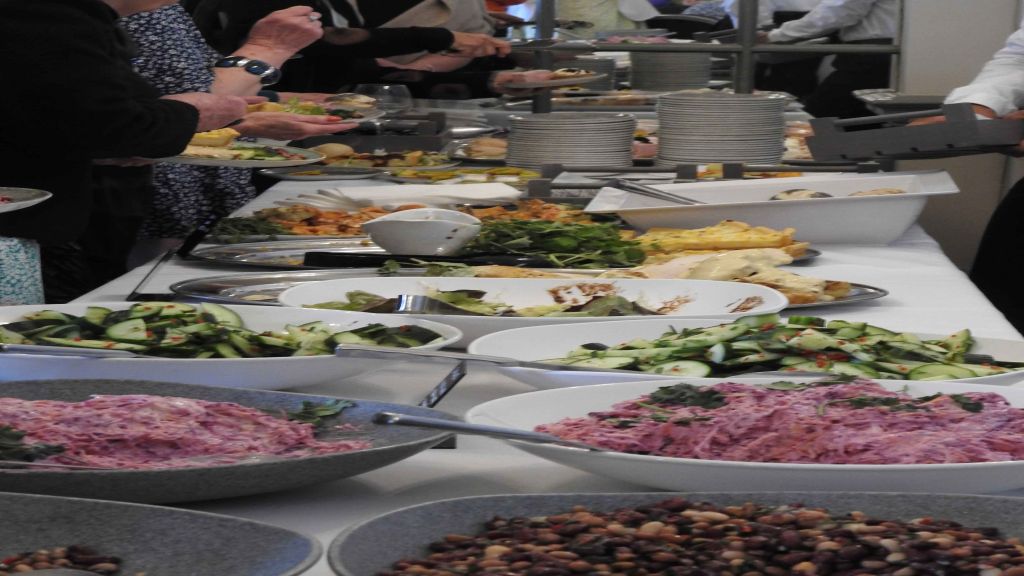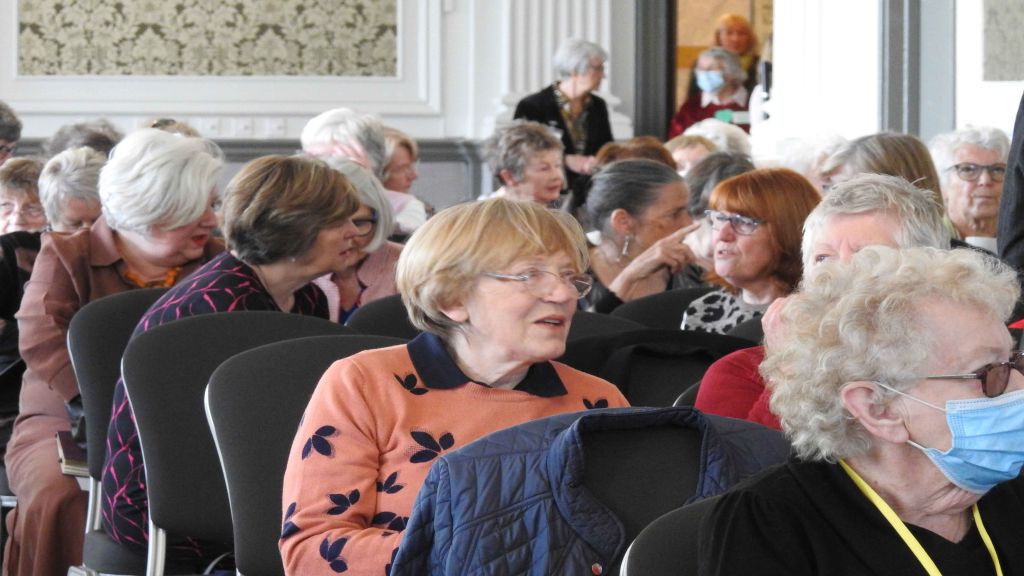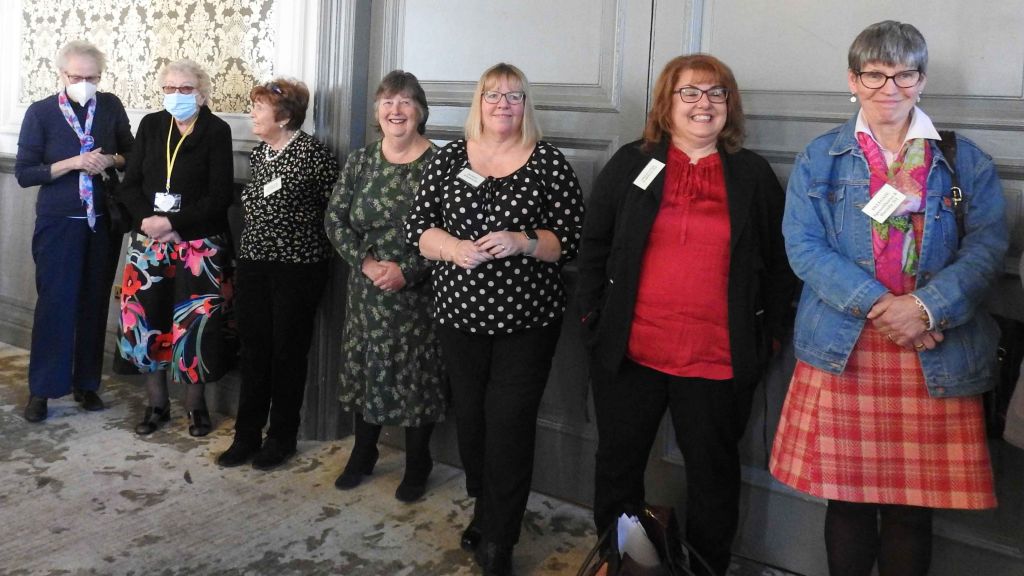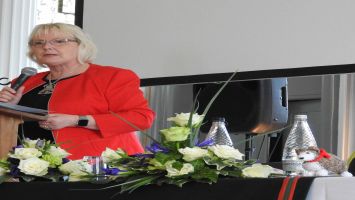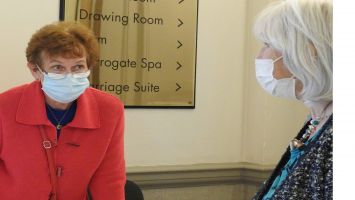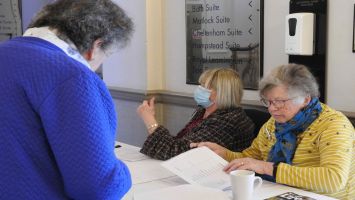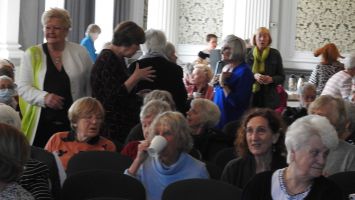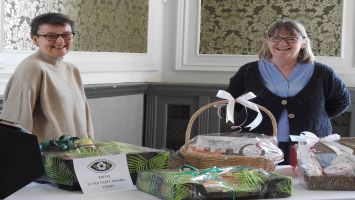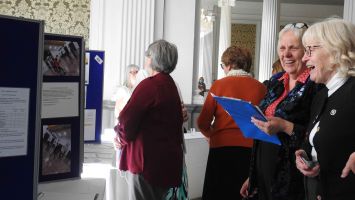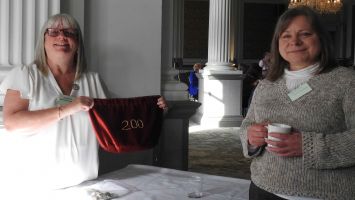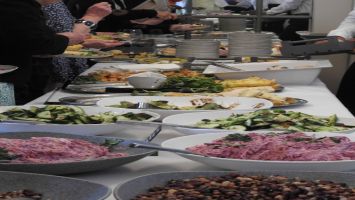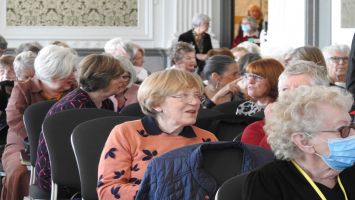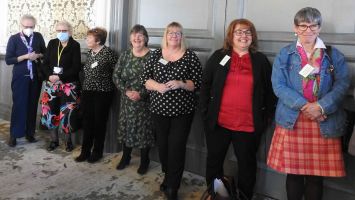 Spring Council 2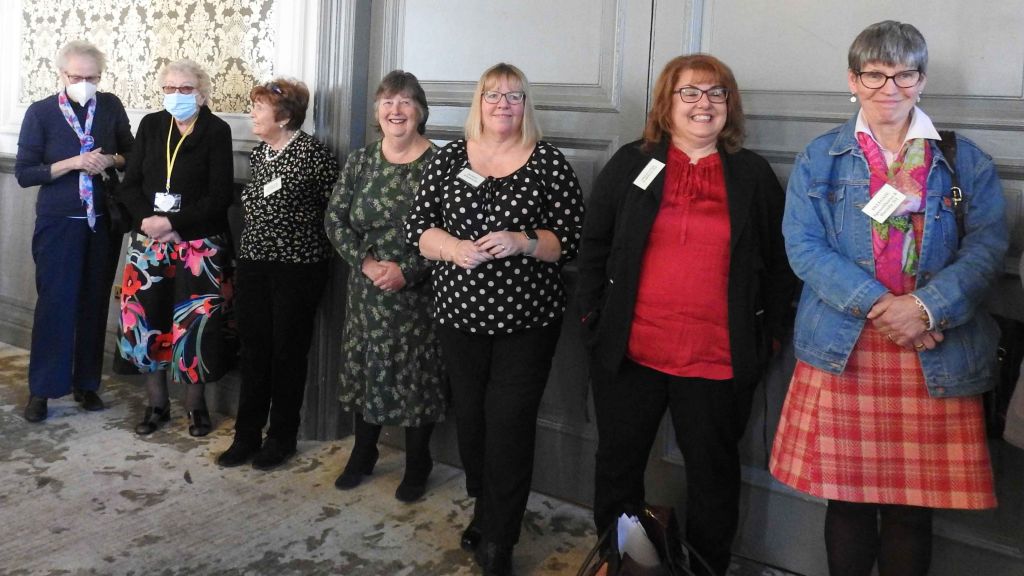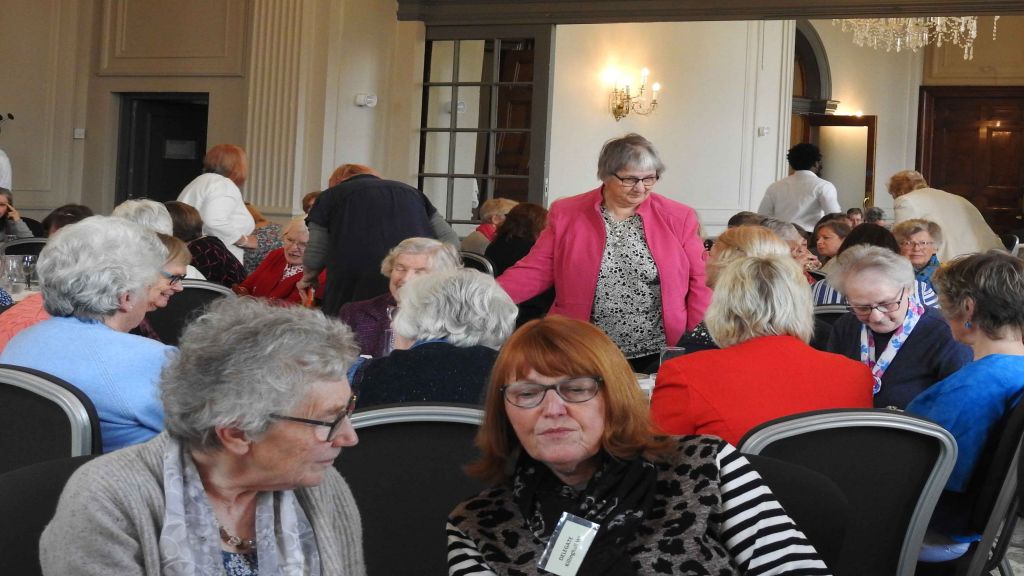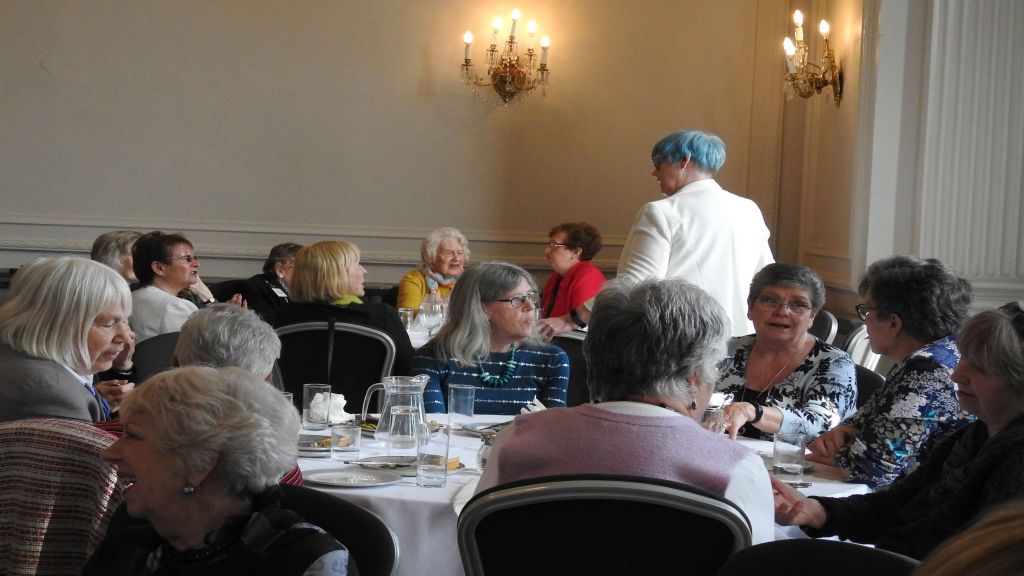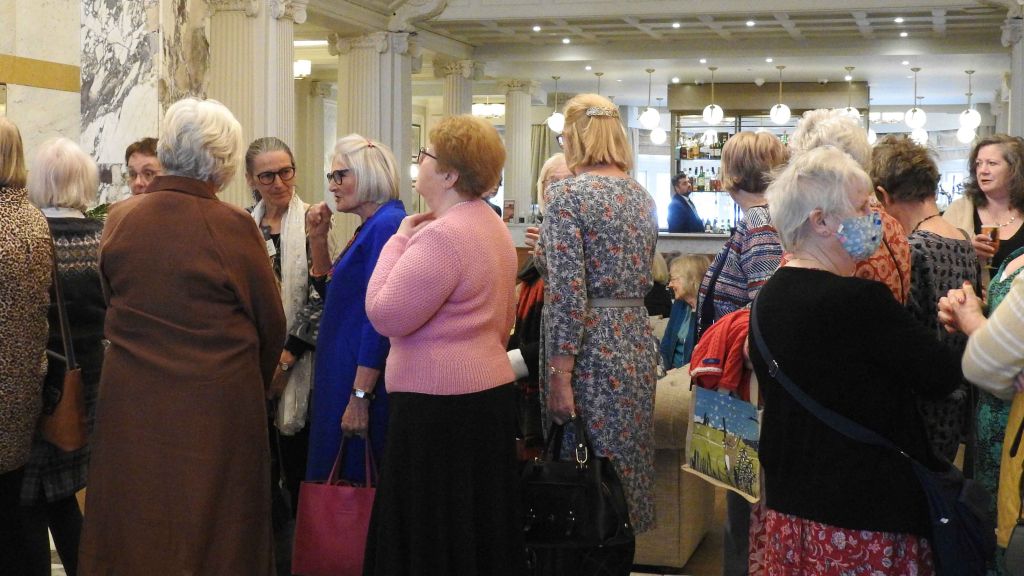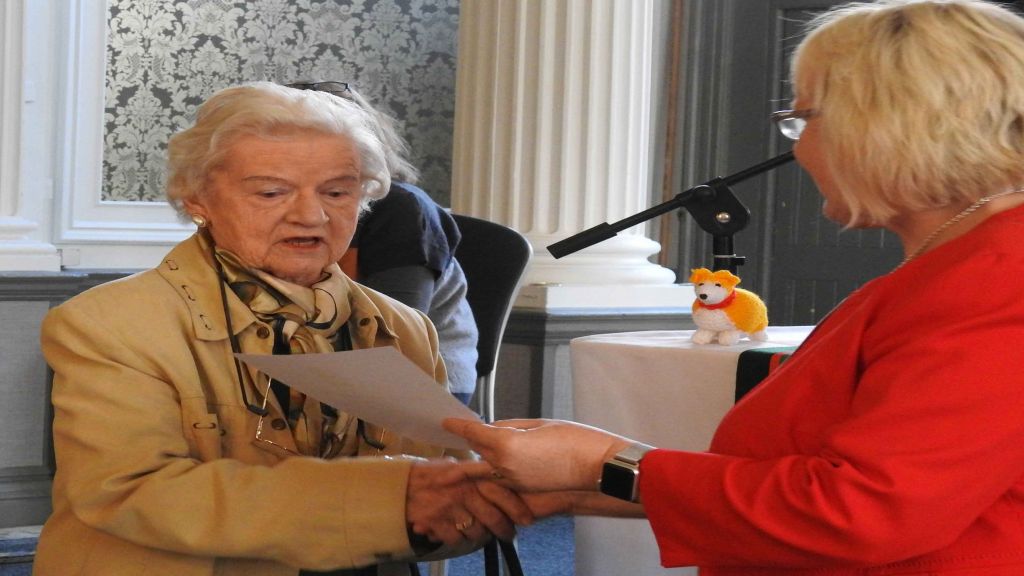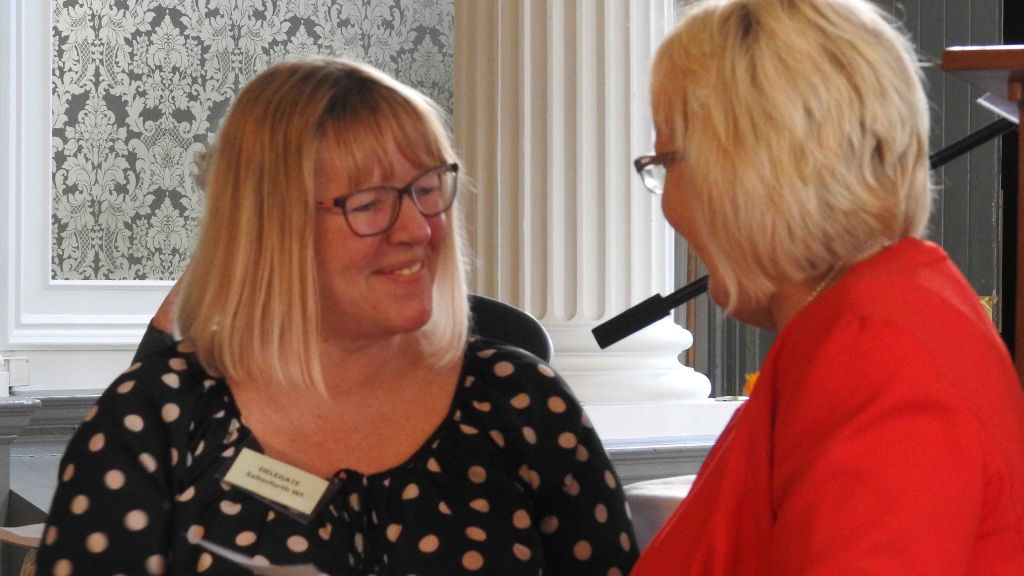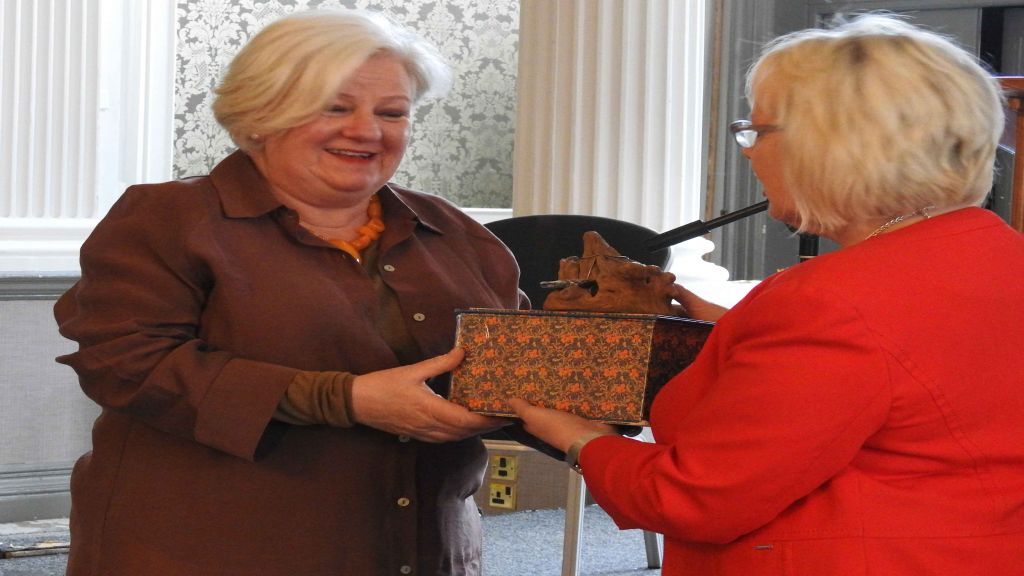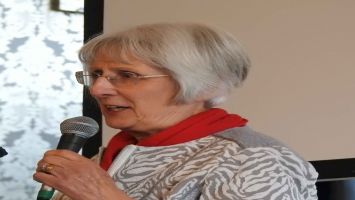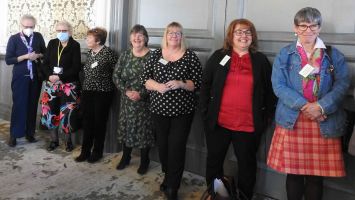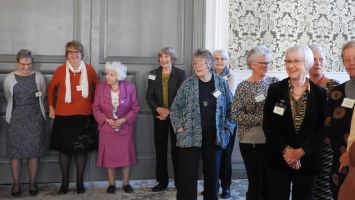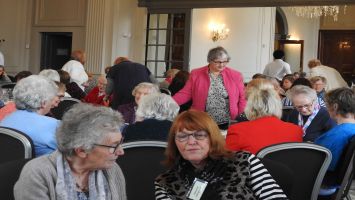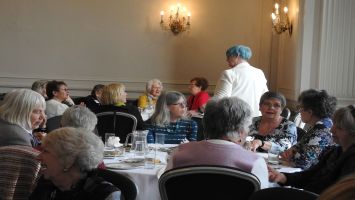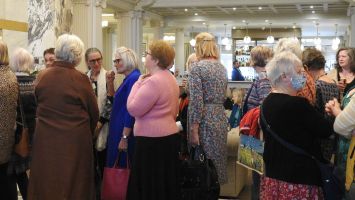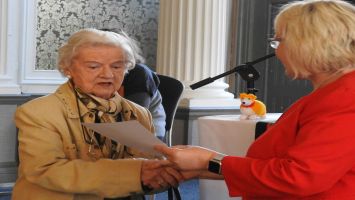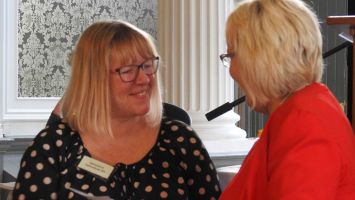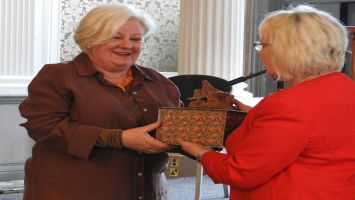 Presentation 1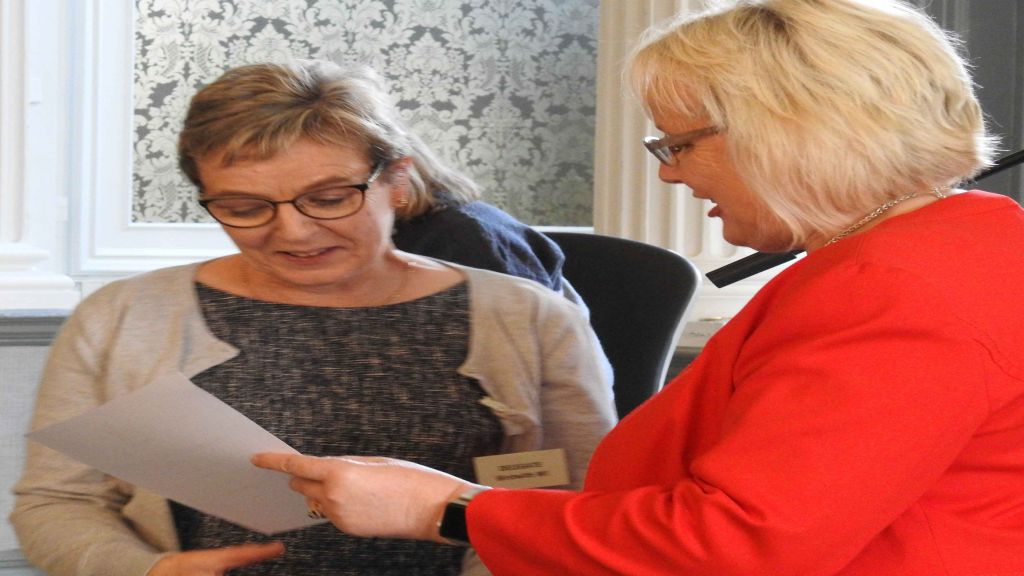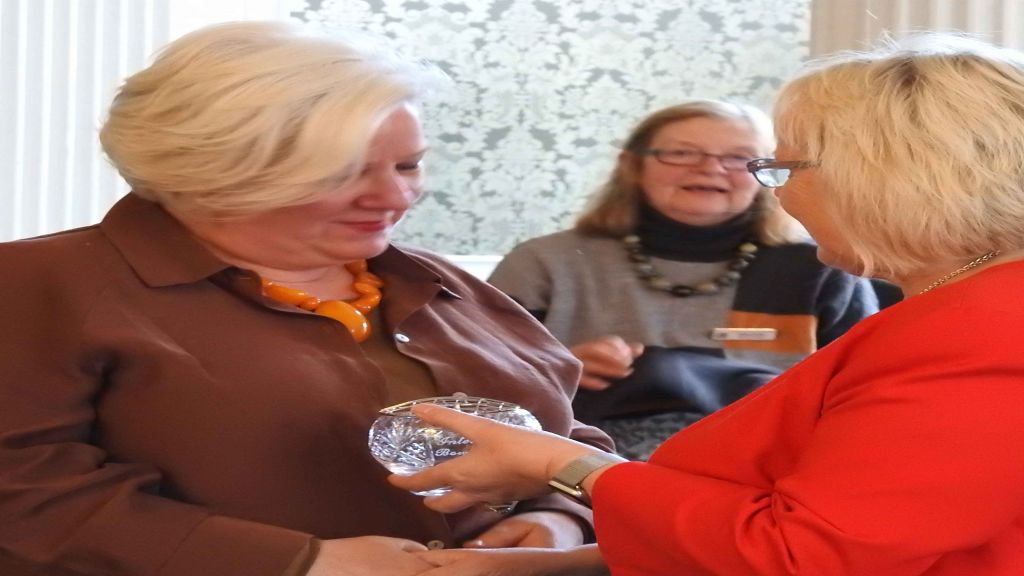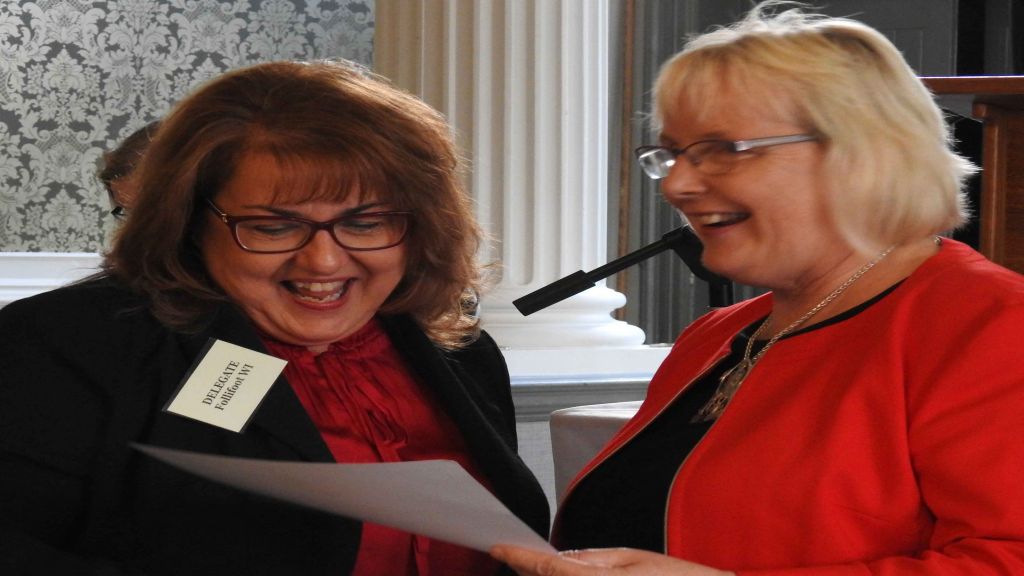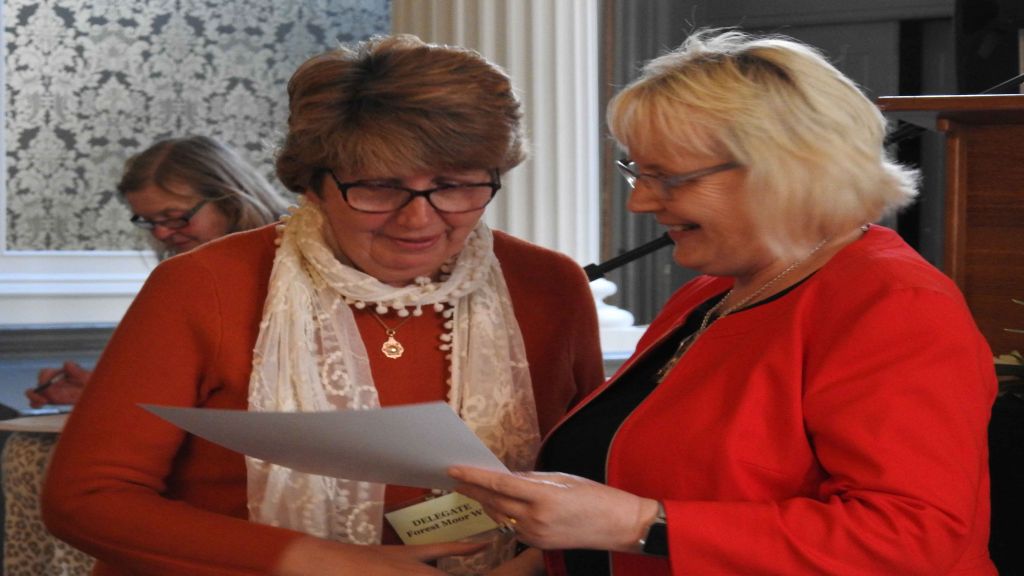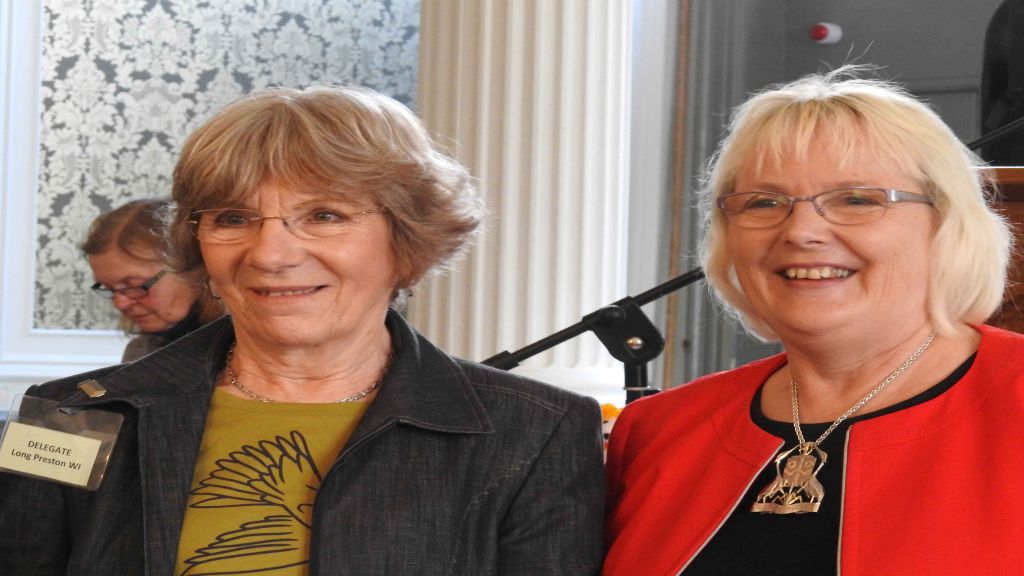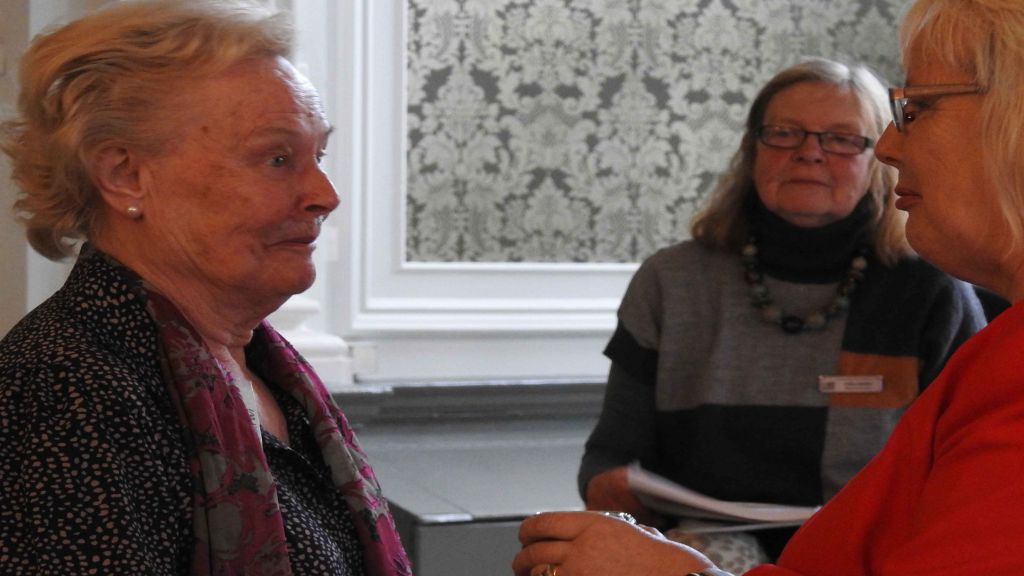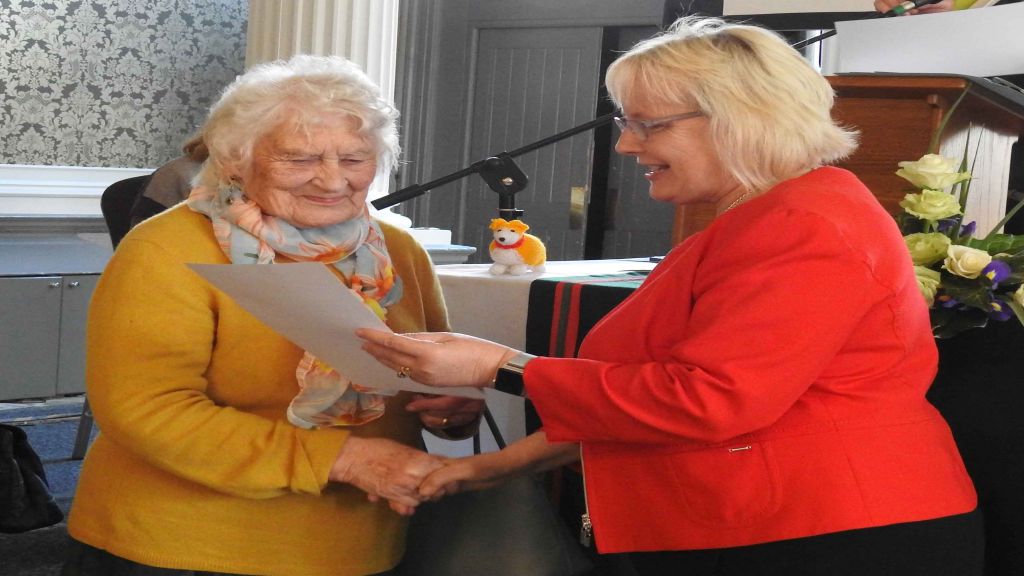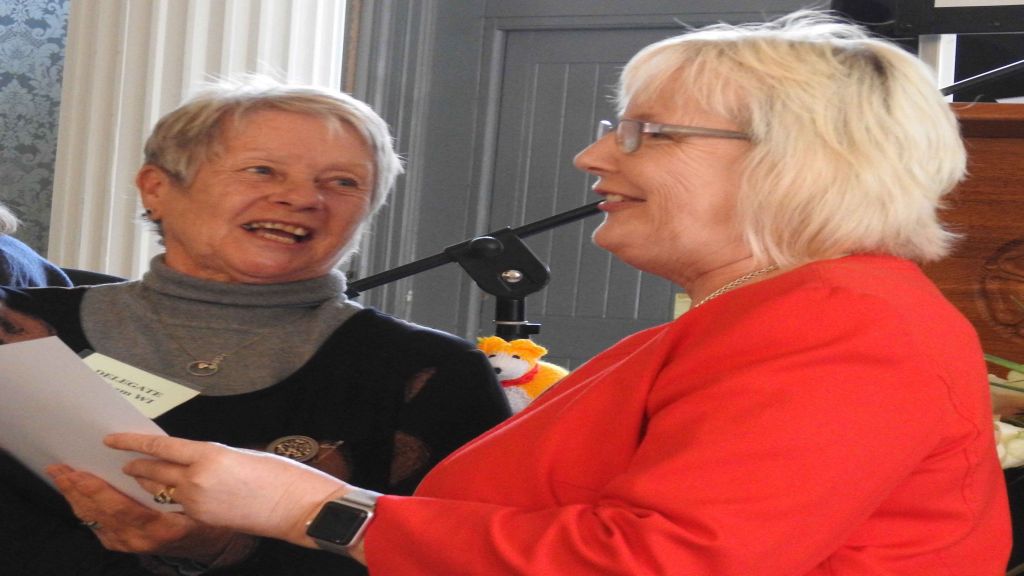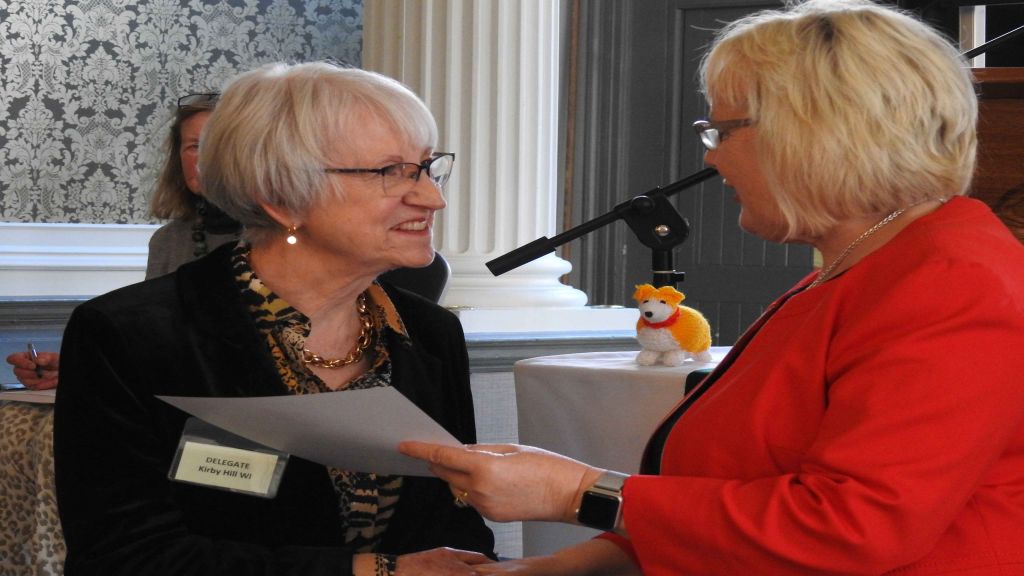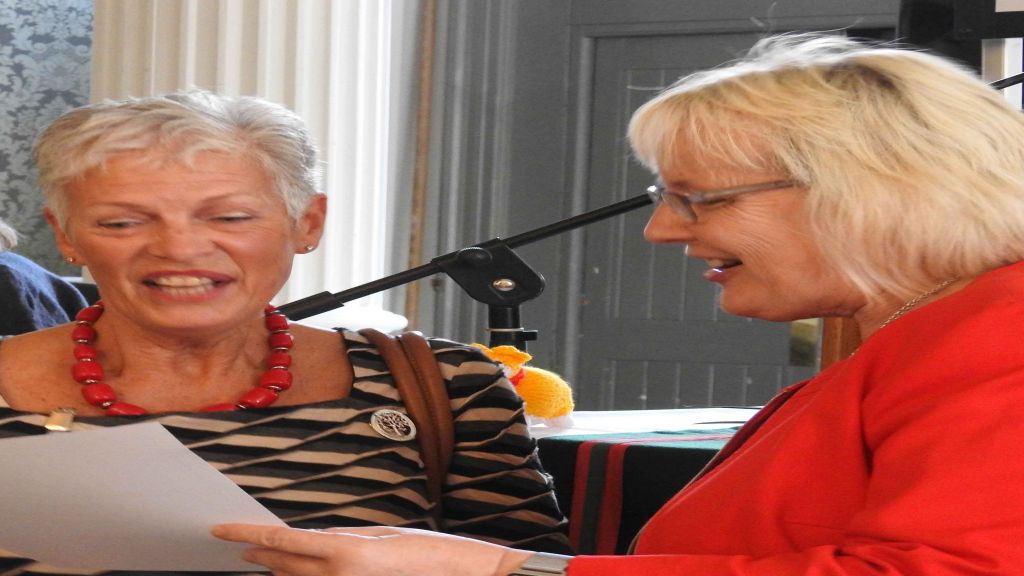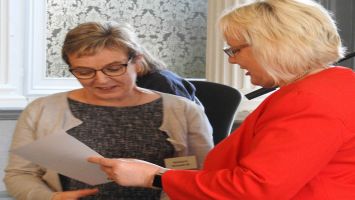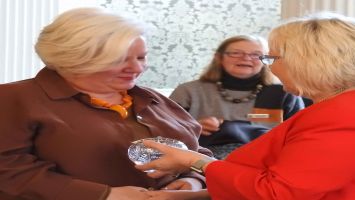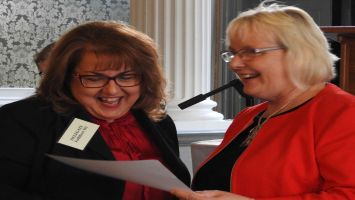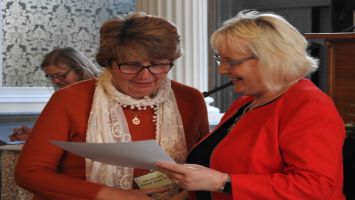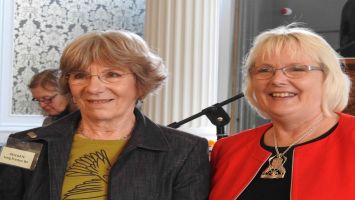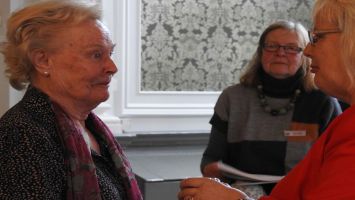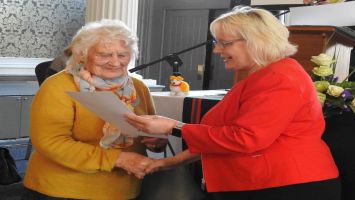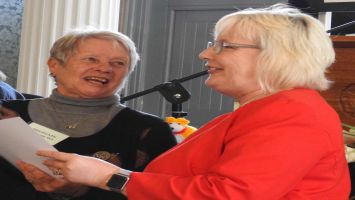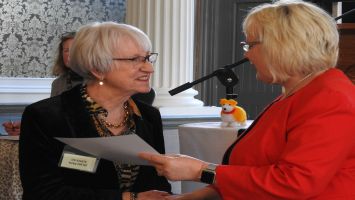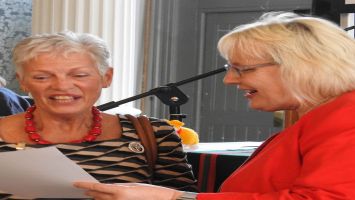 Presentation 2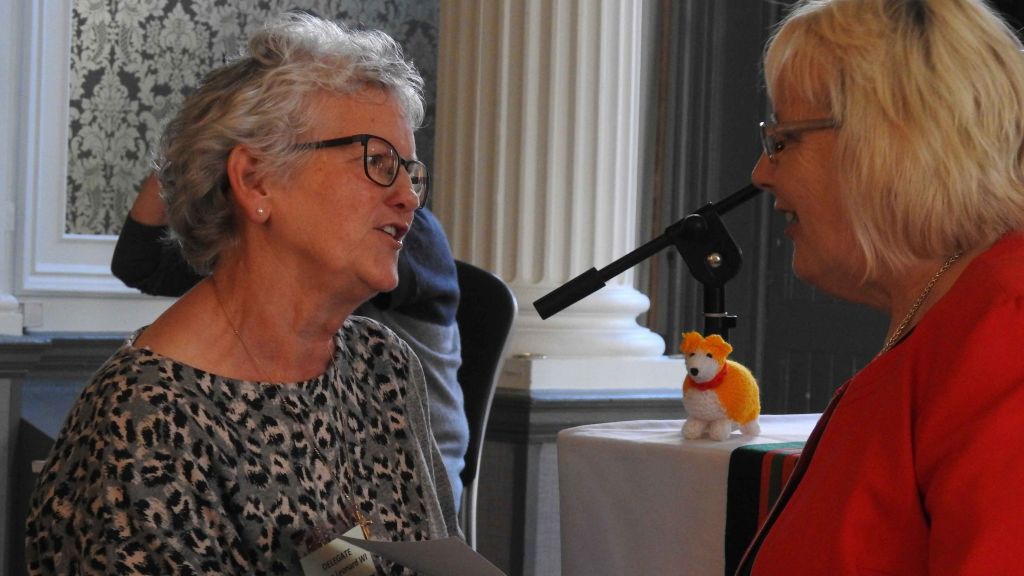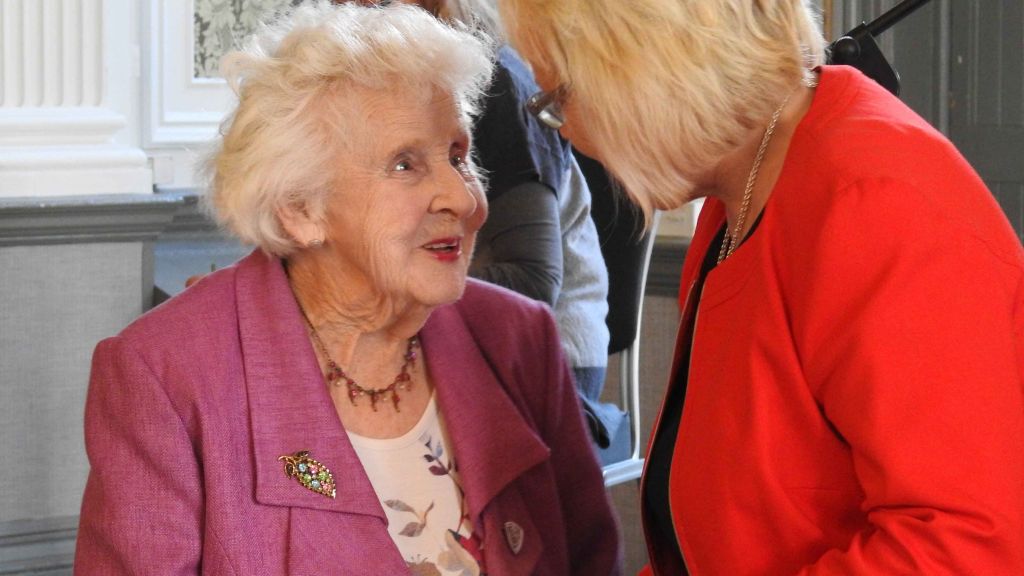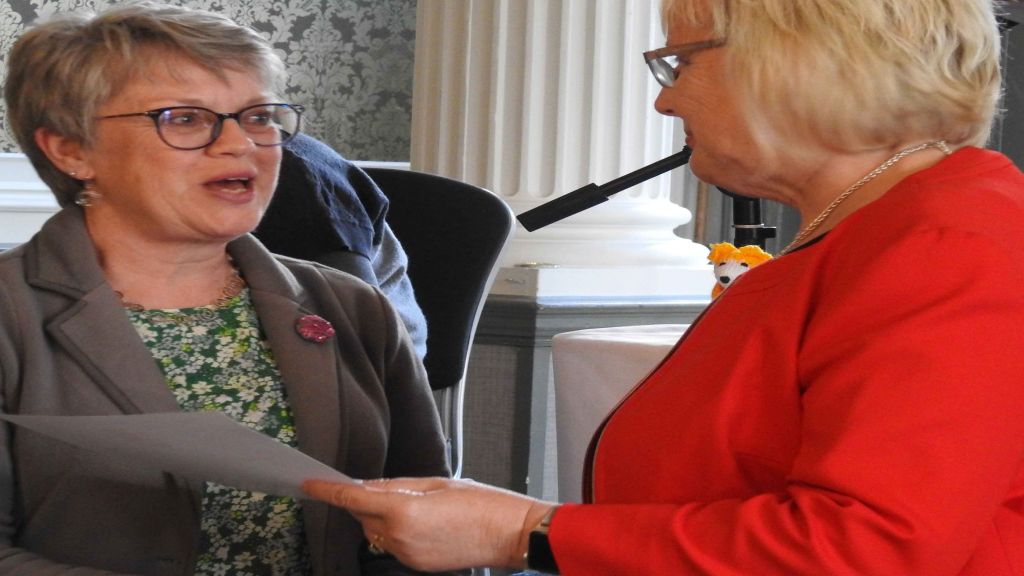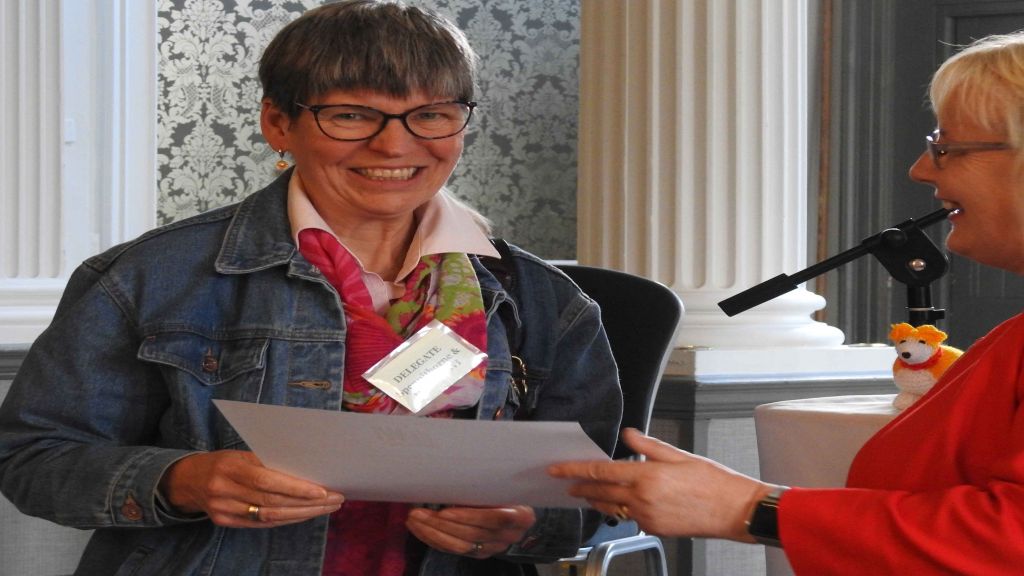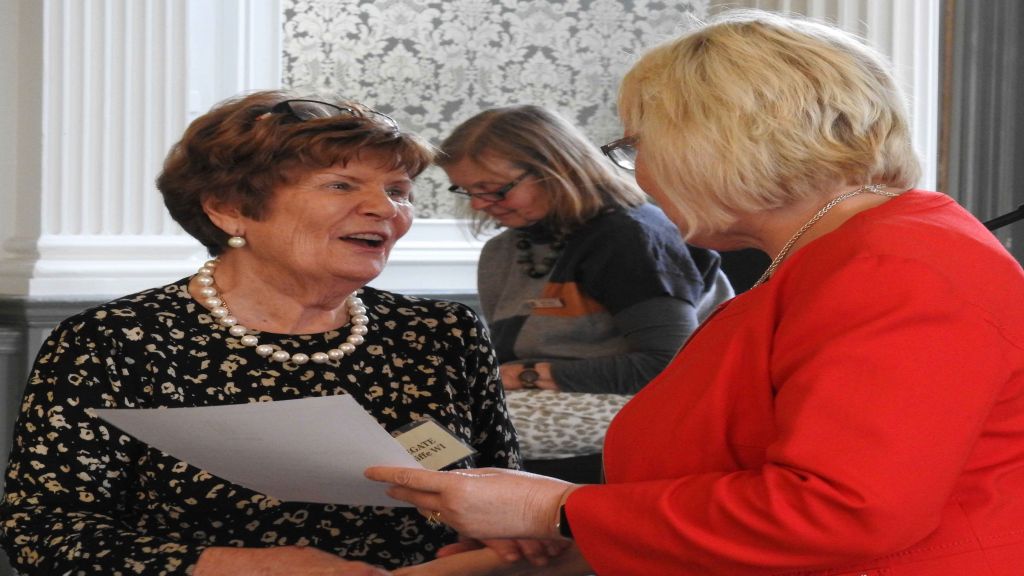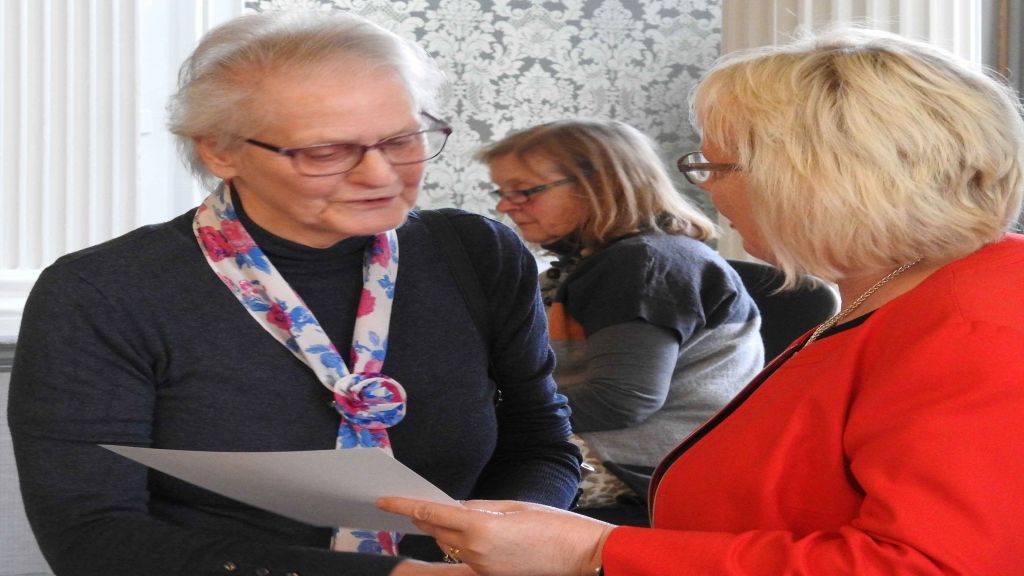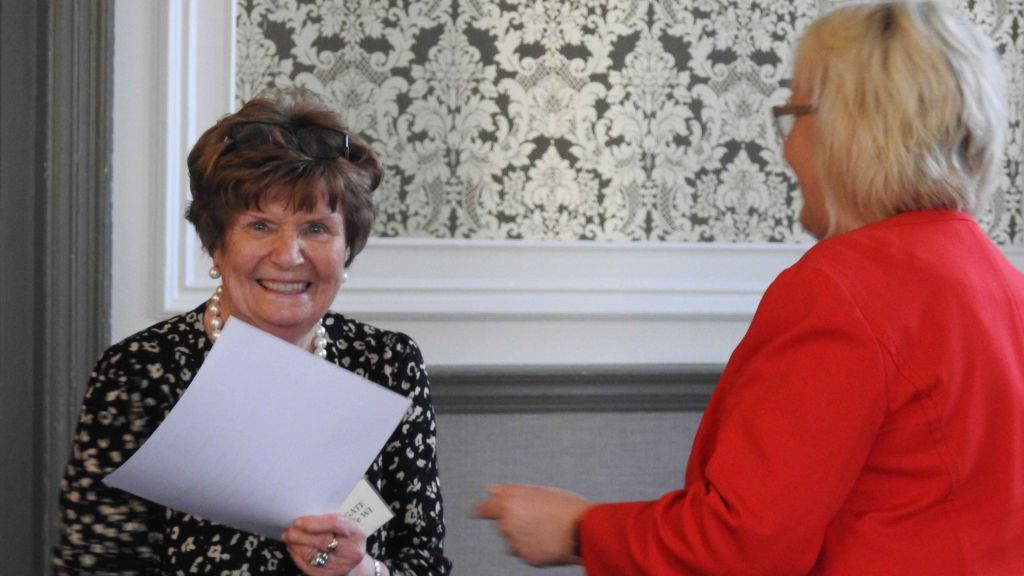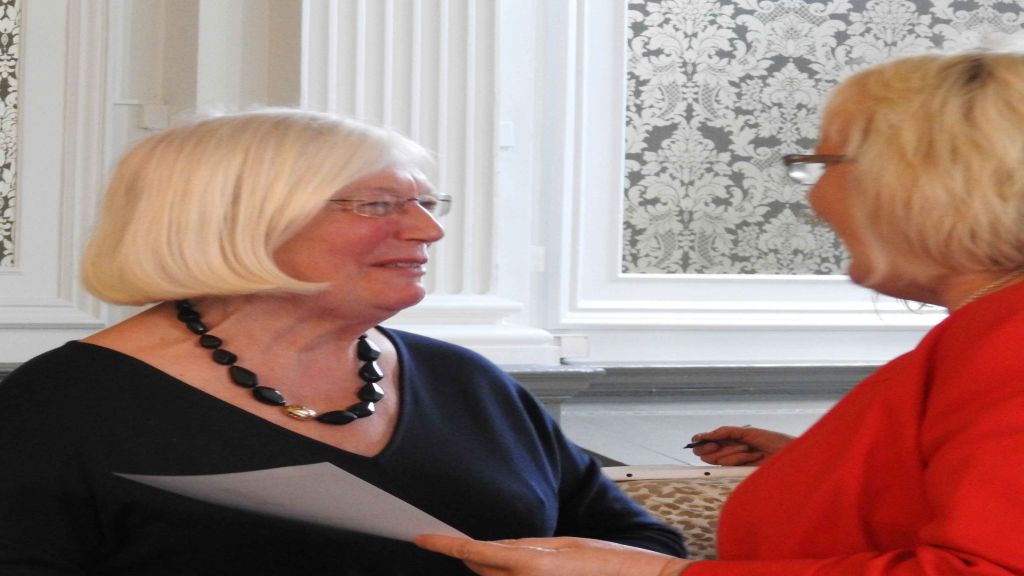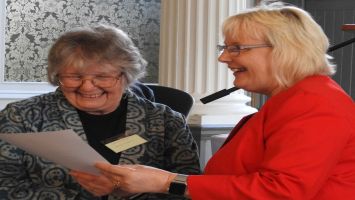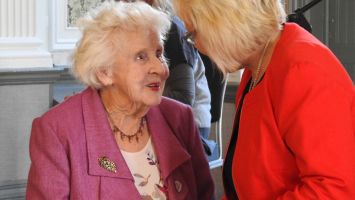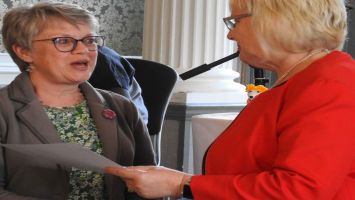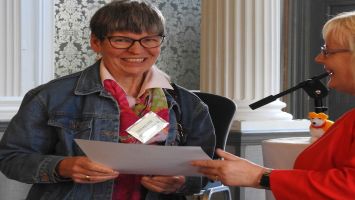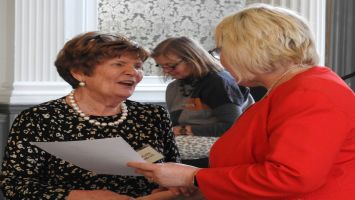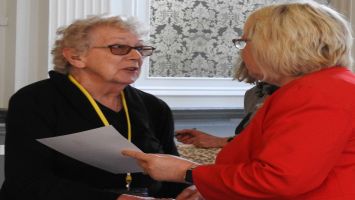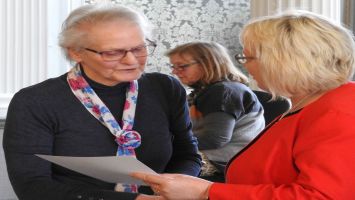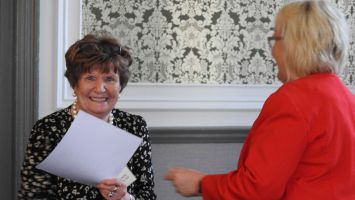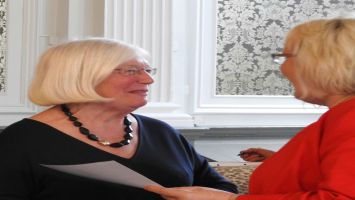 Presentation 3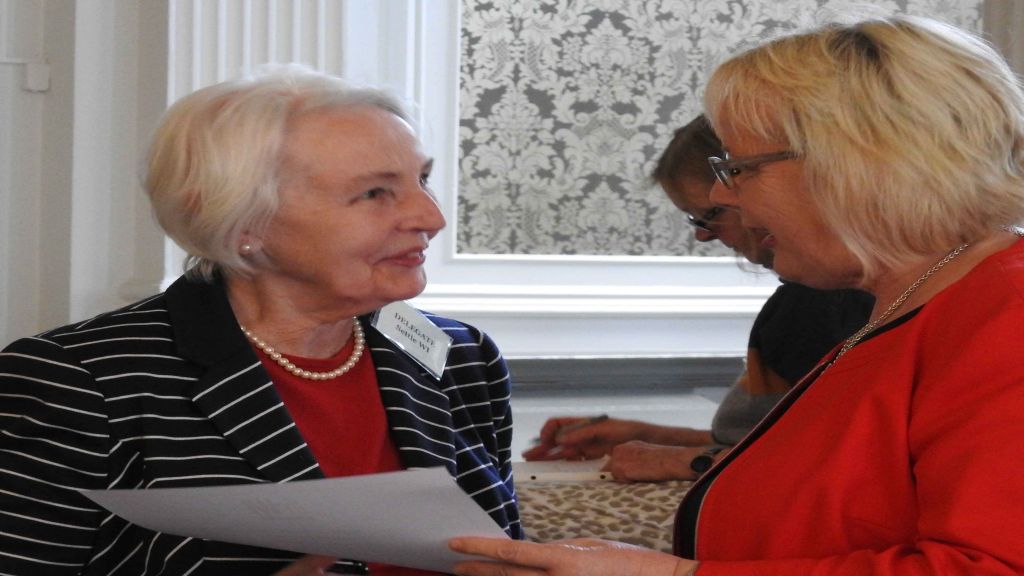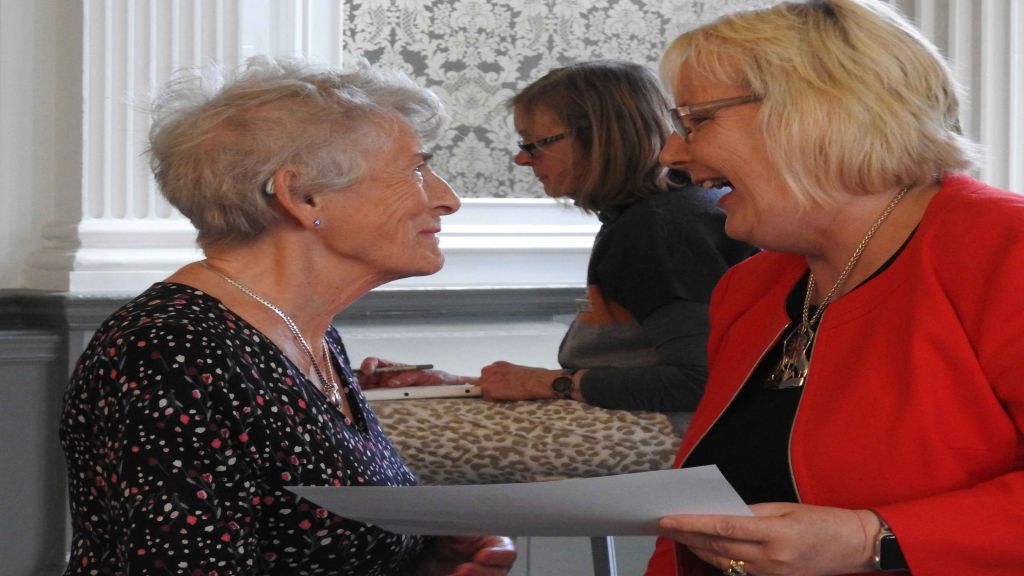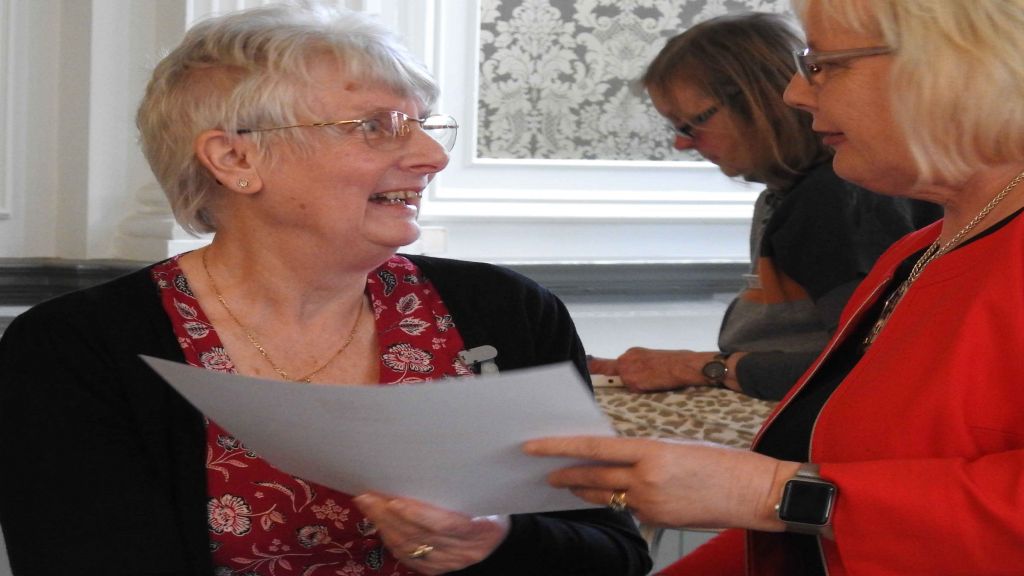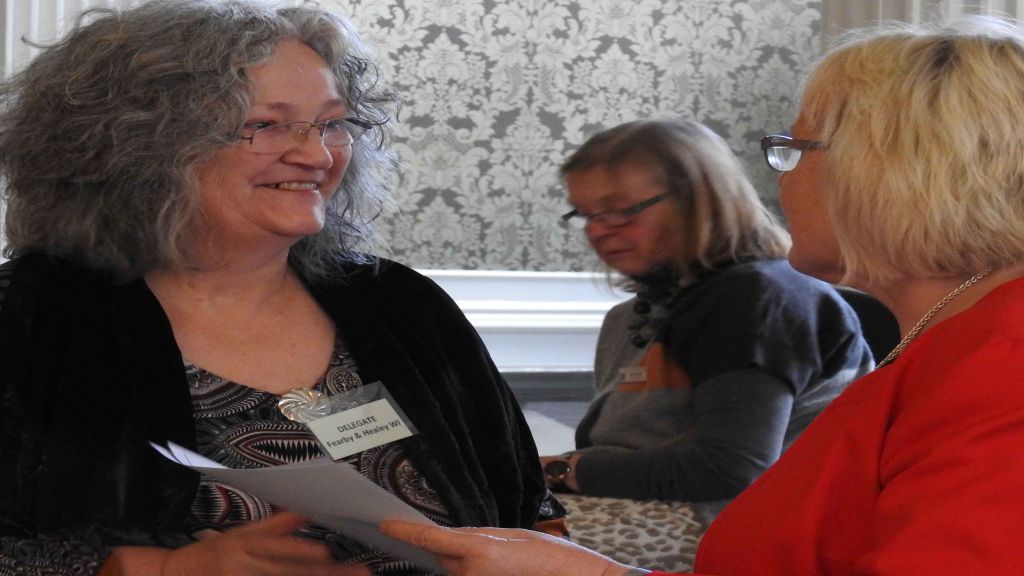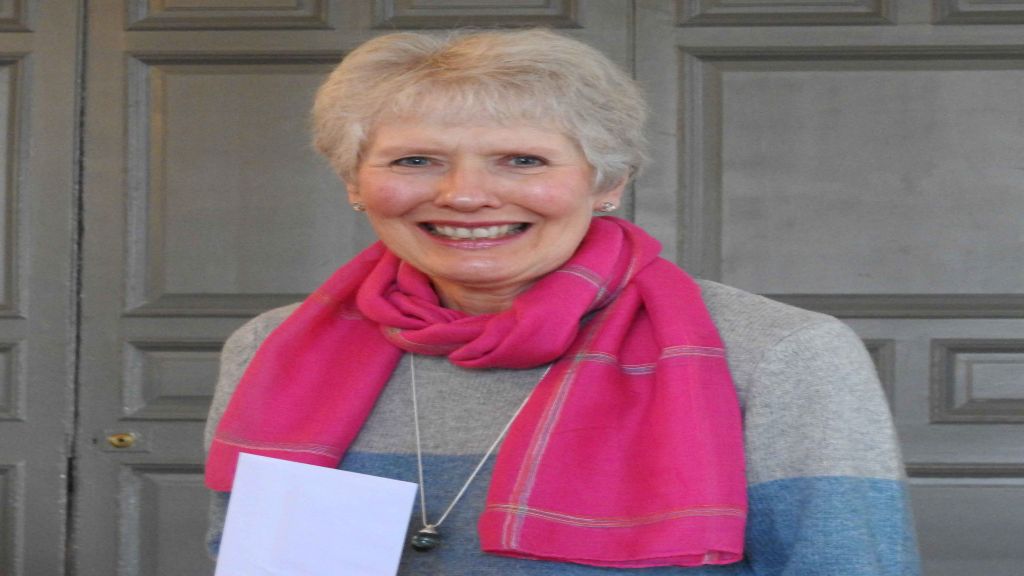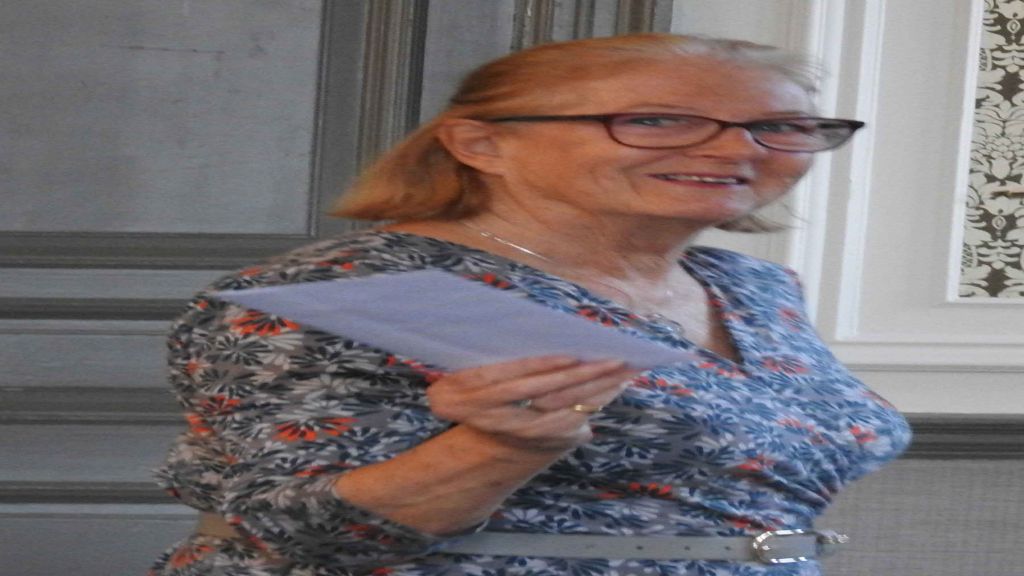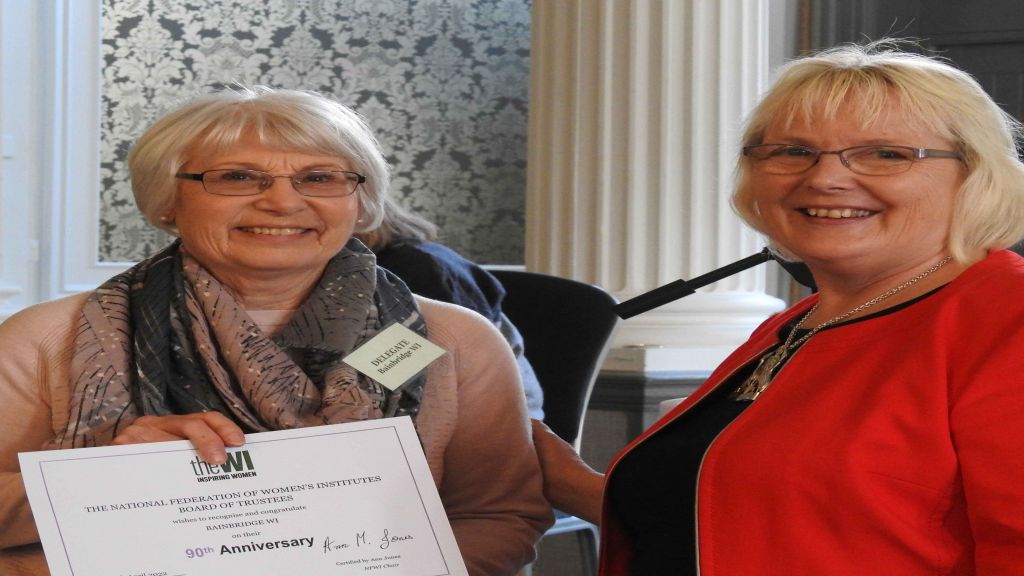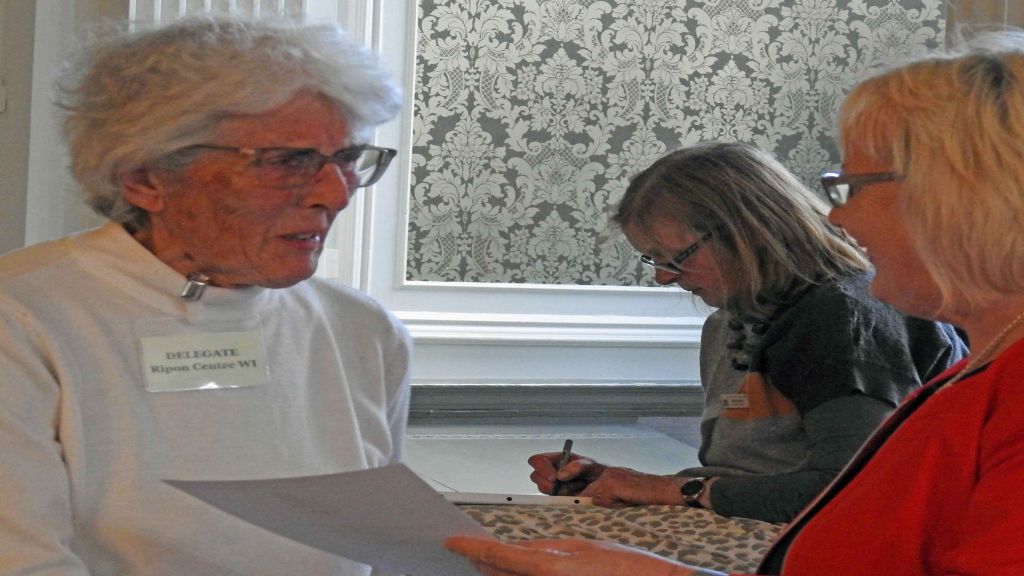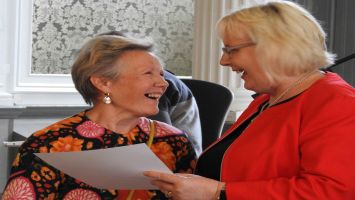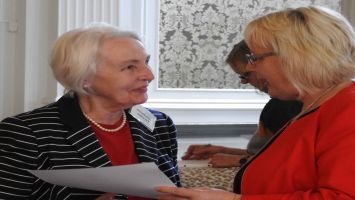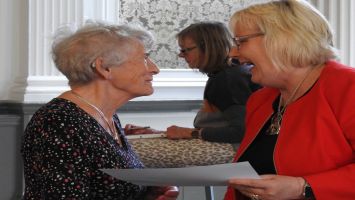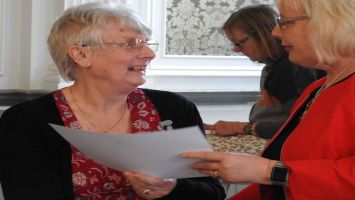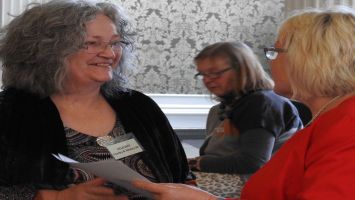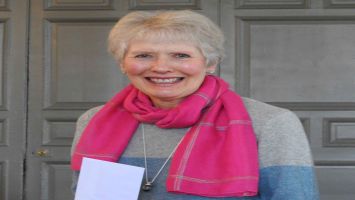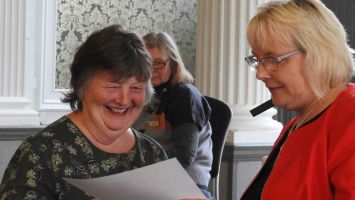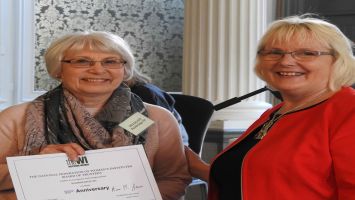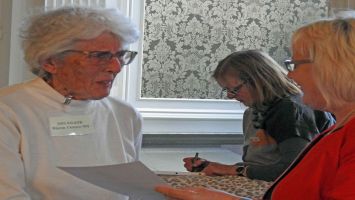 Joyce Freemantle 90th Birthday Celebrated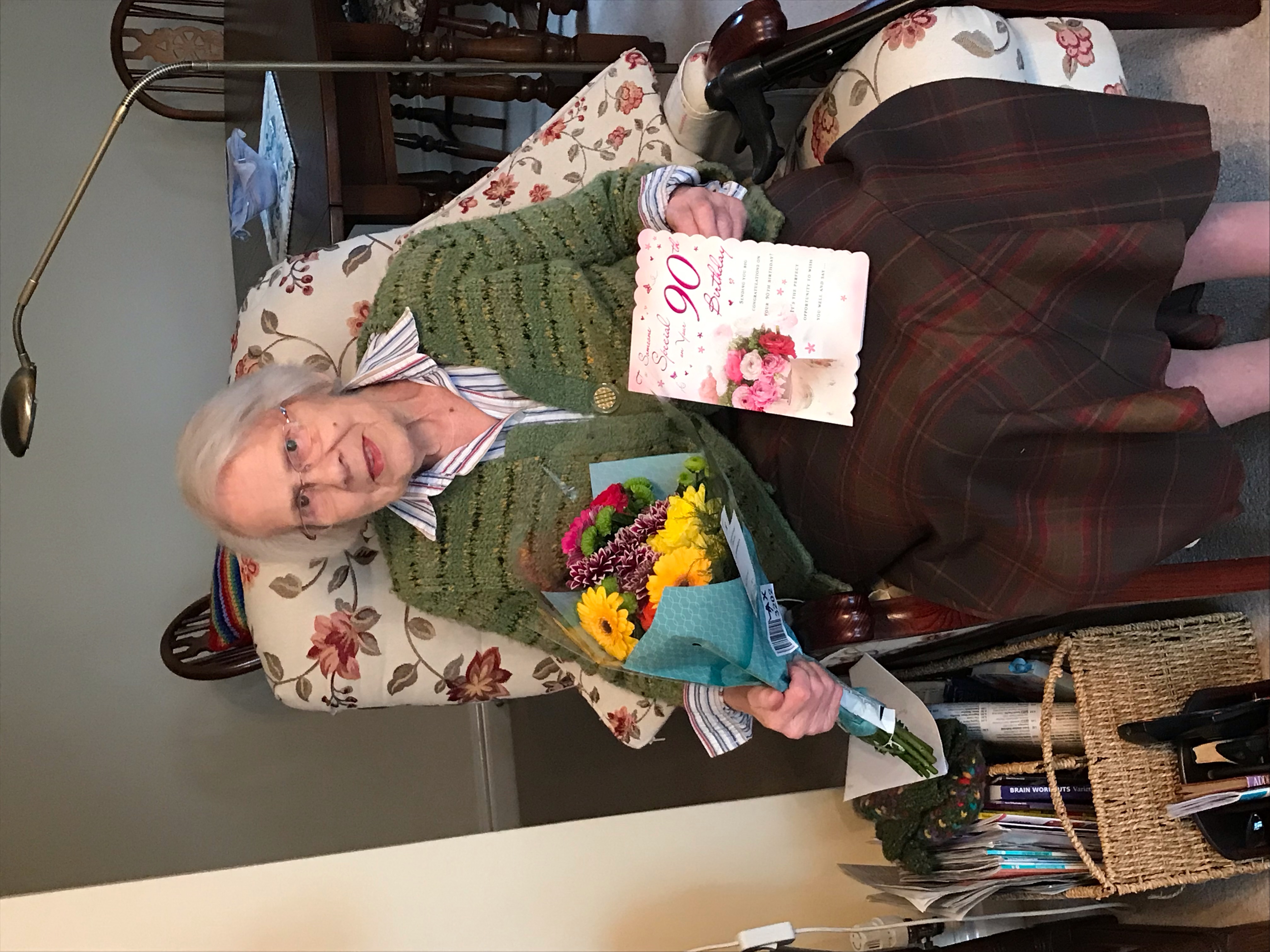 Joyce Freemantle celebrated her 90th birthday on 22 December. She has been a member of Ripon Centre for about 12 years. During that time she has served on the committee, been treasurer and latterly MCS.
Unfortunately, since the pandemic began, she has been housebound, but she rejoined, still does our MCS and committee meetings are held at her house.
We had planned to have a December meeting to coincide with Joyce's big birthday, but owing to the current situation with Covid and given Joyce's vulnerability, we had to cancel this. Our secretary took her flowers and a card signed by all the members.
Food and Flowers - Darley 9 Dec 2021
A fabulous day enjoyed by mebers with Cookery demonstration by Sue Fairhust and Flowers by Bob Forbes not forgetting atwo course lunch prepared and served by our own catering committee all organised and delivered to members by the Federation Activities Committee.
Here are some images from the day :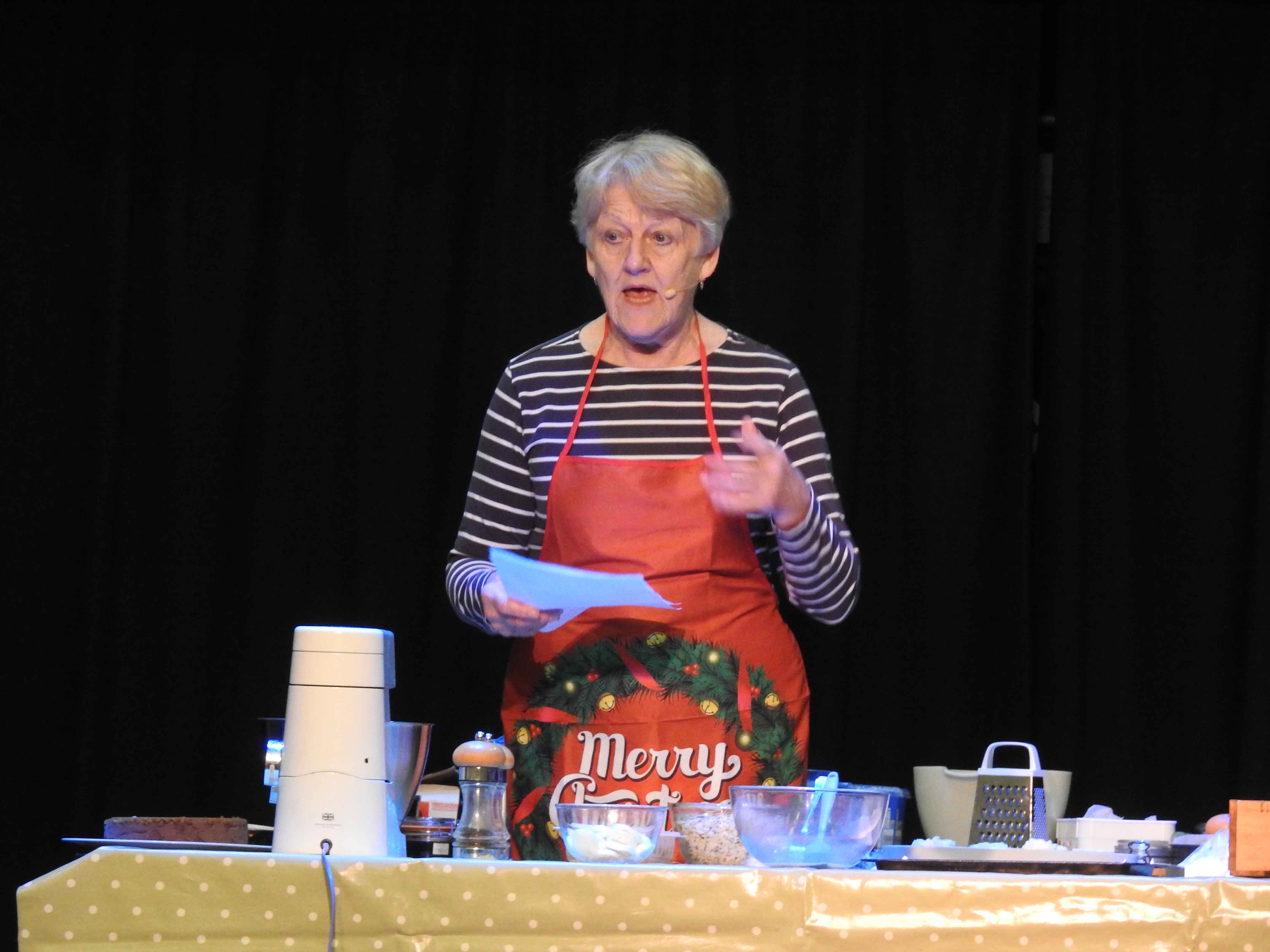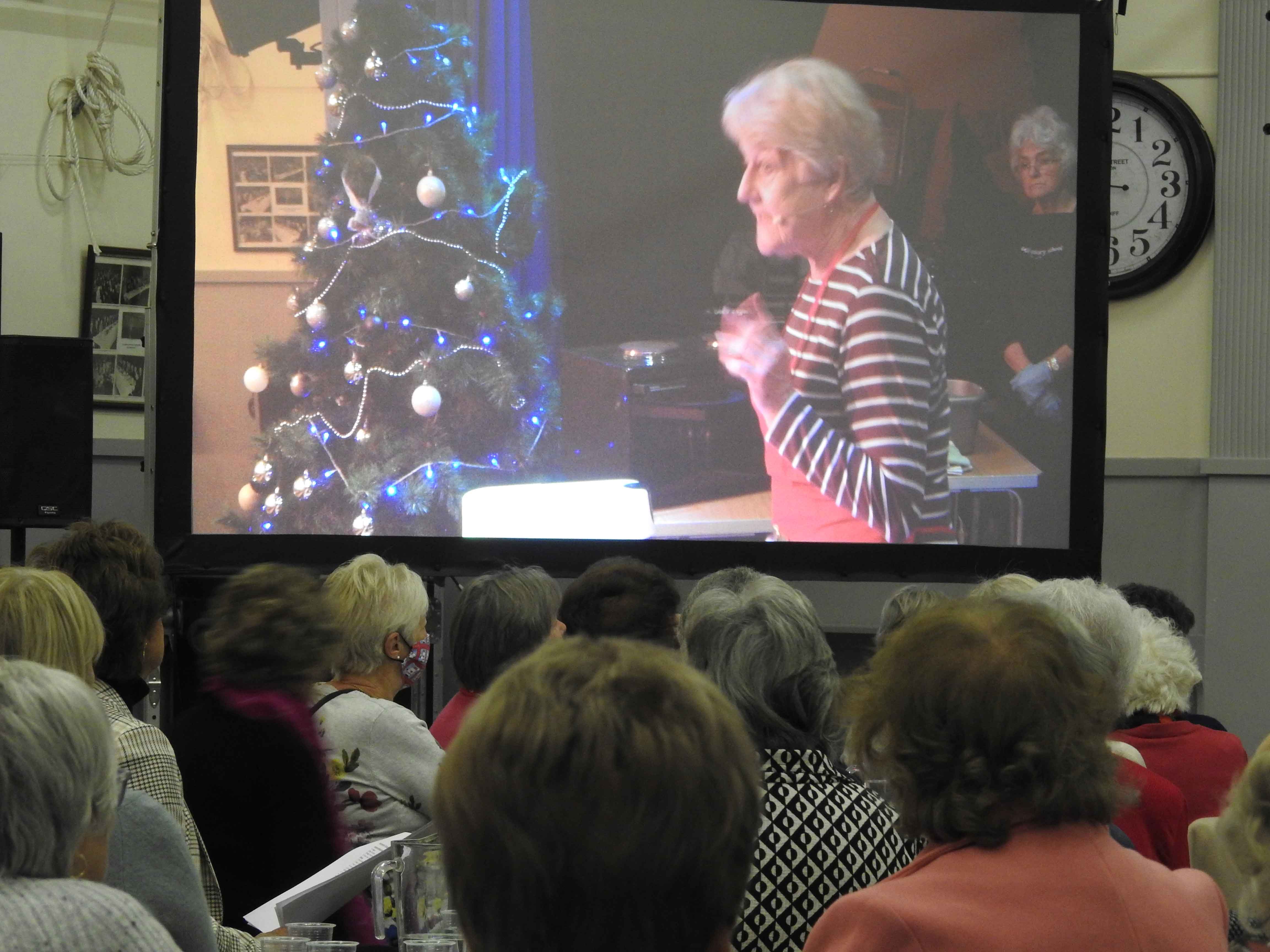 Sue demonstrated and cooked a Salmon Coulibac, Twice Baked Cheese Soufles, Stcky Pear and Ginger Cake, Chocolate Truffle Torte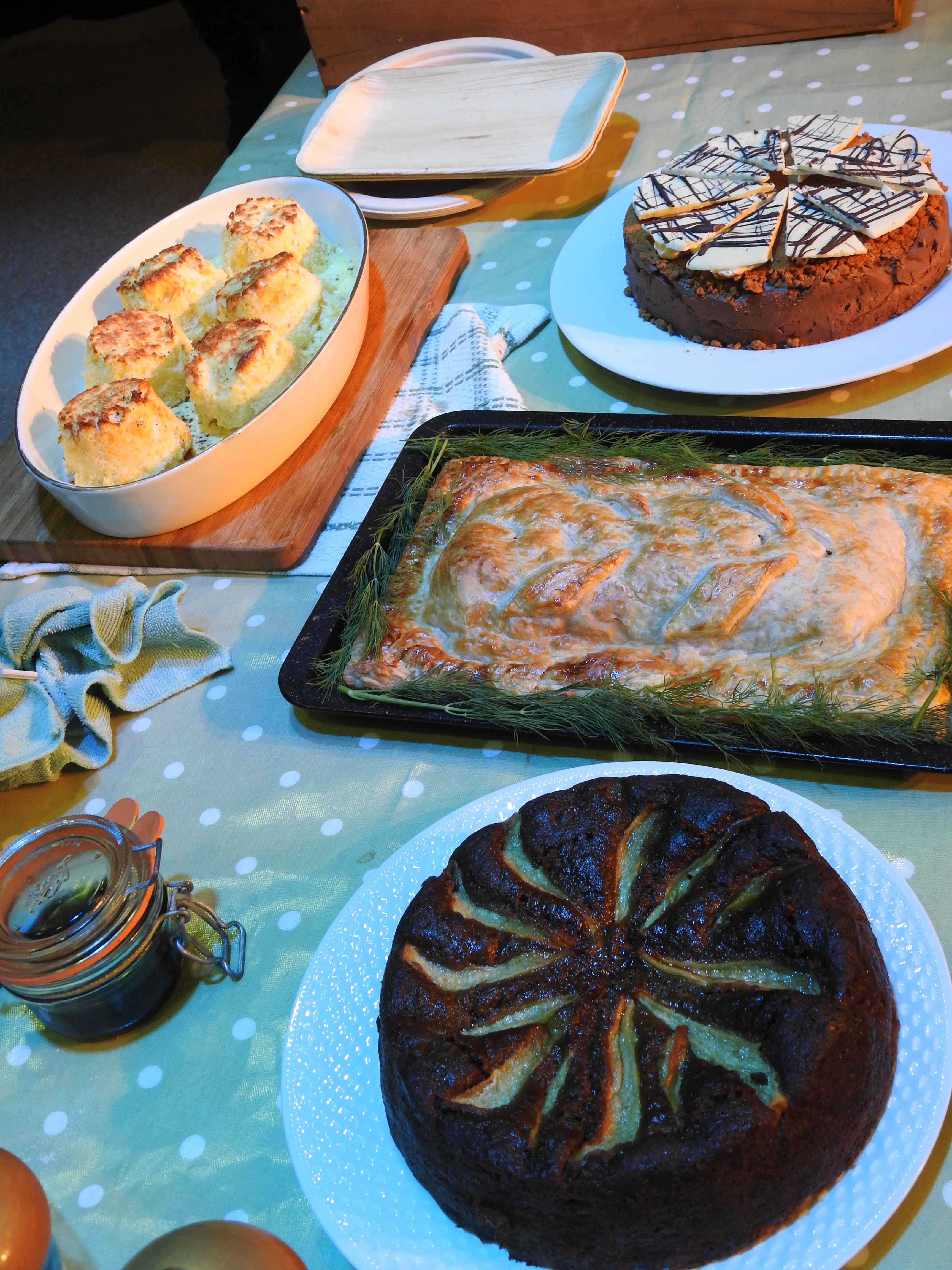 And our catering team prepared 132+ meringues for us all - here they are all ready for serving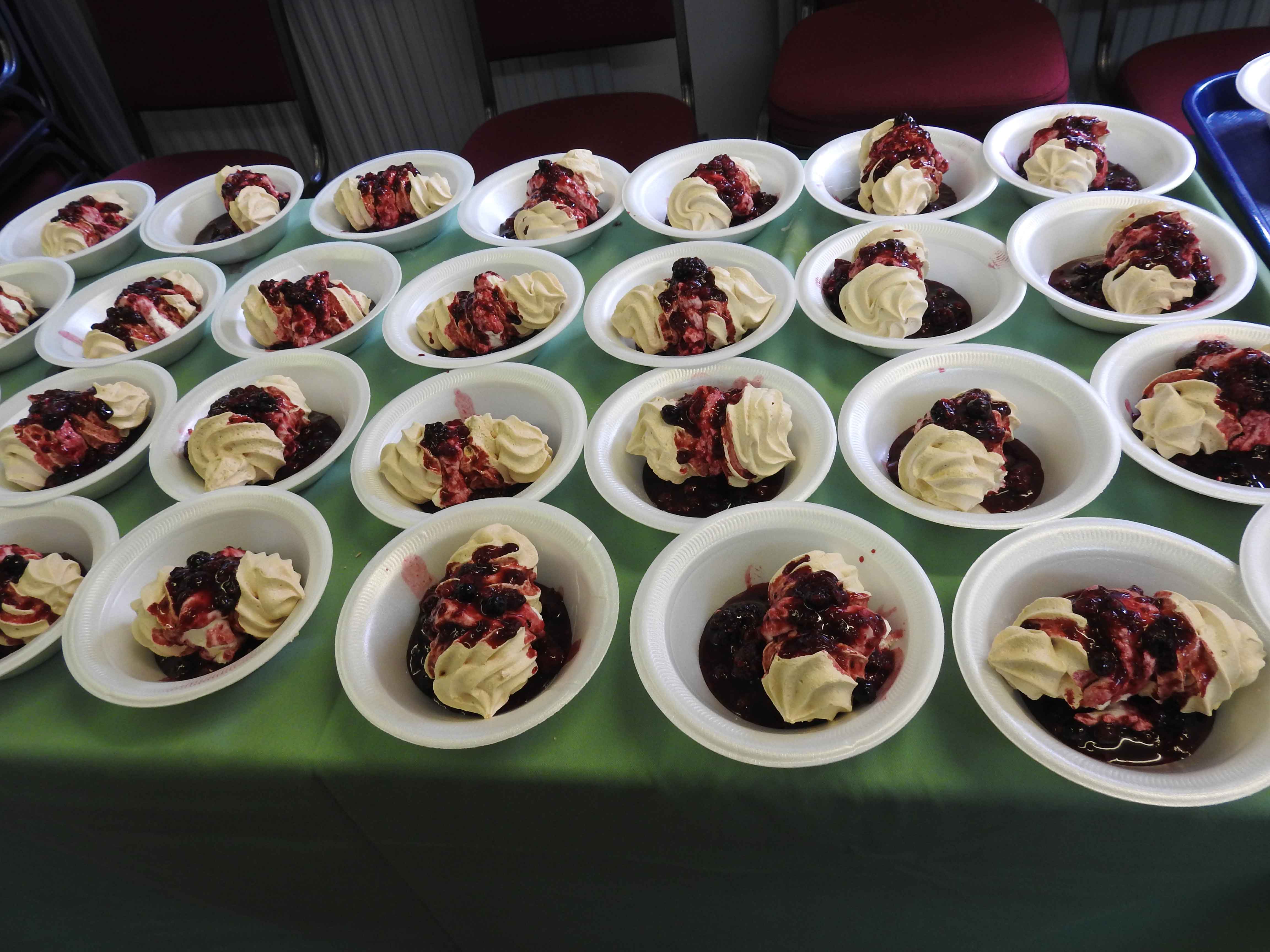 Bob Forbes created two wellington boots for outside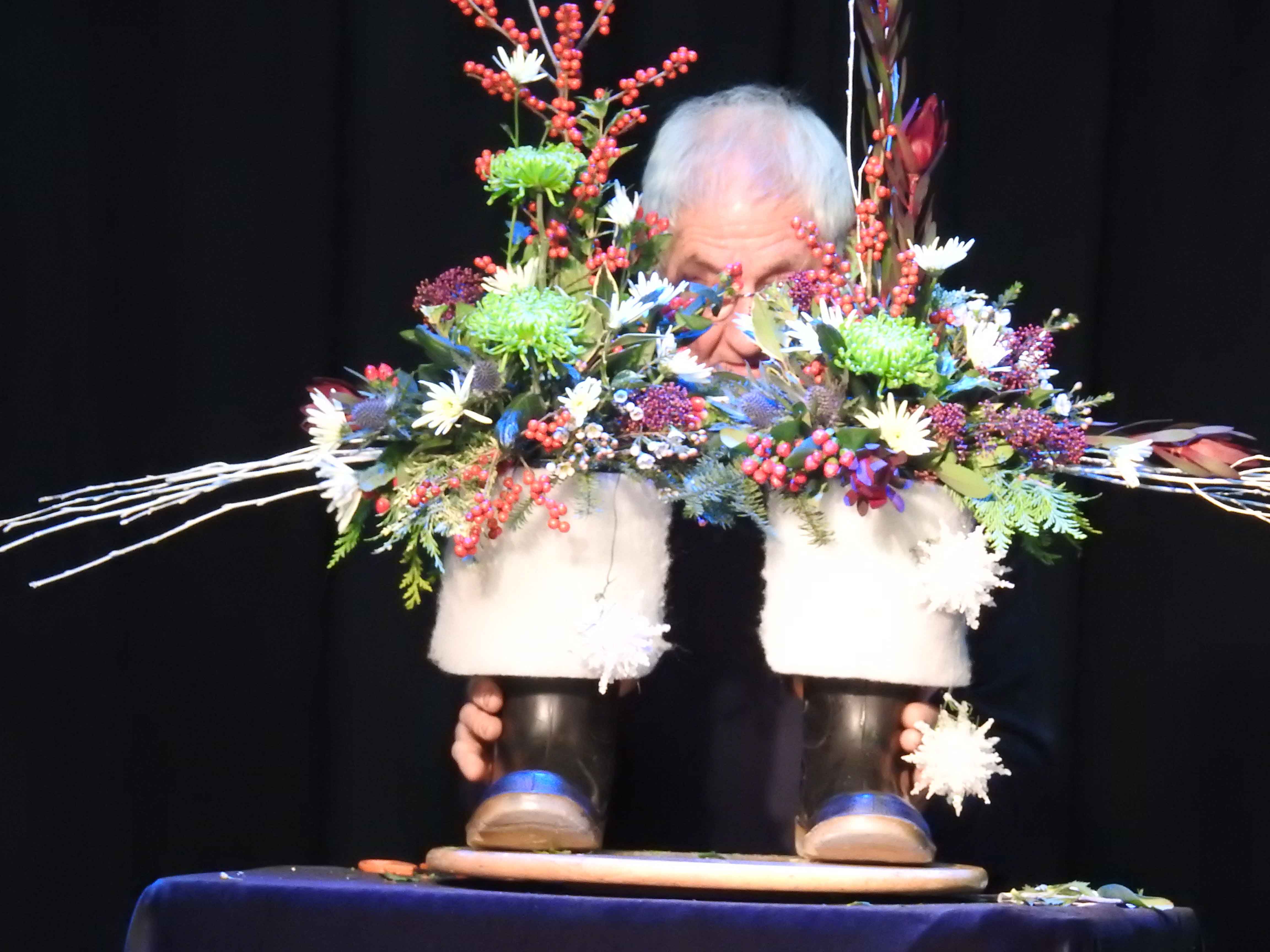 A Stunning table centre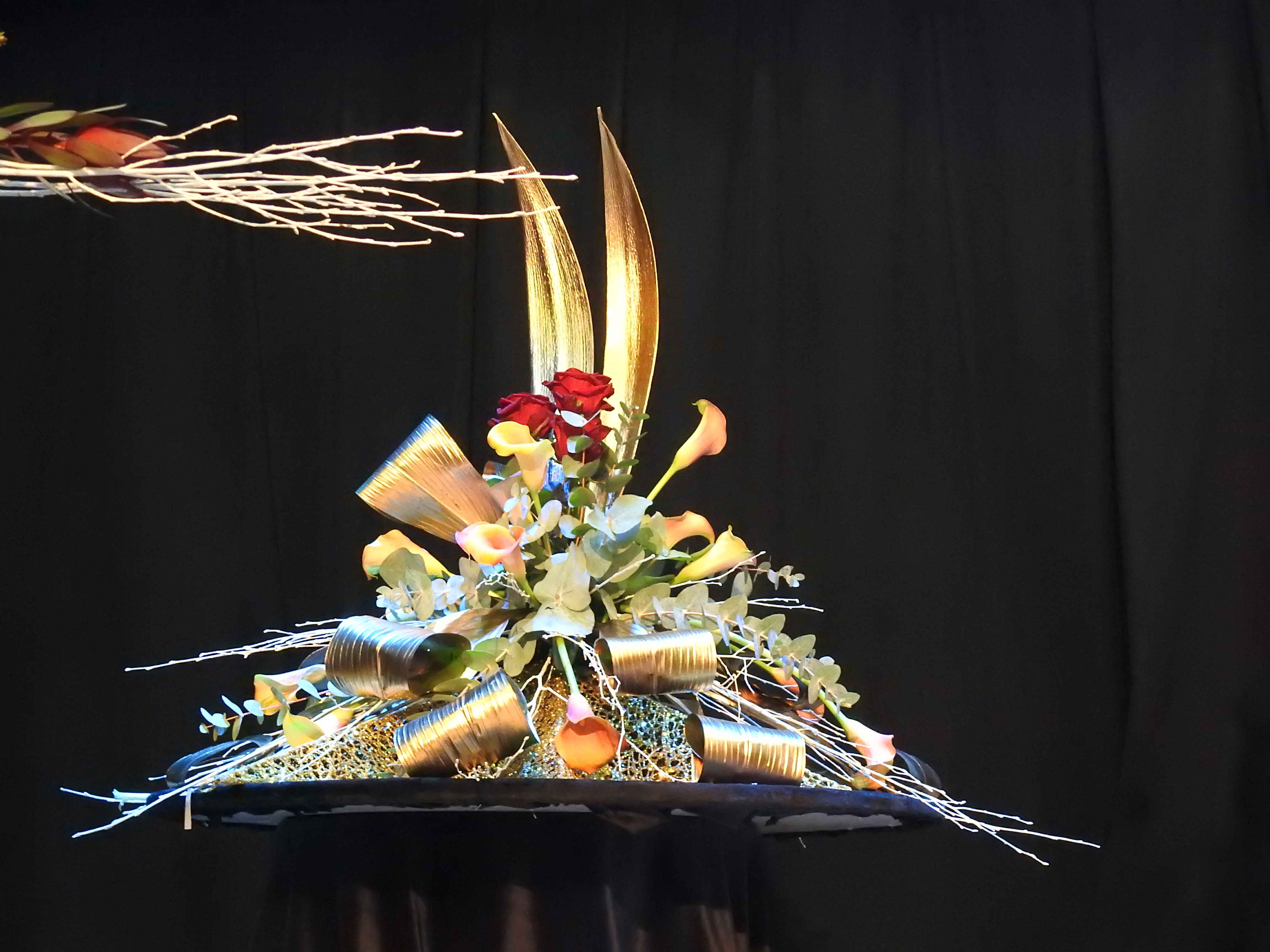 Something with a little more height
-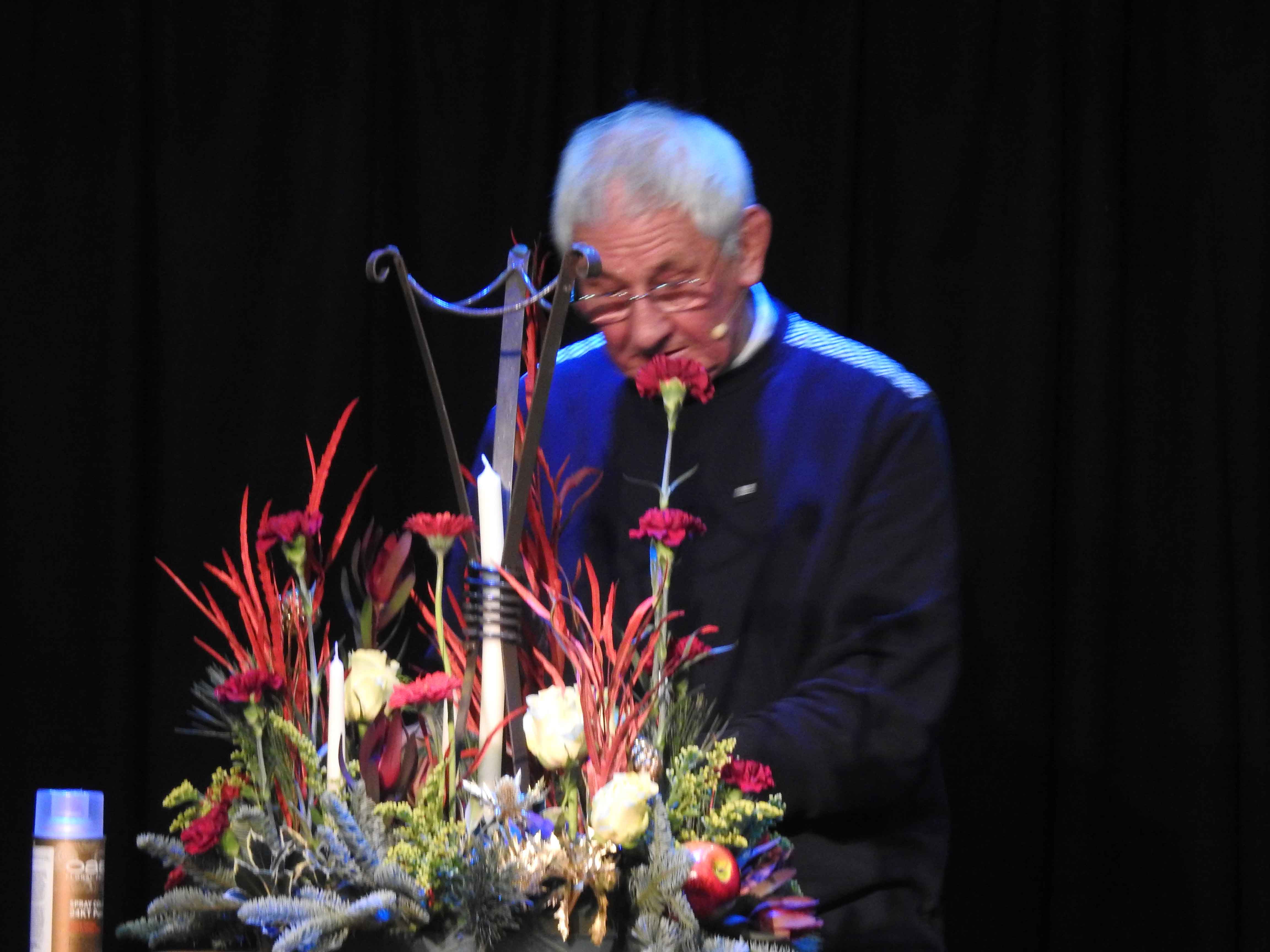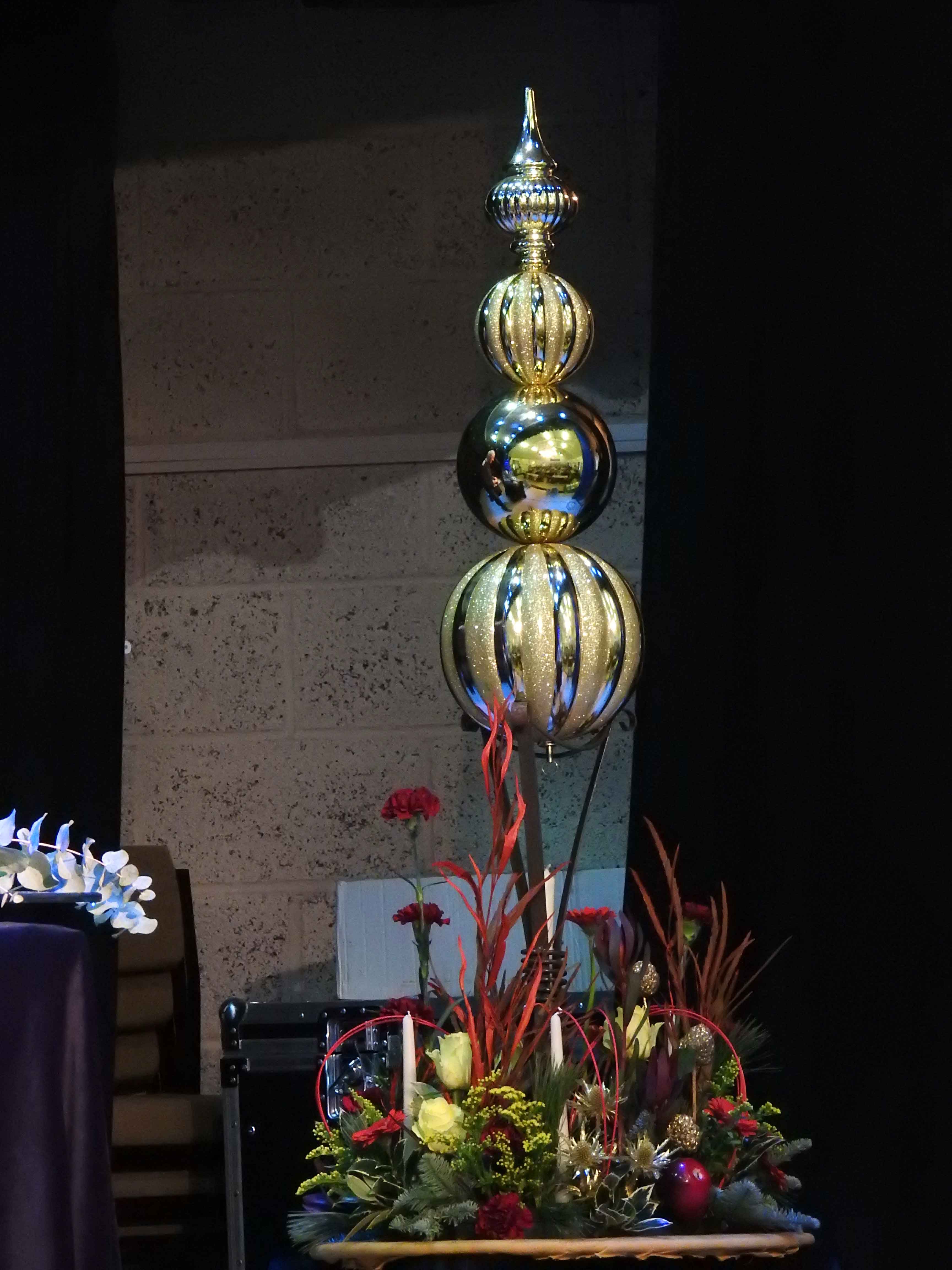 and to remind us all what Christmas is about a stunning arrangement for the "mantelpiece"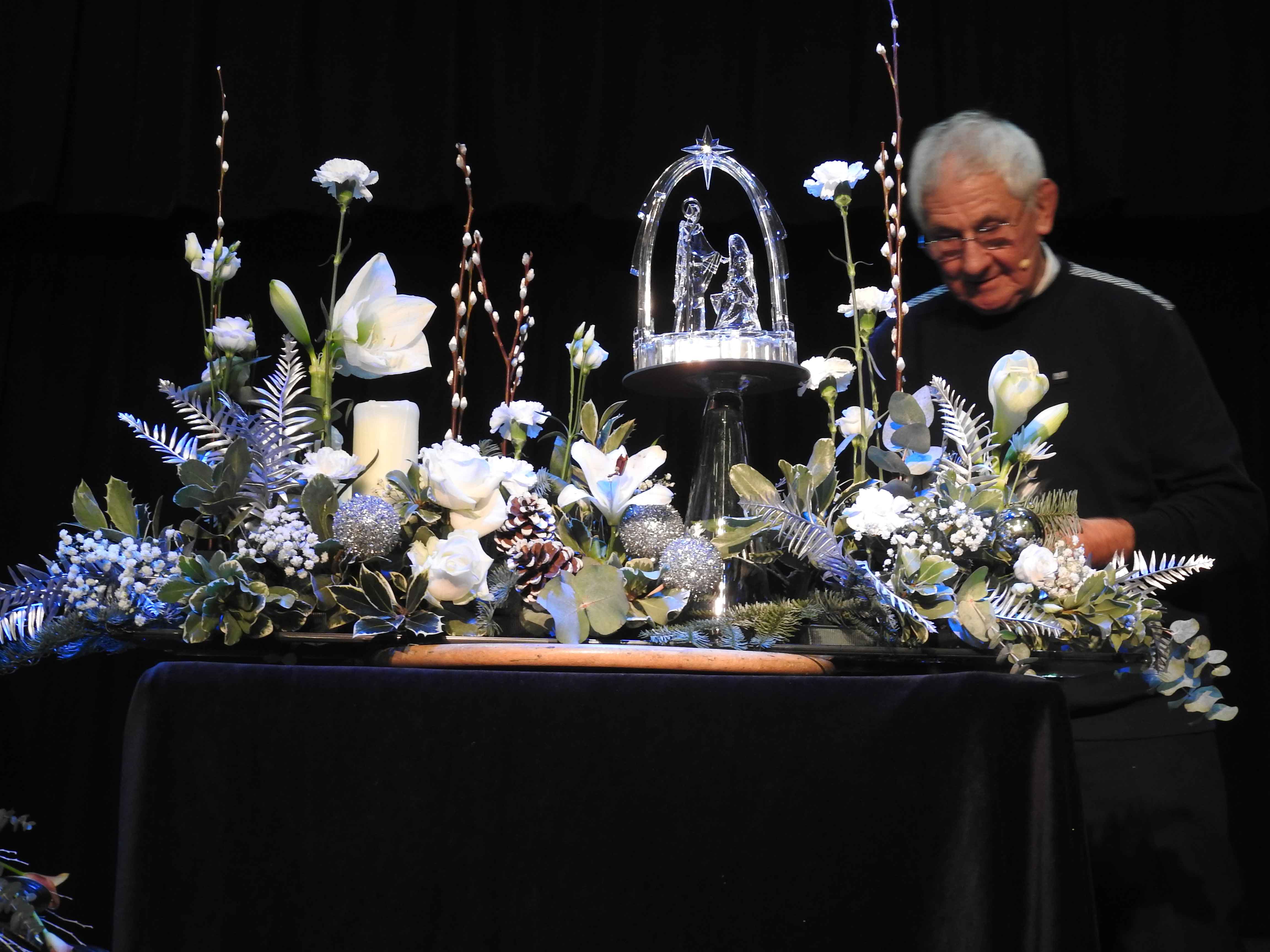 ---
Ripon Centre Meeting - Christmas Decorations November Meeting
Ripon Centre WI made good use of the talent of it's own members. At the November meeting, President, Lesley Manser demonstrated how to make a macrame Christmas tree decoration and then members and 2 visitors from Ripon Belles, made their own decorations. Everyone enjoyed themselves and produced Santa's with wonderful beards!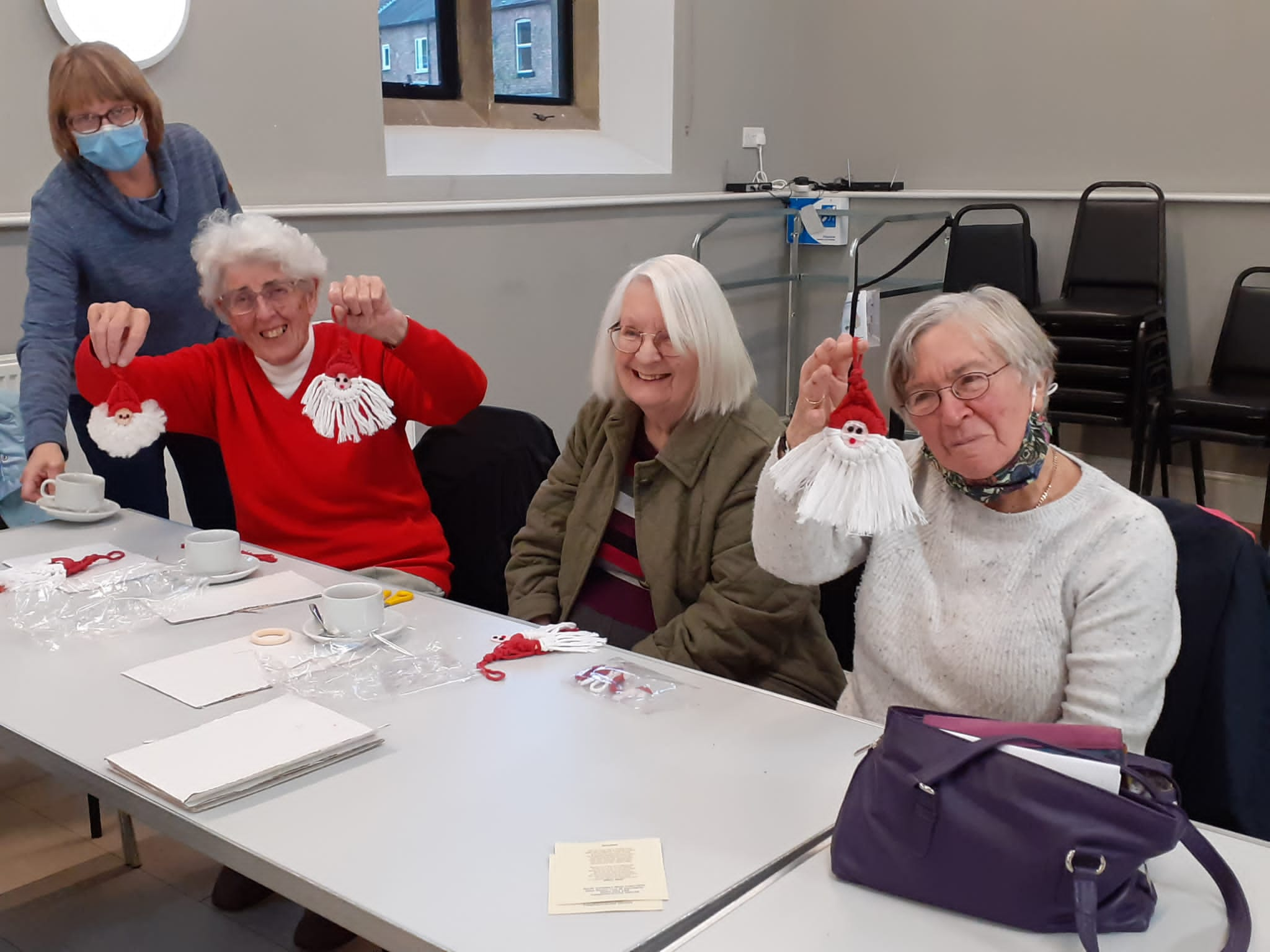 Photographic Competition Entries
Here is a view of the photographs entered in to the competition re Lockdown which were displayed at the Autumn Lunch
The winning entries were
B2 - Queen
C4 - Horses in Snow
A1 - Top of Helvelyn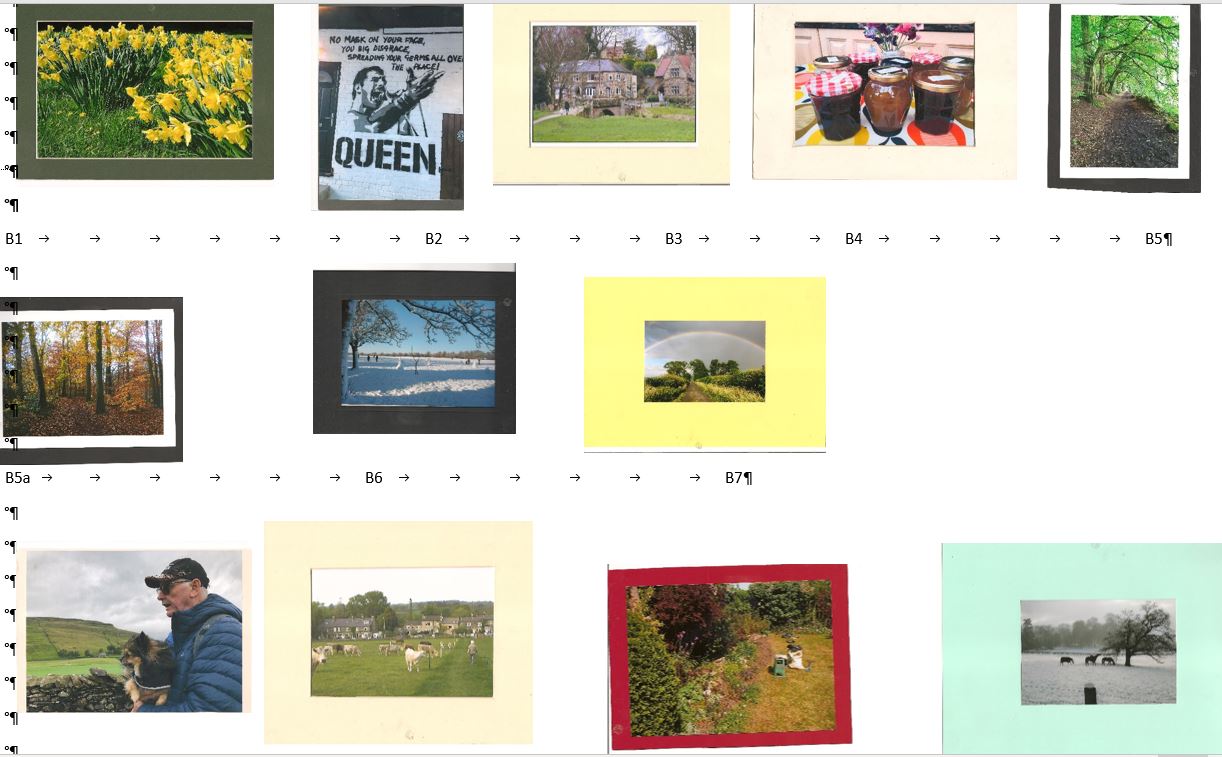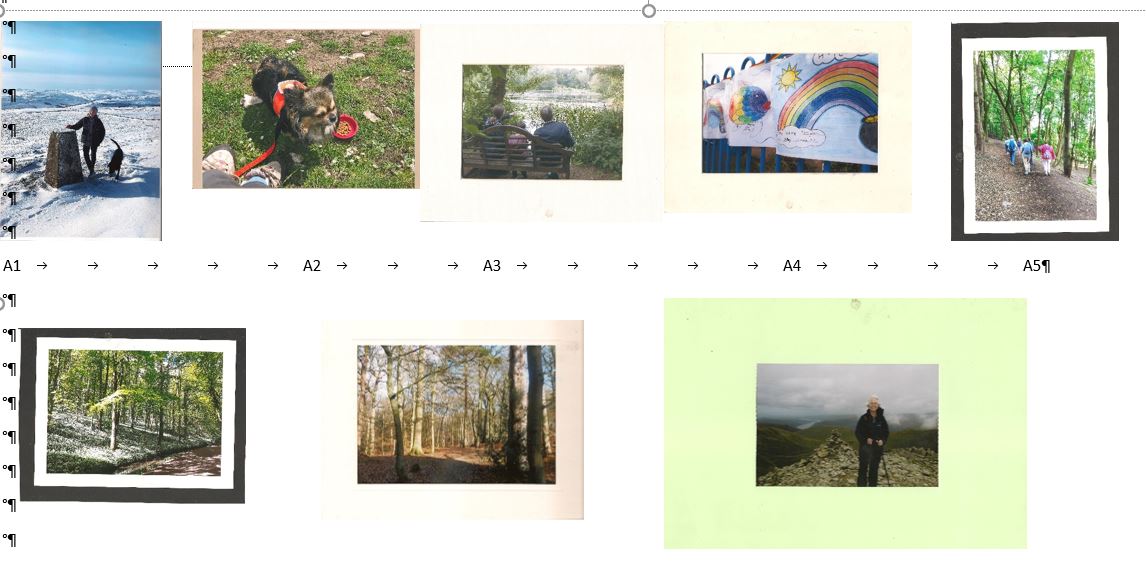 Bishop of Bradford's Curry Project
Here is a photogragh of the generous donations for the Bishop of Bradford's Curry Project which were given at the Autumn Lunch.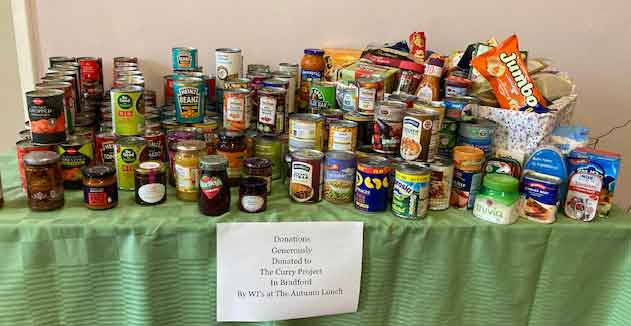 Autumn Lunch 2021
October 9th 2021 at Tennant's Garden Rooms Leyburn
An enjoyable and inspiring day was enjoyed by members with speakers Jasmine Harrison who is the youngest female to have rowed the Atlantic and Emma Stoney who has completed several London Marathons
We also celebrated some significant WI birthdays from 100 years old and some individuals who have been members for 60 years.
Here are some images from the day: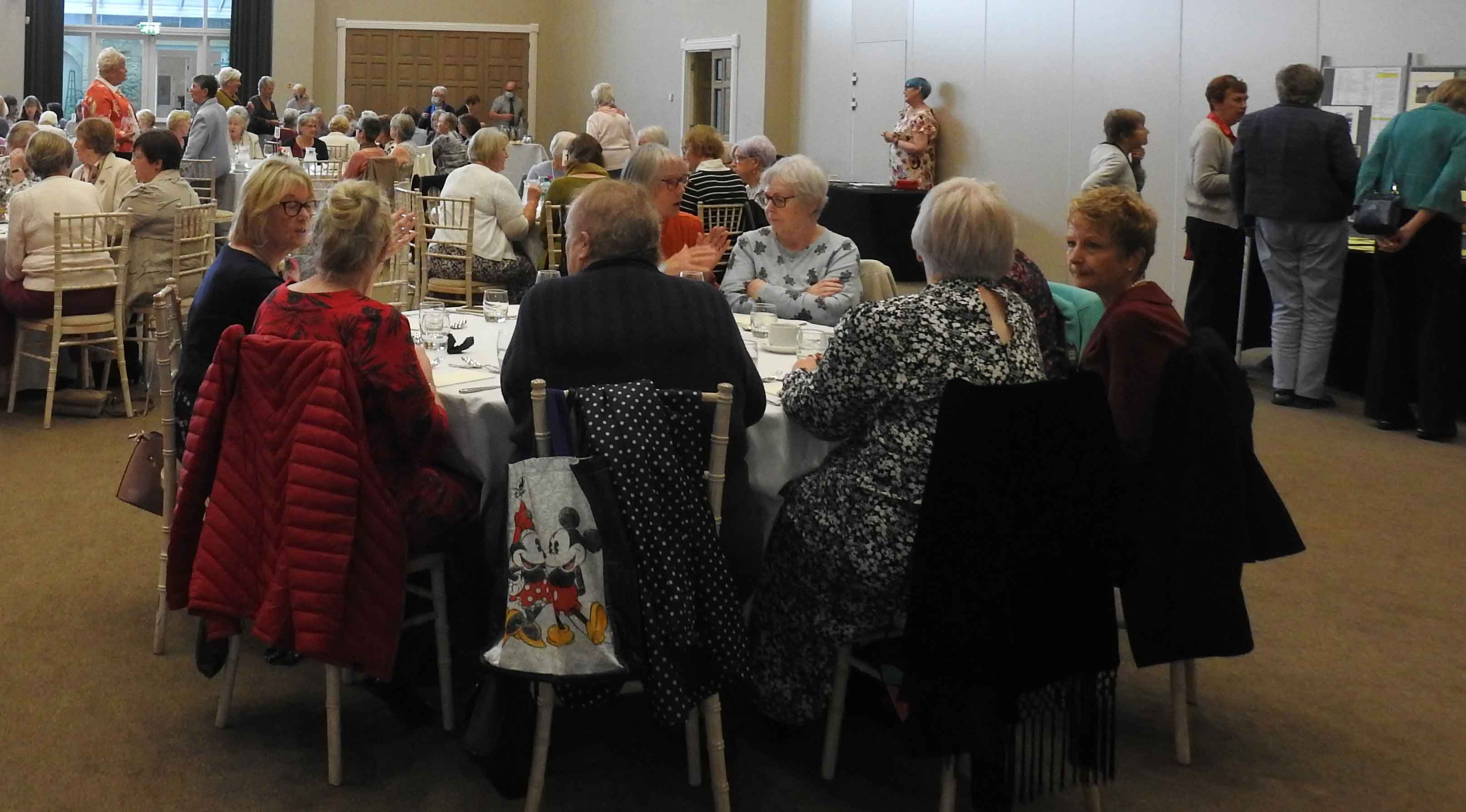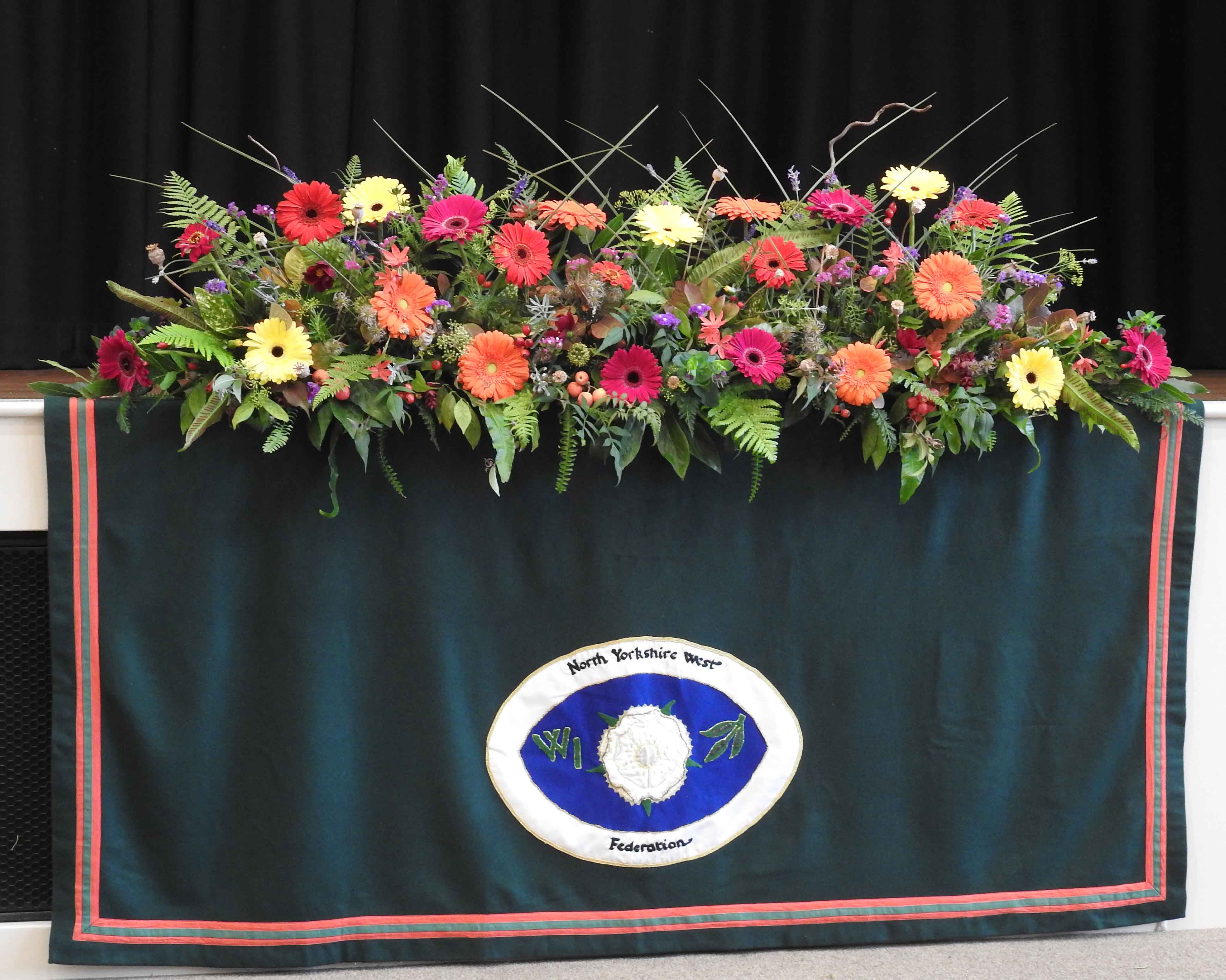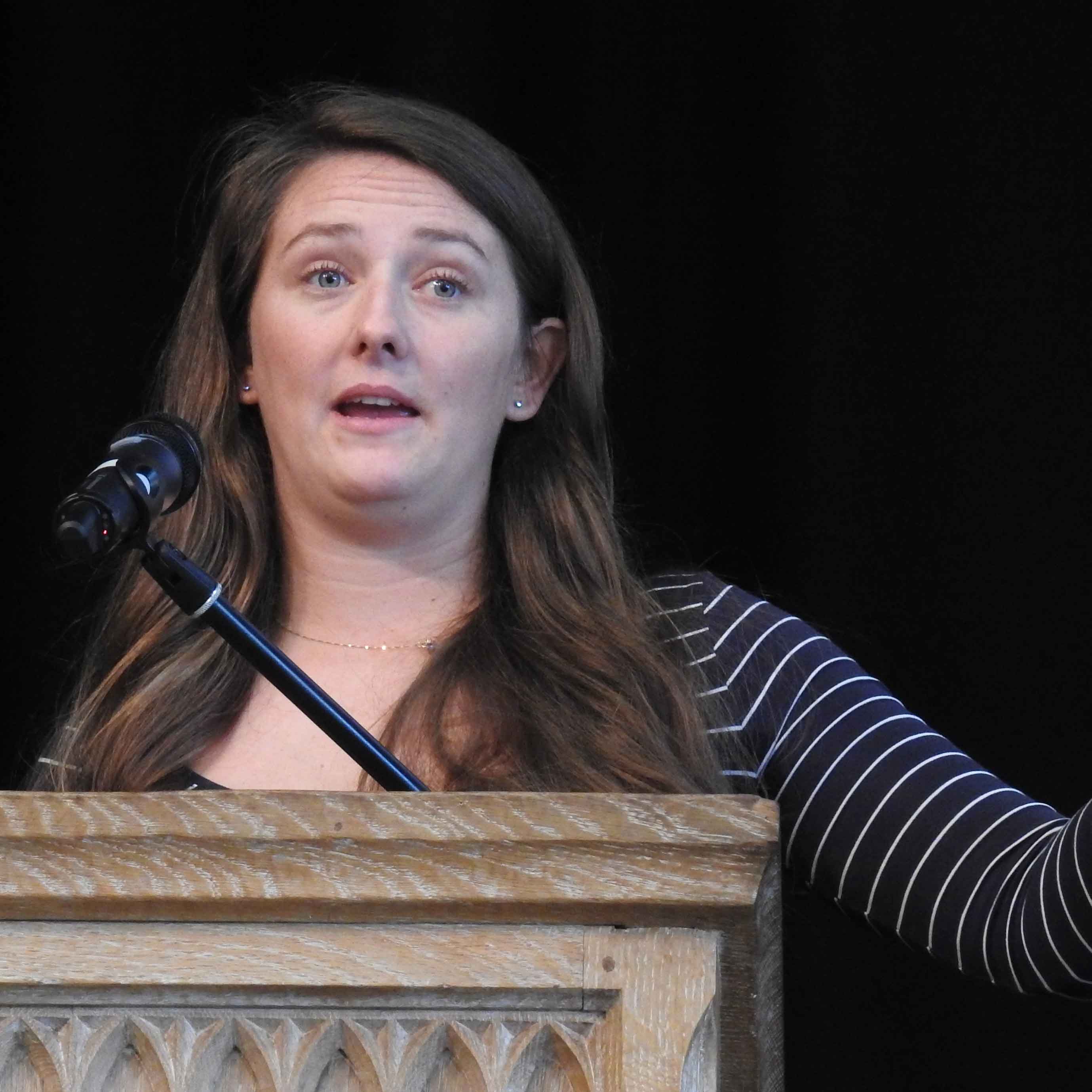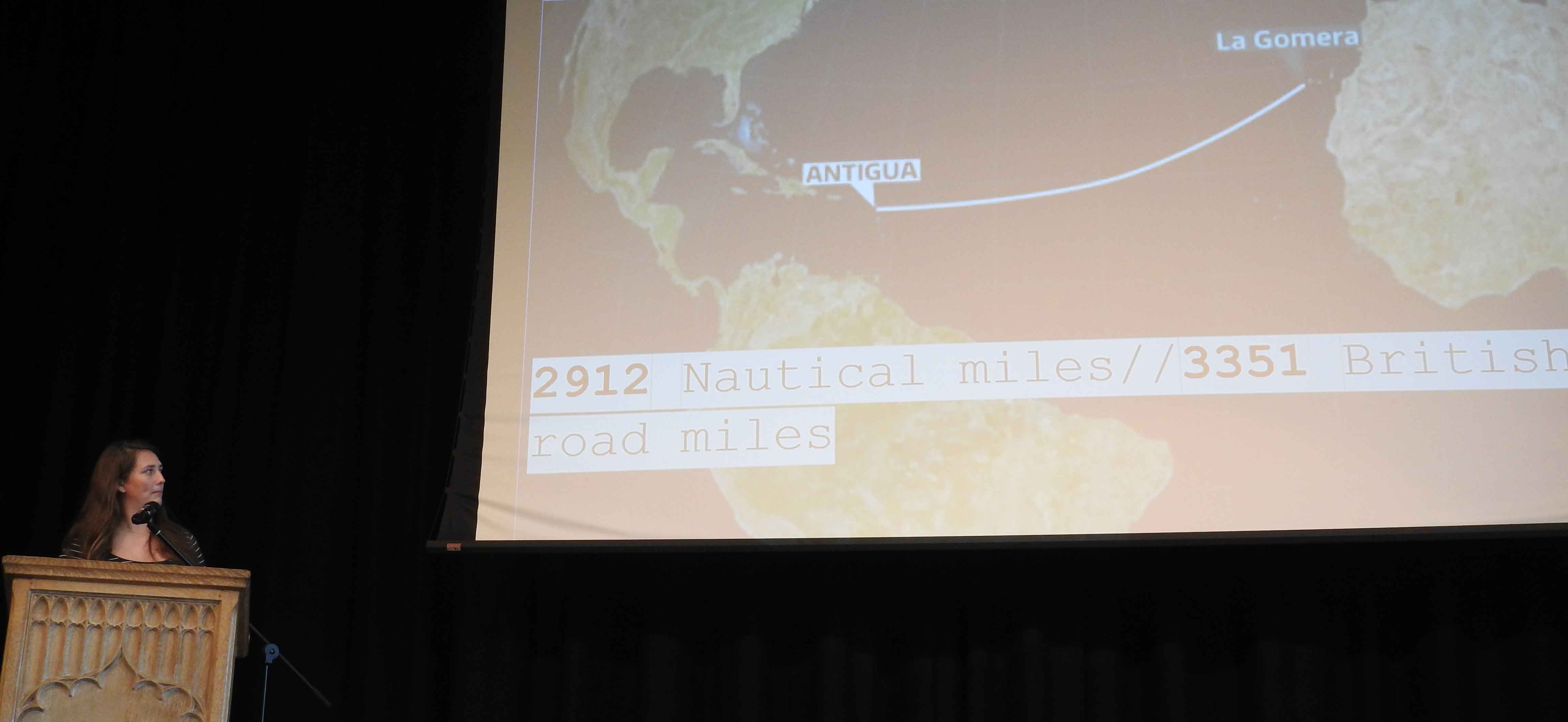 Jasmin Harrison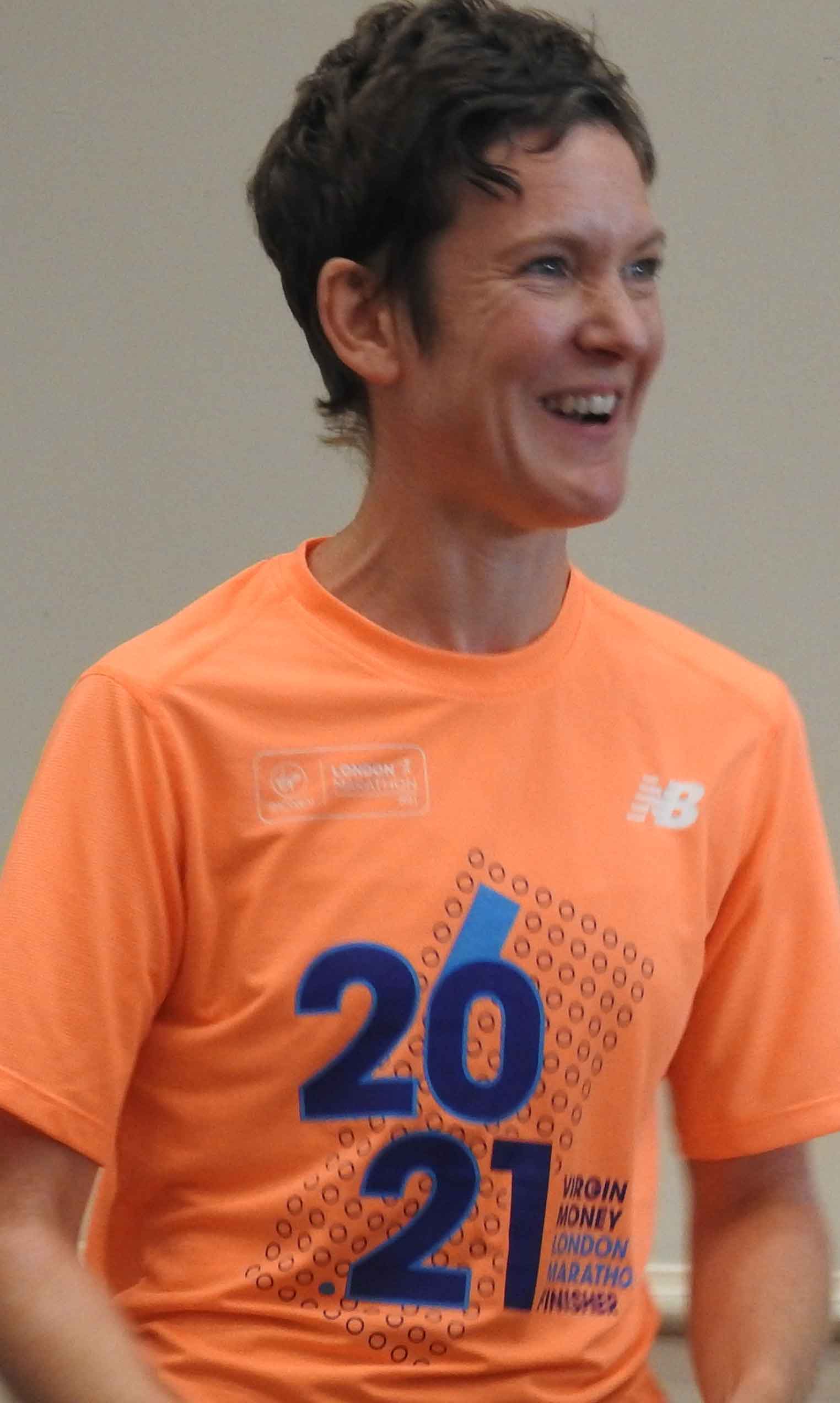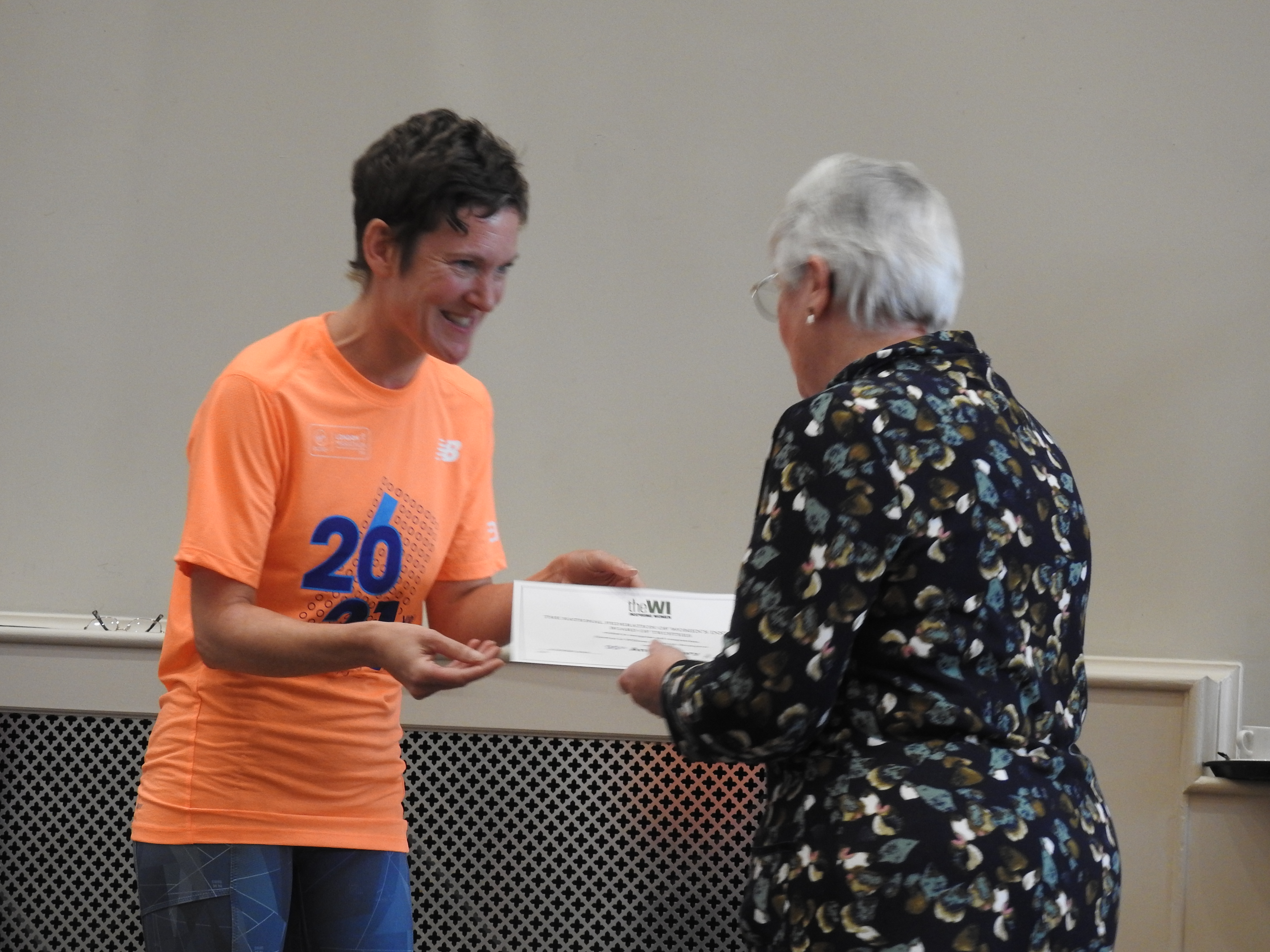 Emma Stoney
and someone who would have us believe ....Heather Stoney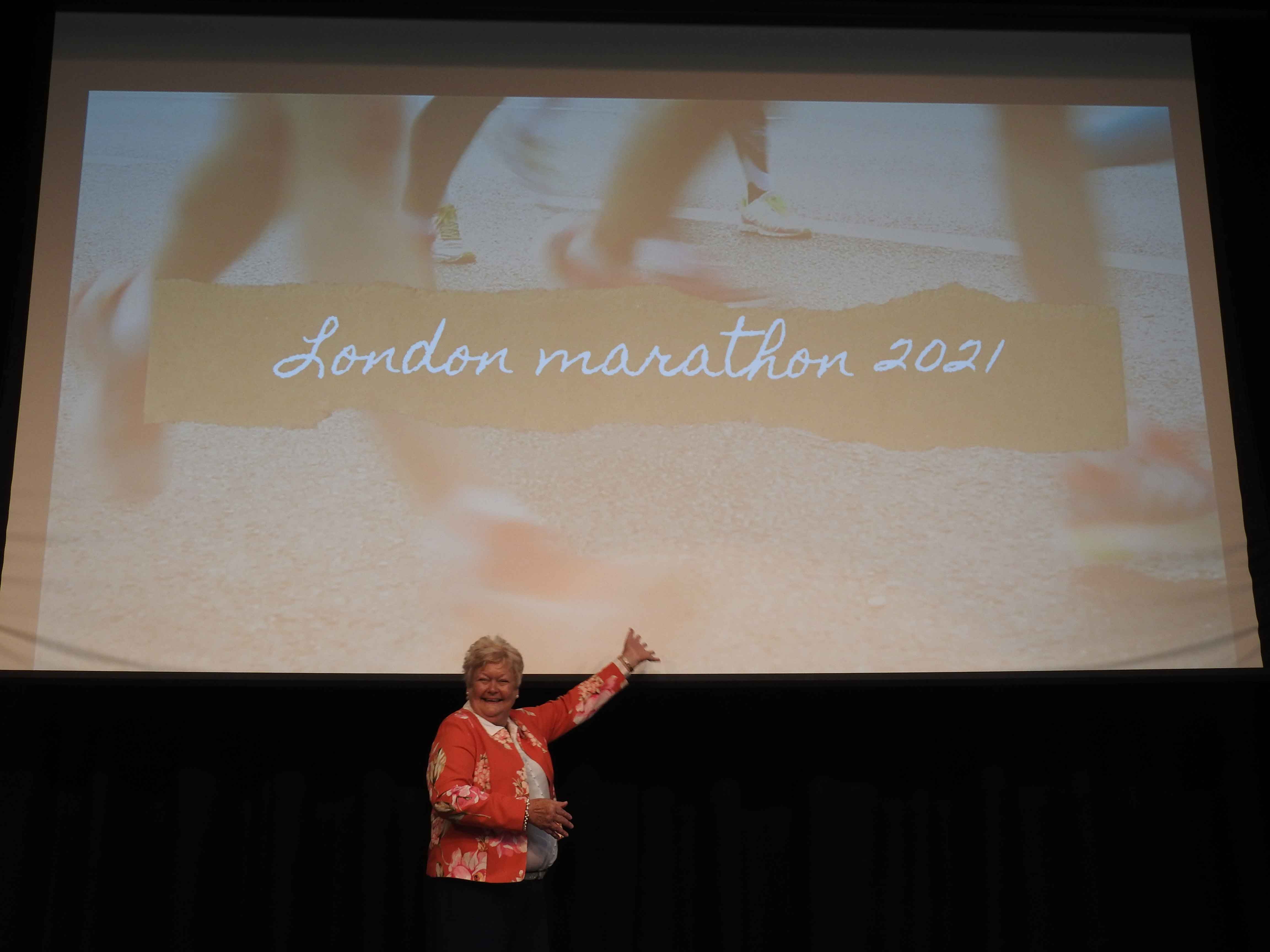 ---
Federation Quiz Heat - Gargrave
Here are some photos of the heat hosted by Gargrave Institute headed by the Quiz Master and Recording team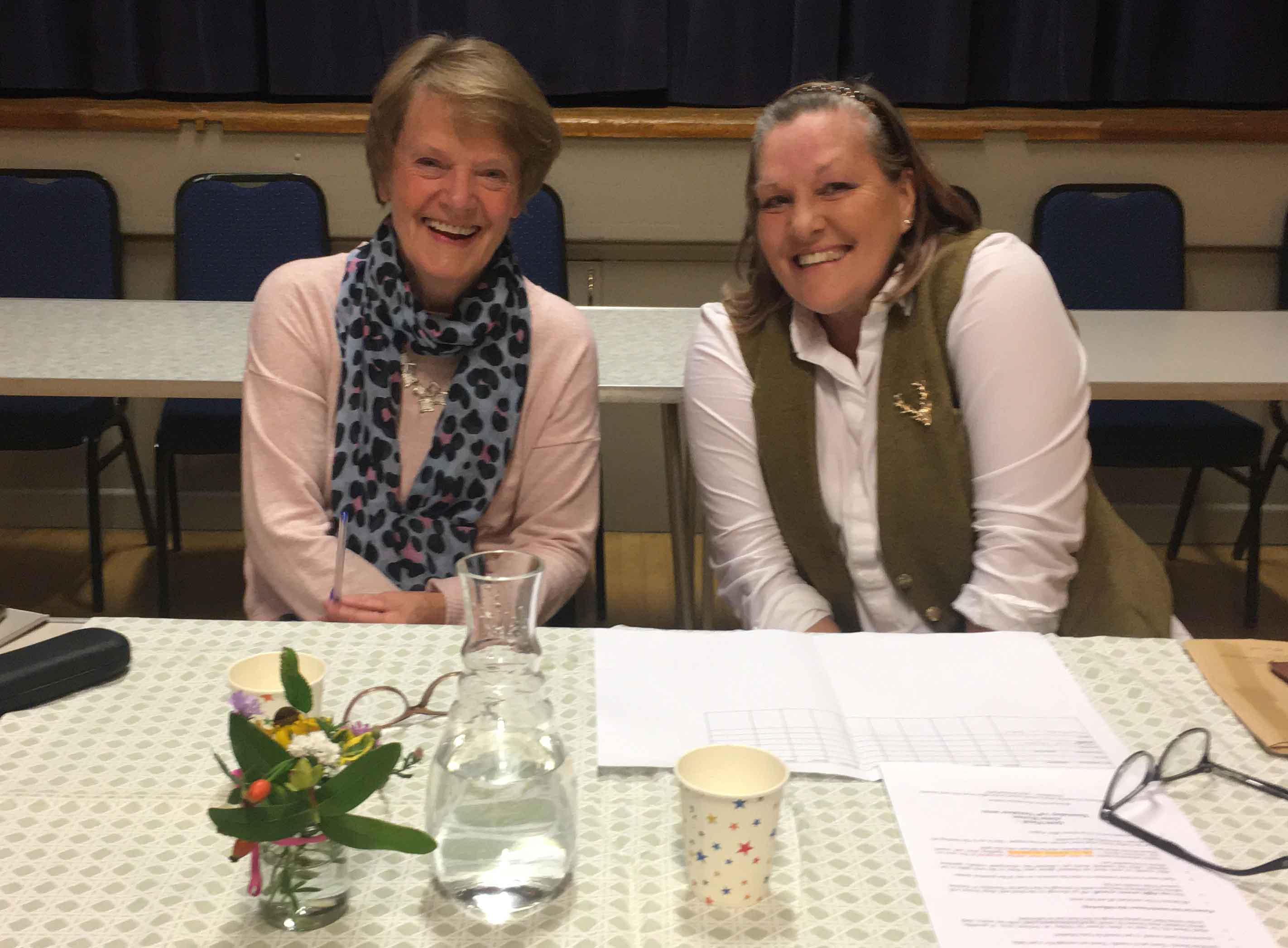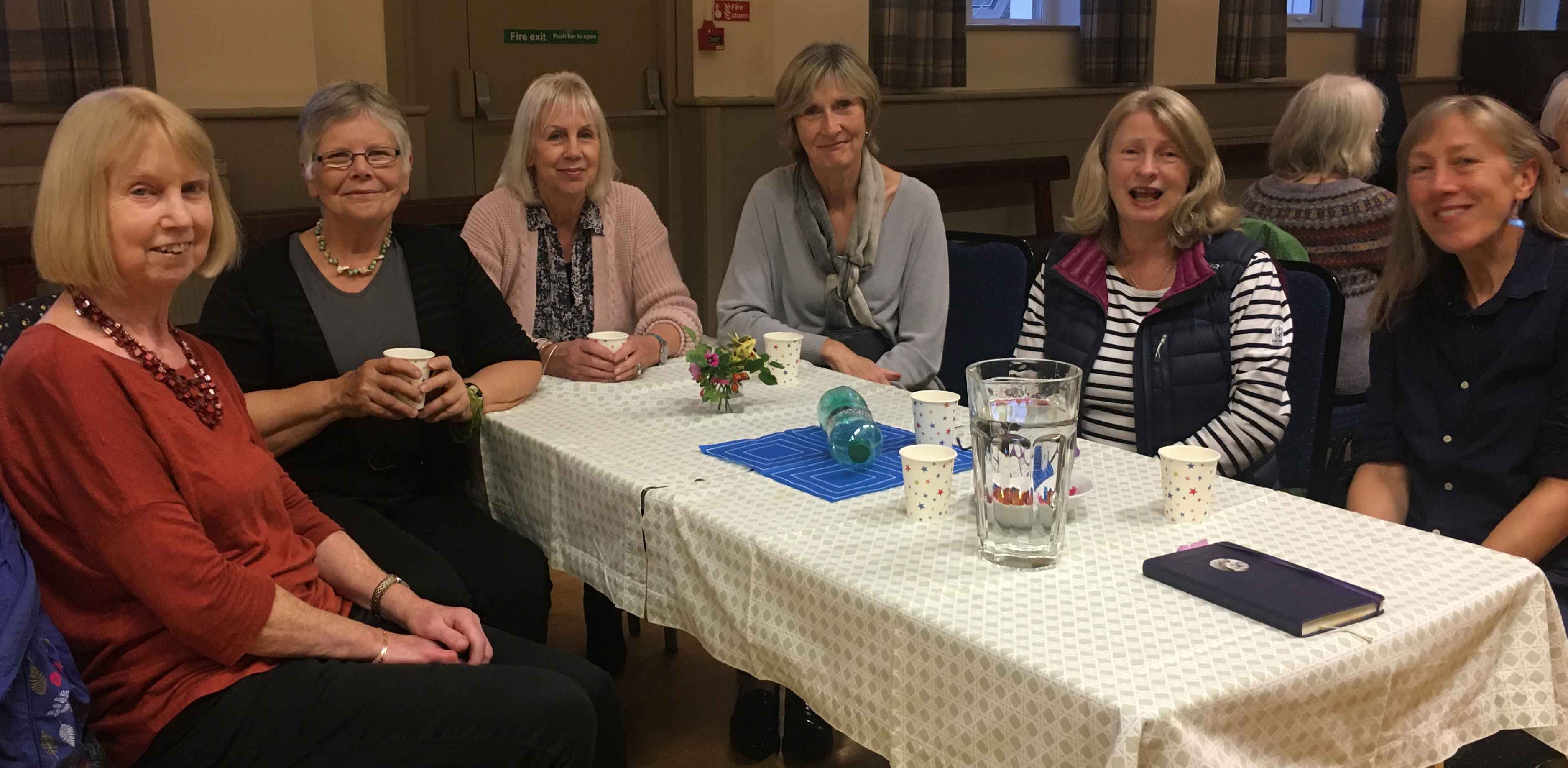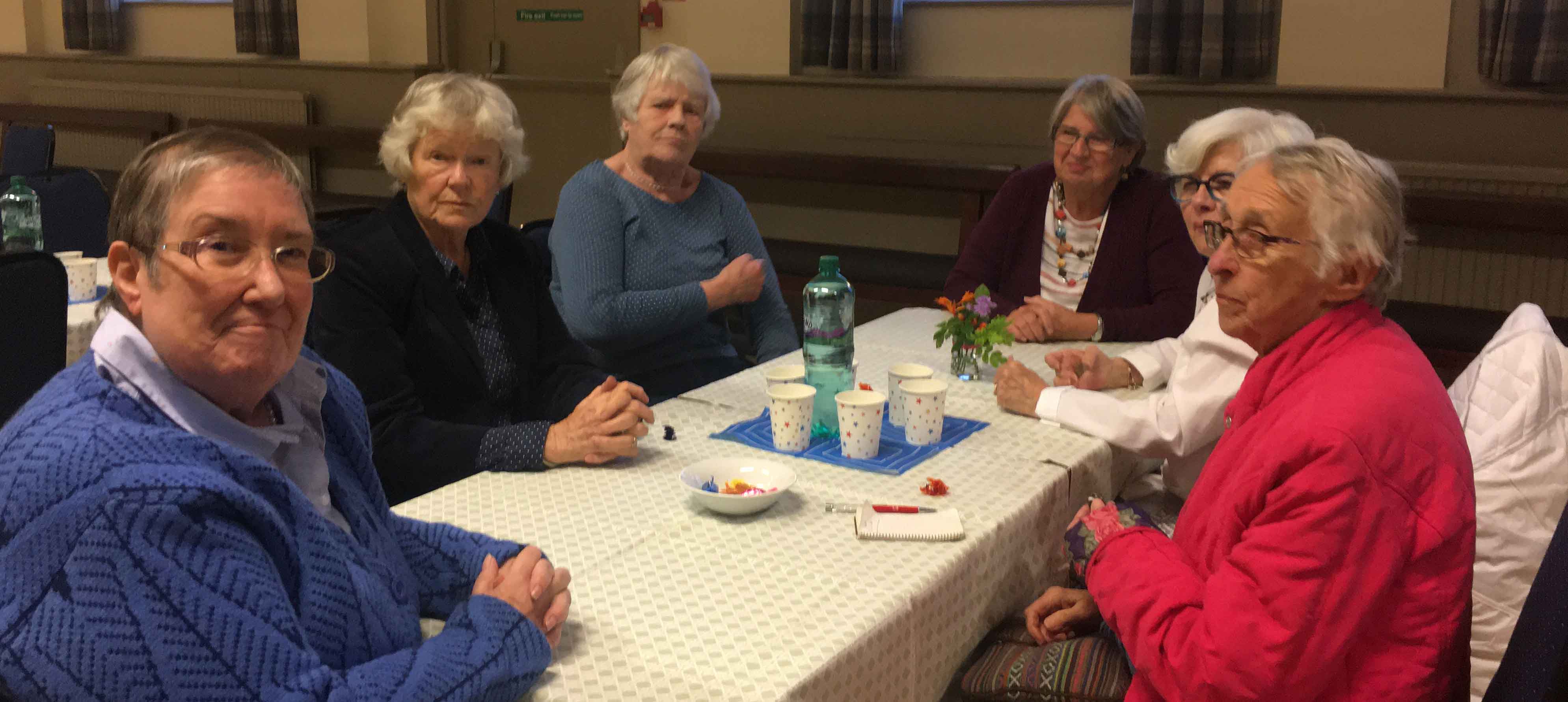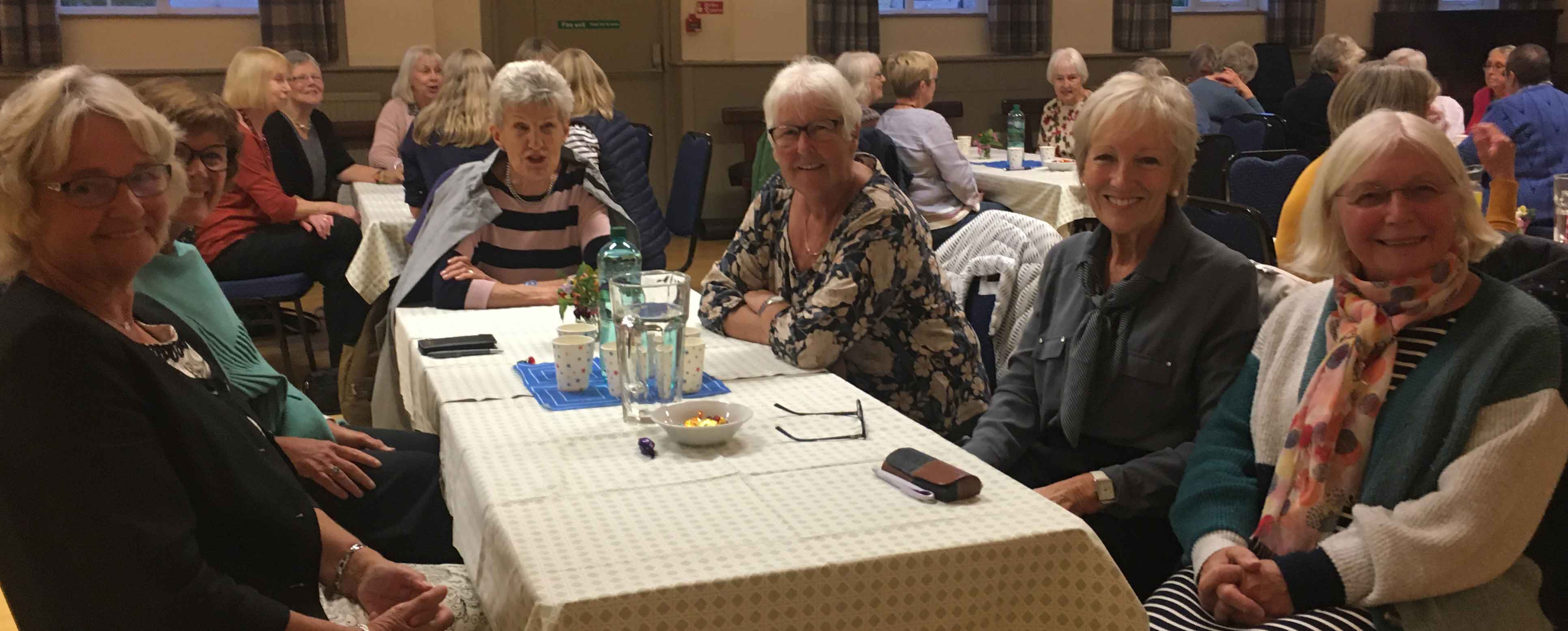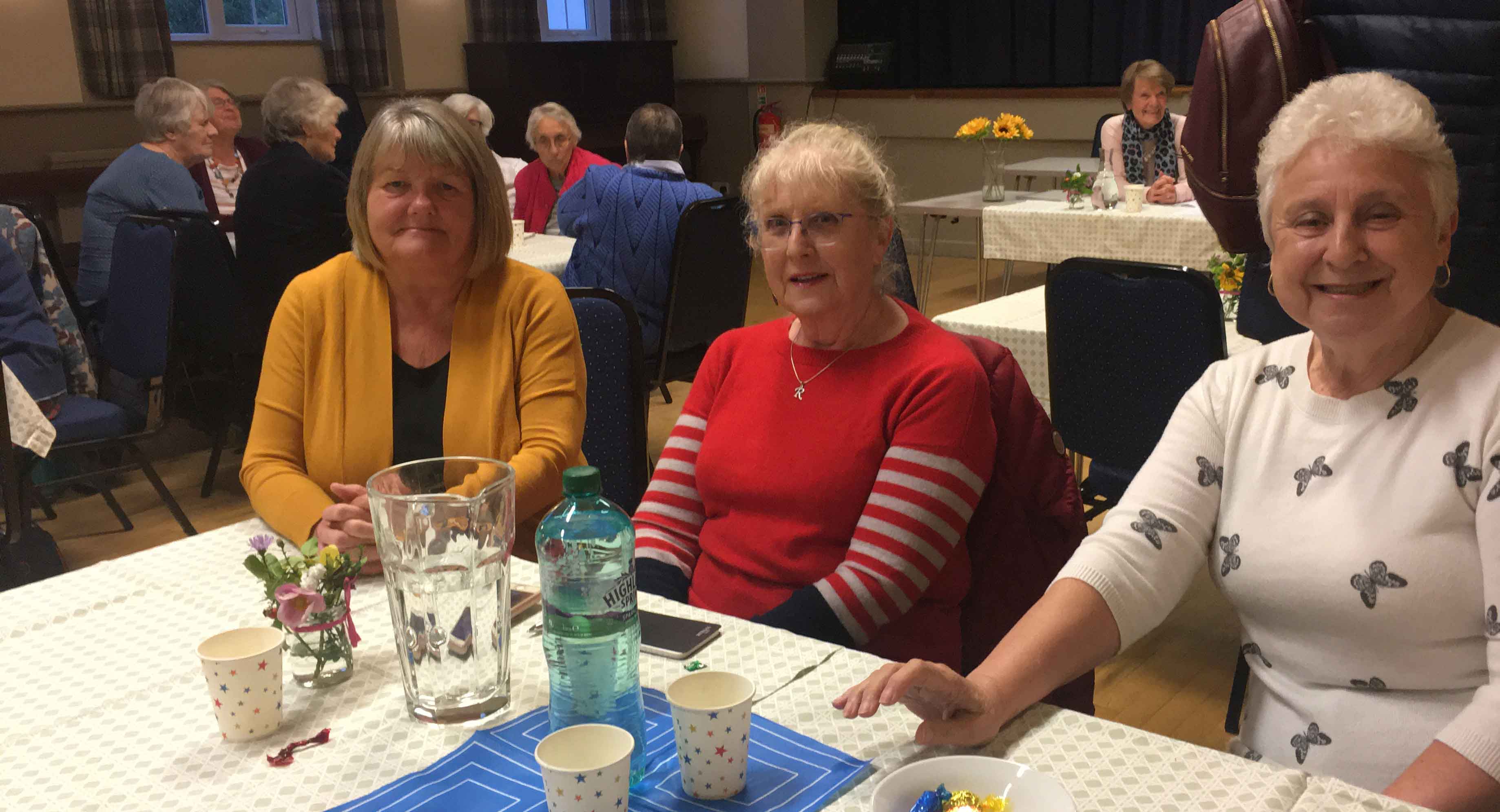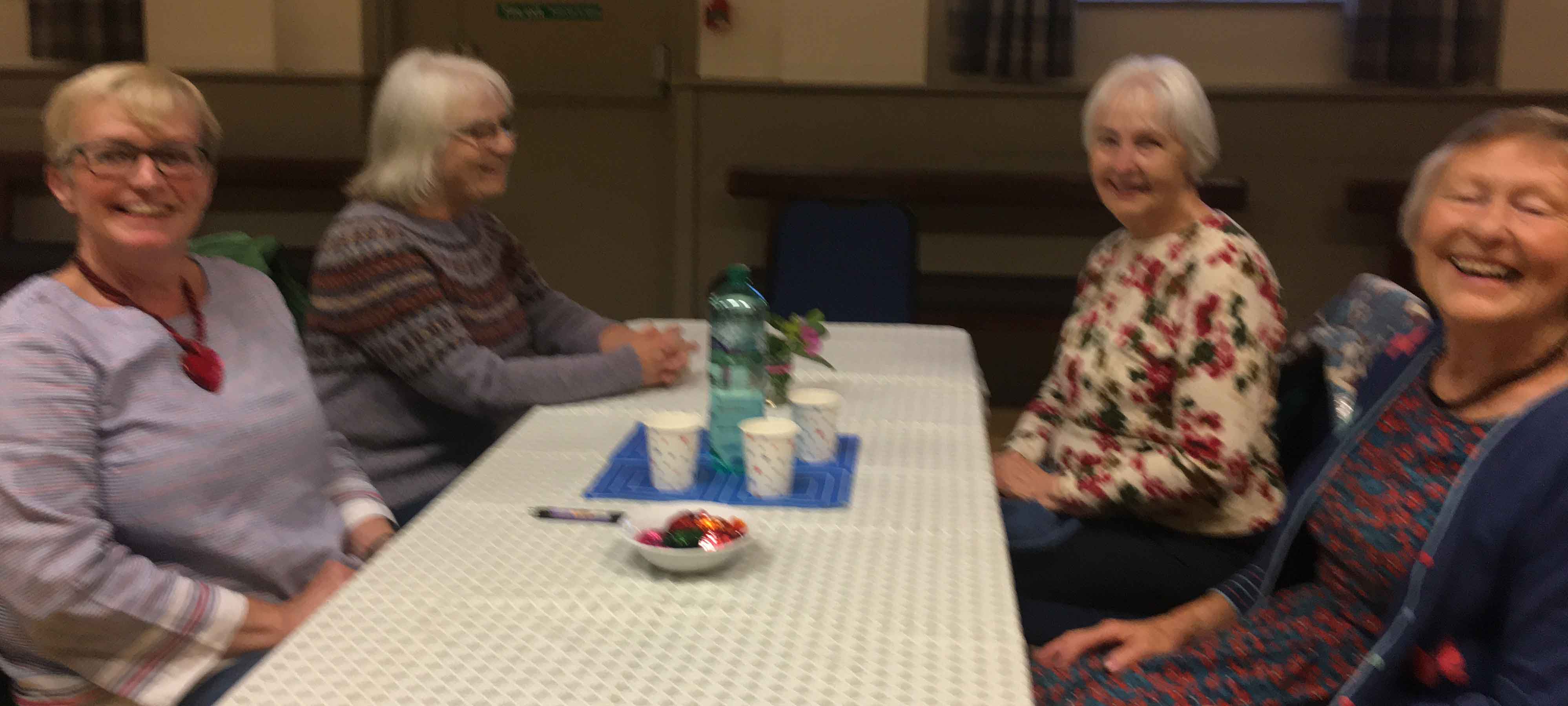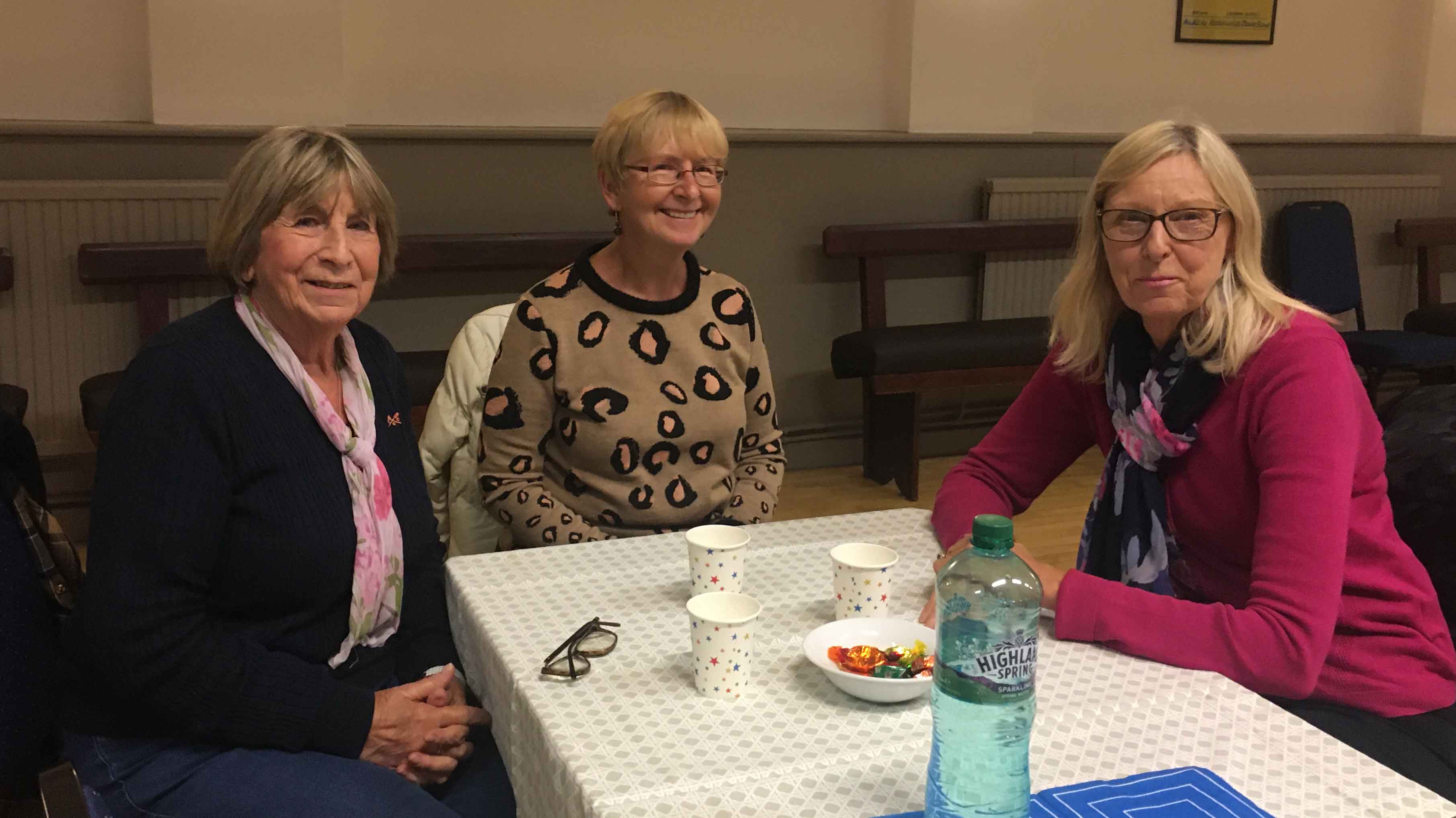 ---
Alma House Afternoon Tea
16 Sept 2021 - WI's 106th Birthday
The sun came out and everyone who came was able to enjoy the garden with tea and cream scones - catching up with other members - just like old times. Thank you to the behind the scenes bakers, tea makers, washer uppers and stewards organising car parking, social distancing and recording to keep us all safe.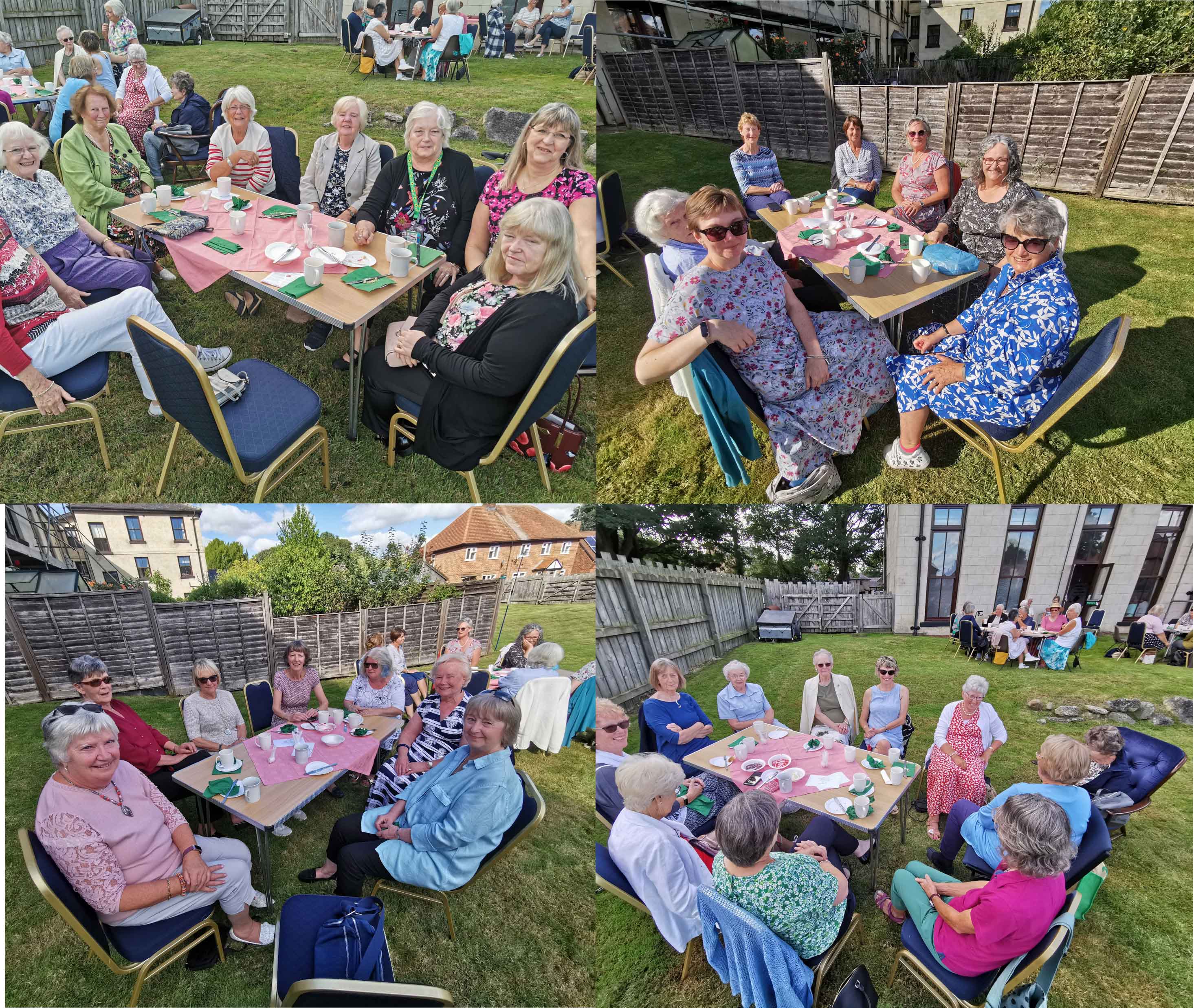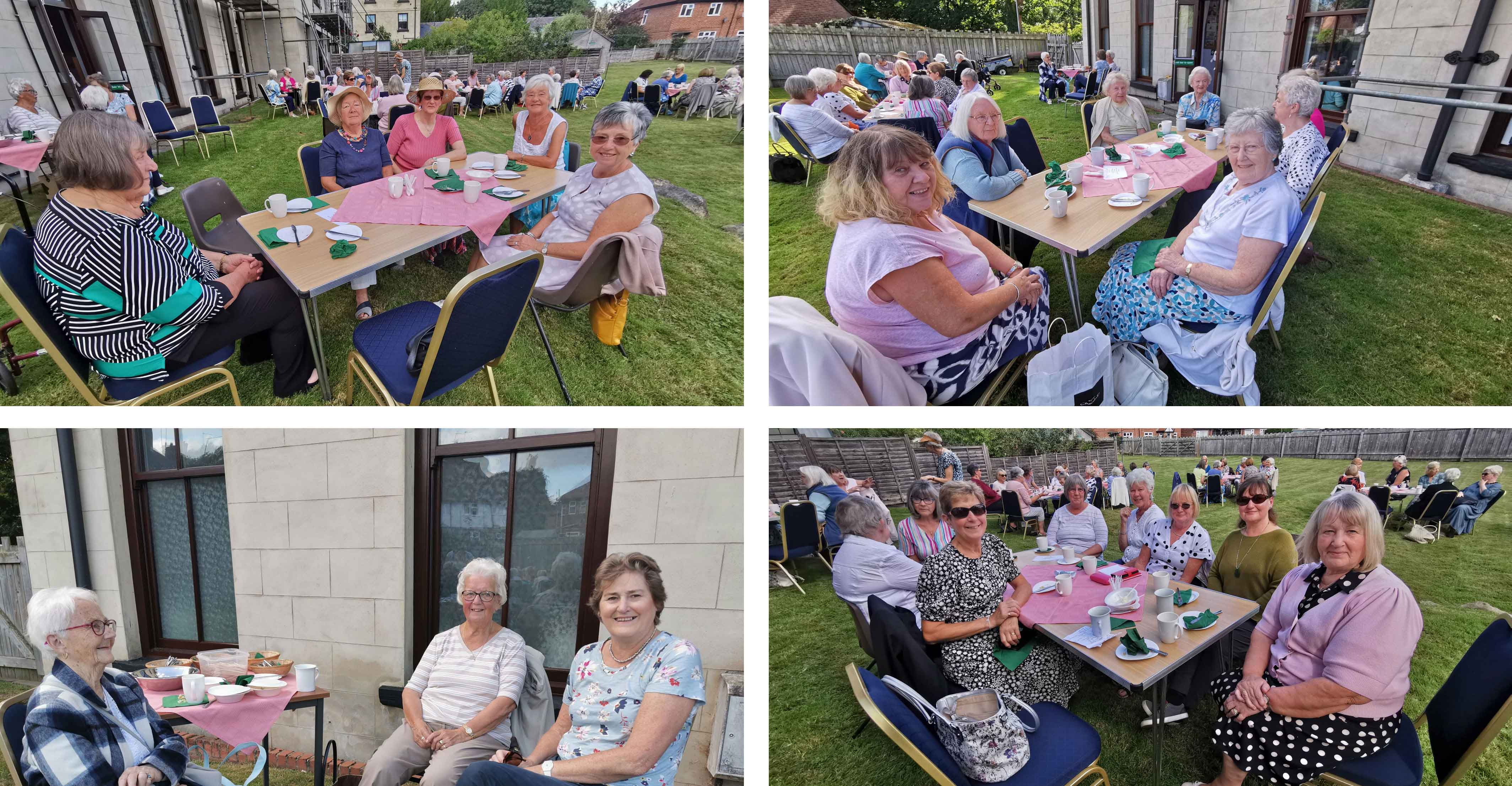 Addingham WI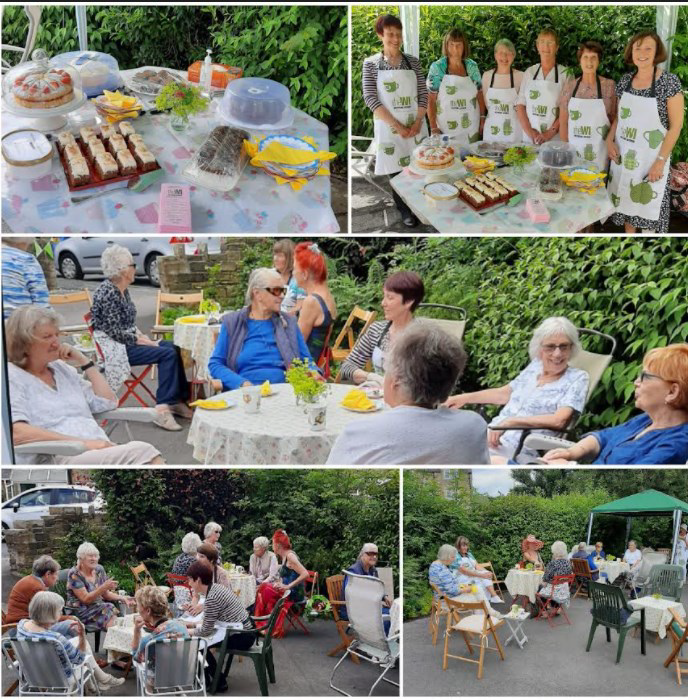 Here are a few photos of our first get together in person- a cuppa , cake and a chat- what's not to enjoy- especially as the sun shone.
Askwith with Weston WI are getting together again
August in the Garden - September in the Village Hall?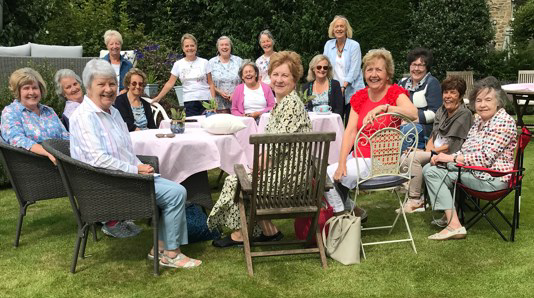 In August we meet for lunch on the day of our monthly meeting but last year that simply wasn't possible. So we were so happy that this month we were able to celebrate on a lovely sunny day with a Summer picnic in our President Andrea's beautiful garden.
Since March 2020 we've met on Zoom and have had some wonderful speakers but not everyone could participate, so this made our picnic extra special and it was just wonderful to meet up again. Hopefully September will see us back to normal in the village hall, and we can't wait !
Darleys Angels WI - Paddleboarding

.......

......

Here are some of our WI ladies having a go at paddleboarding recently. (More photos on the website). We had such fun, I think a paddleboard is on Christmas lists for some of us!
We initially listened to Jo Moseley on a Zoom meeting. She was very inspiring and so I looked up a local coach. Our first go was at the Canal at Rodley, Leeds, which was a beautiful setting but very slow getting there in all the peak traffic. Our second session we met at Knaresborough. It was much easier to get to but we were limited on how far we could paddle. One member enjoyed her self so much she wants to plan a group paddle along the Caledonian Canal!
Roll on our next adventure. Jo Hayes
SWALE W.I MEETING 19th July 2021
Please see the full report including photos at this linkWe held our Summer Reunion Meeting at Richmond Town Hall on a gloriously sunny afternoon. Opening the meeting our President, Sue, welcomed new member Lynne and 20 other members. Apologies had been received from Angie Woodford, Joan McCallum, Vera Irwin and June Speight.

This meeting was originally scheduled to take place one month after the government's lifting of Covid 19 restrictions, but, in the event, we re-launched Swale W.I. on the day that the country began to get used to socialising again! The Committee had planned for a reunion which would be a celebration of fun and friendship, with appropriate measures still in place to give confidence to our members meeting in person after 16 months of being restricted to only "virtual" contact.

Members were encouraged to adopt whatever measures they felt comfortable with. The Town hall proved to be an excellent venue where we could all feel relaxed..
Read on including more photos at this link
.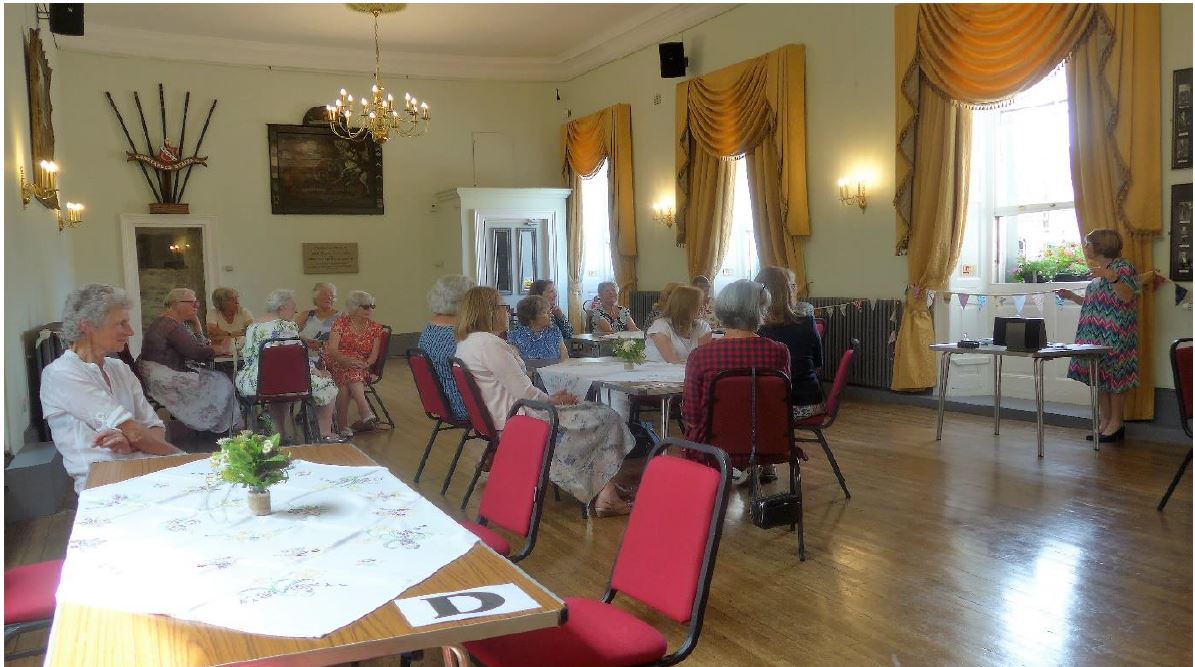 ---
Great Yorkshire Show 2019
Please scroll down to see a selection of photographs from the WI Pavilion showing the competitions, displays and catering operation - come along and see or next year compete, volunteer or visit.
Update from the Channel 5 Programme to Christine from Knaresborough WI.
I just wanted to say a huge THANK YOU for all your patience, participation and kindness to us all during the filming. Your frangipane was absolutely loved by everyone – a 'Best in Show' for sure!
Please pass our thanks onto everyone, the WI tent was absolutely one of our favourite spots – especially the bacon butties 😊
I also wanted to let you know that the viewing figures for Wednesdays programme was 1.6 million and on Thursday it was 900,000 – so it will have been a great opportunity to showcase how wonderful the WI is and hopefully encouraged others to join!
I've attached a lovely photo of yourself and Anita – we're hopefully going to be able to send you a copy of the programme soon. It may just take us a little time to get it sorted, but its on the to do list.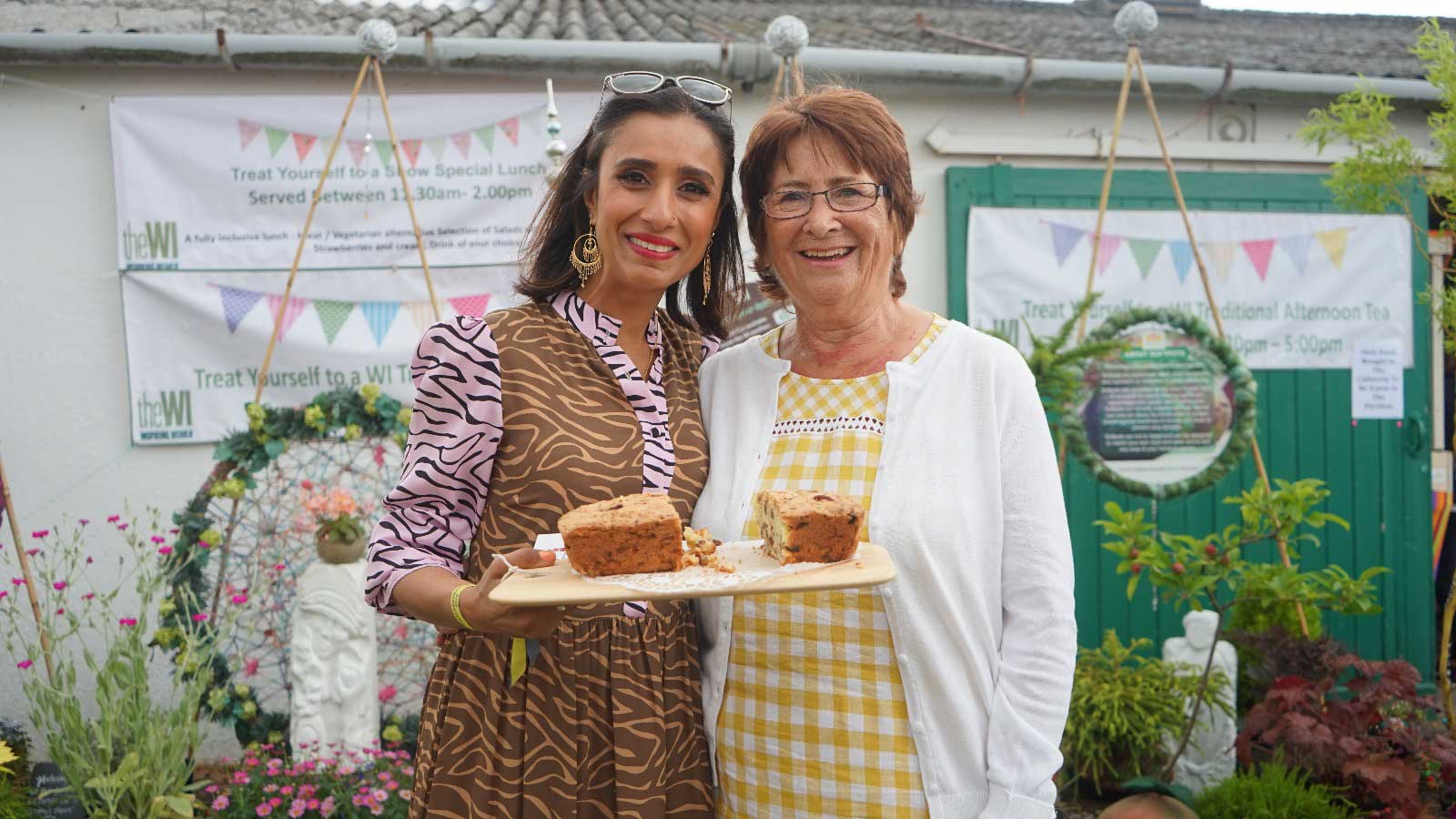 371251
371250
371252
371253
Spring Council 2019 - Garden Rooms Leyburn
Spring Council Special Notes are available to download here
Please note some of the images are only showing the left hand side - so do download images to see full image (right click and view image)- if you require copies please contact web.nwyorkswi@yahoo.co.uk.

A Day at Spring Council Gallery
359210
Display Area Gallery
359208
Certificate Presentation Photographs Gallery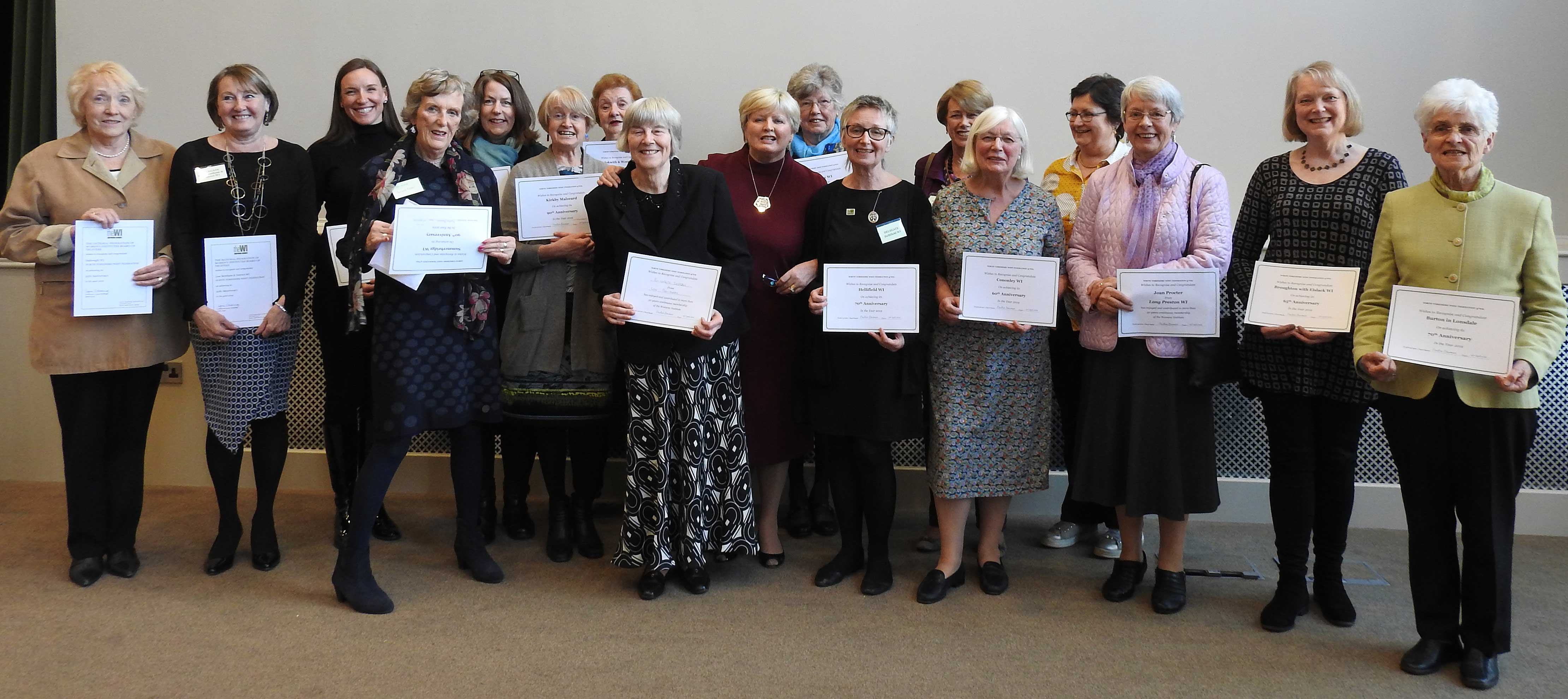 359209