Latest News
Great Yorkshire Show 2022
We need your help in supporting the display by producing entries for the competitions and Jams for the sales cart.
Also Catering and Stewards to help run the cafe and display areas over the 4 days of the show, if you can help before setting up your assistance will be appreciated
Download booking forms here :-
Any queries please contact the office or Julie Clark j-a-clarke@hotmail.co.uk
10 Year Cancer Plan - Survey requesting your input by 27 March 2022
From National Federation Public Affairs
As part of the WI's See the Signs campaign, the NFWI is partnering with Ovarian Cancer Action to submit a joint response to the Government's 10-Year Cancer Plan call for evidence.
Although the 10-Year Cancer Plan is for England, the survey is open to everyone in the UK, the Isle of Man, Jersey, and Guernsey (members and non-members). You do not have to live in England or have personal experiences of ovarian cancer to take part.
This is a key chance to raise awareness of the need for everyone to know the signs of ovarian cancer and to improve diagnosis. It is vital that as many members as possible share their views and experiences so that we can make a strong case to the Government. Please share this link as widely as you can.
https://www.surveymonkey.co.uk/r/NFWI10yearplan
We would appreciate your support by sharing the following link to the survey with your members/non-members .
The survey will close on 27 March 2022.
Note from National Federation
Please note that the timeline for the consultation on the 10-Year Cancer Plan was set by the Government. We would ordinarily give members much longer to take part in surveys like this, but the Government's timetable means that on this occasion we have a very limited window to gather feedback from members and submit our response. We appreciate your understanding regarding the timing of this activity.
For more information on the Government's 10-Year Cancer Plan call for evidence, visit: www.gov.uk/government/consultations/10-year-cancer-plan-call-for-evidence/10-year-cancer-plan-call-for-evidence
Alma House will be open from 1 February 2022
Tuesday - Friday 9:30-12:30 and 1:30-3:00
(Closed for lunch 12:30-1:00).
---
Spring Council 2022
At the Spring Council we need to approve the minutes from 2021 - these can be downloaded in pdf form from this link
Call To Action
Please download the template letter referred to in the March Newsletter artcile re Task Action to Protect our Right to Protest
in Word Format download here
in Pdf Format download here
further information is available in MYWI at https://mywi.thewi.org.uk/public-affairs-and-campaigns/news-and-actions/take-action-to-protect-our-right-to-protest
Topics on this page - scroll down for detail
WI Subscription Flexibility Guidance
Current and Past Newsletters follow this link or see menu on left of this page
---
WI Subscription Flexibility Guidance

The subscription from April 2022 to March 2023 is £44, of which £12.10 (27.5%) goes to the NFWI, £10.30 (23.4%) to the Federation, and £21.60 (49.1%) to the WI. This means the minimum amount to be collected from each member in April 2022 is £22.40 (NFWI+ Federation) and WIs have flexibility over charging the remaining £21.60.
See this link for renewal forms
Walk with Women
Here are two photos of WI's which took part on Friday evening Kirby Malzeard and Barnoldswick Buttercups - now added photo from Knaresborough too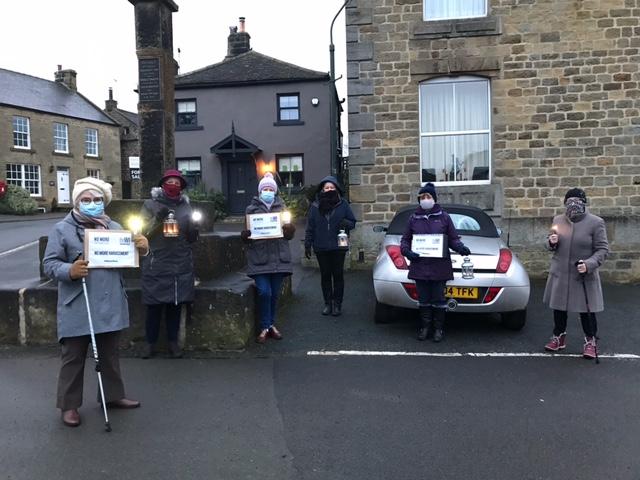 ...