Latest News
New WI in West Tanfield - Inaugural Meeting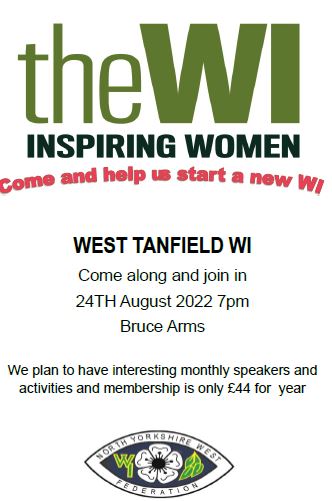 If you require further information please contact Margare Merrall email mjmerral@yahoo.com or call on number is 01677 450652
Final Competition Results for GYS including Public Scarecrow
Please scroll down or download a pdf here
| WI | A Sock Creature | Hanging Storage Pod | Macrame Wall Hanging | Fob -style Scissor Keeper | Photography | Art | Circlet/Wreath | Hand-tied Bouquet | Total | Award |
| --- | --- | --- | --- | --- | --- | --- | --- | --- | --- | --- |
| Aiskew | X | X | X | 19.5 | X | X | X | X | 19.5 | |
| Arkendale | 19.5 | 20 | X | X | 16 | 16 | X | X | 71.5 | |
| Castle Belles | X | X | X | NAS | 19 | 19 | 11 | 18 | 67 | |
| Coverdale | 17.5 | 16.5 | X | NAS | 16 | 15 | NAS | 14 | 79 | |
| Darleys Angels | X | X | X | X | 13 | X | X | X | 13 | |
| Forest Moor | 18.5 | 18 | X | 15 | 14 | 16 | NAS | 13.5 | 95 | 3rd |
| Glasshouses | X | X | X | X | X | X | NAS | 12.5 | 12.5 | |
| Harrogate Bloomers | 15.5 | 20 | 20 | NAS | 18 | 18 | NAS | 14.5 | 106 | 2nd |
| Harrogate Rascals | 15.5 | X | X | X | 15 | X | X | X | 30.5 | |
| Killinghall | X | X | X | X | 15 | 18 | X | X | 33 | |
| Kirby Hill | 19.5 | 19.5 | 18 | NAS | 17 | 19 | 14 | 17.5 | 124.5 | 1st |
| Knaresborough | 18.5 | 10 | X | 20 | 15 | X | 20 | X | 83.5 | |
| Knox | X | X | X | X | 14 | X | X | X | 14 | |
| Masham | 19 | X | NAS | X | X | X | X | X | 19 | |
| Melsonby | 16 | X | 14 | NAS | 14 | X | 7 | X | 51 | |
| Roecliffe | 18.5 | X | X | 19 | 14 | X | 20 | 15 | 86.5 | |
| Rylstone | X | X | X | X | X | X | NAS | X | x | |
| Sharow & Disrtrict | 19.5 | X | X | X | X | X | 11.5 | X | 31 | |
| Skelton on Ure | X | X | X | X | 16 | X | X | X | 16 | |
| Spa Sweethearts | X | X | X | X | 20 | X | X | X | 20 | |
| Stray Ladies | 19.5 | X | X | 19 | X | X | X | X | 38.5 | |
| Thornton Watlass | 20 | X | X | X | 13 | X | X | X | 33 | |
| Threshfield /Linton | 19.5 | 19 | X | 20 | X | 17.5 | X | X | 76 | |
Scarecrows - Public Votes
Harrogate Bloomers - Disco Diva- 476
Aspin Park - Vivienne Westwood- 461
Castle Belles - Peace Lily- 208
Kirby Hil - Mary Quant- 201
Public Appreciation for your Efforts at GYS
Received in the office the following comment
A bit of feedback. Hubbie and I enjoyed a lovely lunch in your tent at the Yorkshire Show on Friday. Gorgeous Feta Quiche and Lemon drizzle cake .The catering ladies and the person on the till all working their proverbial socks off and staying very cheery. Well done, you all contributed to one of my favourite annual trips. Roll on 2023
THANK YOU for your Help at The Great Yorkshire Show
Thank you Party has been moved to Friday 29th July please contact Federation Office to say you can/can't make it due to the change of date or if you were unsure at GYS.
I wanted to say a huge thank you to you all for the vast amount of hard work that went into the last two weeks.
It is a huge commitment to give all your time and energy, but it was a brilliant team effort and was done in good spirits ,which passed over onto to customers and helpers .A number of helpers were first timers and all commented on how much they had enjoyed it, thank you to you all for achieving that.
Every one one of you played your part, I will not single anyone out, we are very much a team and we shone through as one.
Heather Stoney - Federation Chairman
FLASH MESSAGE JUNE 2022
We do have a number of important issues we felt it beneficial for you to be informed of before the next issue of the newsletter.
June, as you are aware, is the MCS month. Please may we request that if you have changes of positions, that you notify the office. The MCS register maintained in the office is not automatically notified of any changes you make at WI level which means we are not aware of any changes. We appreciate that this sometimes causes you frustration when you think that we already know.
There are two requests regarding the newsletter that will be distributed at the end of June for the July/August edition:

1) we do require the order form sending to the office before the 20th June to enable us to process your requests moving forward. If these are not received we will find it difficult to process the newsletters.
2) As our request mentioned regarding the MCS, we do need the contact details of recipients, be it secretary or an alternative, to receive these emails.

Please will you be aware of the attachment that has come from the Police, Crime and Fire Service Commissioner. See this page for all details At today's Board of Trustees meeting we have agreed that this proposal is sent to all WIs for them to read and action as they feel fit.
We have received this information below from National for your attention:
Me, Myself and WI
Now the Me, Myself and WI event has finished we would like to gather some feedback. We love to hear from our members about what has worked and what members would like to see in the future. Please take a few minutes to complete the survey.
If you are a member please fill in this survey:
Fill | Me, Myself and WI 2022 - WI Member Feedback
Thank you for taking the time to complete this short evaluation about the recent NFWI initiative: Me, Myself and WI. If you took part, we would welcome hearing how you got involved. If not, we would still welcome your thoughts to help us understand what we could do differently next year to increase engagement. Please note, responses will remain confidential and used for admin purposes only.
forms.office.com
If anyone who is not a member interacted with the event please complete this form:
The closing dates for the Lady Denman Cup Competition and the Huxley Cup are both fast approaching, please find attached to this email the updated entry forms and Schedules with the postal address included.
Key Dates:
Lady Denman Cup Deadline: Friday 29th July 2022
Huxley Cup Deadline: Friday 19th August 2022
We are looking forward to seeing all the entries from members.
We would appreciate your support in cascading this email to your WIs and fellow members.
---
Great Yorkshire Show 2022
We need your help in supporting the display by producing entries for the competitions and Jams for the sales cart.
Also Catering and Stewards to help run the cafe and display areas over the 4 days of the show, if you can help before setting up your assistance will be appreciated
Download booking forms here :-
Any queries please contact the office or Julie Clark j-a-clarke@hotmail.co.uk
Alma House will be open from 1 February 2022
Tuesday - Friday 9:30-12:30 and 1:30-3:00
(Closed for lunch 12:30-1:00).
---
Call To Action
Please download the template letter referred to in the March Newsletter artcile re Task Action to Protect our Right to Protest
in Word Format download here
in Pdf Format download here
further information is available in MYWI at https://mywi.thewi.org.uk/public-affairs-and-campaigns/news-and-actions/take-action-to-protect-our-right-to-protest