Latest News
Topics on this page - scroll down for detail
Walk with Women - photos update March 2021
WI Subscription Flexibility Guidance
WI Annual Meetings - Update 20/11/20
Meetings re Covid
Federation Zoom Courses
BOT - Trustees
Denman
Membership Support/WI Advisers Contact Details
Current and Past Newsletters follow this link or see menu on left of this page
---
Walk with Women
Here are two photos of WI's which took part on Friday evening Kirby Malzeard and Barnoldswick Buttercups - now added photo from Knaresborough too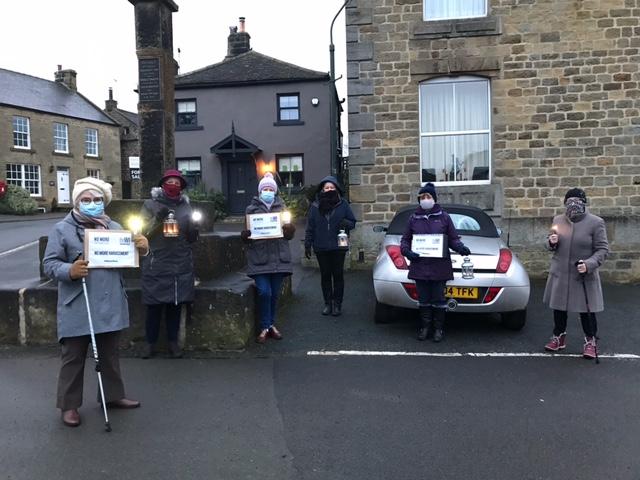 ...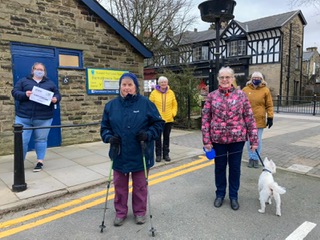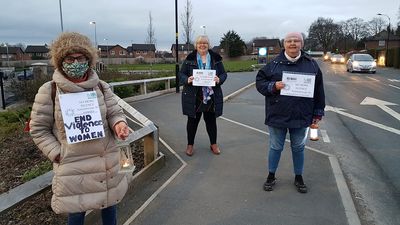 FLASH MESSAGE - NFWI update about WI Subscription Flexibility Guidance
"David Attenborough wants us all to love our planet again. This message is from the Federation Trustees who want you all to love your W.I. again".

We know we have all enjoyed less than normal the number of WI meetings, social events and workshops in return for our subscriptions last year, but we also know that the majority of W.I. Committees have done their very best to stay in touch during this terrible pandemic. Many inspiring initiatives have been created and lovingly delivered by Committee members, Zoom meetings have provided social contact for many members and socially distanced walks and picnics have been enjoyed weather permitting. We have continued to produce in-house the Federation Newsletter and we are very grateful to the Institute Secretaries who have made the effort to get these out to their members. Overall we have all done what the W.I. always does, we have done our best.

The Federation Board of Trustees have worked tirelessly to maintain regular communication with all our members and have managed our finances to ensure the viability of our funds. Alma House was closed down from day one and the staff were furloughed. They have since either resigned or taken voluntary redundancy. This means the Trustees are working without paid staff in an effort to save money.

We have successfully submitted applications for funding and many of you have sent us donations and that is so heart warming to know that you want our Federation to survive as much as we do.

There is undoubtedly the concern and uncertainty that we may lose members as some may feel they have not received value for money, albeit outside of our control. National have played their part by extending the subscriptions to 15 months rather than the usual 12. It is now time to collect the subscriptions again and we are delighted to be able to share with you the results of recent discussions with NFWI. We can now announce the 'Subscription Flexibility Guidance' agreed between all parties. This new initiative gives WIs the freedom to make their own annual decision regarding subscriptions. WIs have to make the decision whether or not they charge the full amount of the W.I. portion of the subscription, or waive the W.I. portion completely. The decision lies completely with the WI Committee. This decision was reached following member consultations amongst a variety of WIs, rural and urban and of all sizes.

The subscription from April 2021 to March 2022 is £44, of which £12.10 (27.5%) goes to the NFWI, £10.30 (23.4%) to the Federation, and £21.60 (49.1%) to the WI. This means the minimum amount to be collected from each member in April 2021 is £22.40 (NFWI+ Federation) and WIs have flexibility over charging the remaining £21.60.
Please bear with us, we are doing all we can, within the Government Guidelines and are preparing our programme behind the scenes to open up as soon as we are allowed.
In order to do this we now need Committees to discuss the above 'Subscription Flexibility Guidance' and make your own informed decisions. The attached communications from NFWI will provide you with further information and answer any questions you may have. We hope you feel as inspired as we do by this initiative and that this will help us all to retain as many members as possible. Covid 19 has caused so many problems and such heartache for so many, we need to get back together as women united in the most wonderful women's organisation in the world.

Once you have collected your subscriptions please send them to Alma House as soon as possible using the attached form.
We look forward to seeing you again, when the world opens up, the wonderful world of the W.I.


With very best wishes


Pauline Bowman
Federation Vice Chair
Acting Treasurer
North Yorkshire West Federation of WI
Letter for WI Committees - download here
Subscription Flexibility Guidance - download here
NYWFWI - Subscription Subsmission Payment Form - download here
---
WI Annual Meeting - Advice re Holding in COVID Restrictions
Update 20 Nov 2020
The Federation was informed from National on 13th November as a result of consultation with the Charity Commission and National's solicitors all WI's must hold an Annual Meeting in 2020 before the 30th December, together with Audited accounts plus the usual reports. So if you cannot arrange to have your AM before the 30th Dec will you please notify the Federation in writing why this has not been possible, so if the Charity Commission ask in 2021 the information is available.
Please find guidance for your Annual meeting, should you need any further help consult with your WI Adviser.
Download via links :
Annual Meetings 2020 pdf
WI Annual Report pdf
Annual Meeting2020 Word
---
Resumption of WI Meetings 9 Sept 2020 Update from MYWI
https://mywi.thewi.org.uk/nfwi-news/articles/resumption-of-wi-meetings
As you may have seen, the Government has today announced a ban on gatherings, indoors or outdoors, of more than 6 people in England. This is due to be enforced from Monday 14 September. Prior to this, WI meetings of up to 30 people were able to take place with social distancing and a risk assessment, as they fell into the category of 'community activity'.
At this stage, the Government has not yet announced the full list of exemptions for this new guidance, and until this list is published, we will not be able to confirm the full impact this will have on WI meetings and events. We are therefore withdrawing our existing 'resumption of meetings' document until we have more information, and will issue further guidance on the resumption of face to face WI meetings, including AGMs, when we have more information.
In the meantime, if your WI has an upcoming meeting or gathering planned, please keep a very close eye on Gov.uk for any updates, as this will always be the most immediate source of any information.
---
Federation Zoom Courses
We have published our open courses on Eventbrite at this link Eventbrite North Yorkshire West WI
You can book directly on this website - any difficulties please contact the office.
Can You Help? -
North Yorkshire West Federation Board of Trustees are working hard to ensure we come out of the situation Covid 19 has created in the best possible position.
Do you have the skills required to help steer us through the situation? We need fresh blood with updated skills to share the load - have you within the last two years have you been involved in running a business, do you have the skills required to help steer us through the situation/help define a strategy going forward.
We need people who are doers as well as those with ideas - we are a very small team operationally. We know we have many entrepreneurs in our Federation who have a wealth of experience that can help us and we would love to welcome you on board.
Our meetings are now happening via 'Zoom' and can therefore be at any time of day to suit all.
If you are willing and keen to join us please email Heather Stoney @ hjstonery48@gmail.com with your personal details and a brief resume of your expertise and skills you can bring to the table.
Your Board of Trustees needs your help!
---
Important Update About Denman
Please see information posted on the Denman and National Website plus Facebook - links below. Our Chairman(Julie Clarke) and Federation Denman Ambassador (Judith Standfield) have been on Zoom meeting calls but currently no further infomation is available over what is available on line at the following links:
Denman Home Page https://www.denman.org.uk/https://www.denman.org.uk/
National Federation in MY Wi https://mywi.thewi.org.uk/nfwi-news/articles/denman-update
and Facebook https://www.facebook.com/thewi/
Federation Updates
The Federation is currently maintaining contact with WI's via
Newsletter
Website
Facebook
Email
as it is not possible due to the office closure to send out inforamtion via mailings.
Please ensure that your MCS email contact details for key contacts of president/secretary and treasurer are current and where they officers do not use email that an alternative email address is provided to the Federation office.
Current and previous Newletters can be viewed/downloaded at this link
---
Membership Support Updated 8 Oct 2020
The Membership Support Committee wish all our members well and that you are all staying safe and free of this dreadful Coronavirus. At this time of uncertainty we are doing all we can to stay abreast of developments and following the advice from our Government so that we can cascade that advice to everyone. Undoubtedly there will be many questions from WIs and I have tried to pre-empt these and source answers from NFWI.
Can we delay Annual Meetings until this crisis is over? Yes
Our Officers were intending to step down at our Annual Meeting in April. As this meeting is now cancelled can they stay in the role until we can have our Annual Meeting? Yes
Will our members receive a refund for cancelled meetings? No
How can we distribute the Newsletters that would normally be issued at our monthly meetings? " Hand delivery through letterboxes avoiding contact.
Will we be receiving refunds for the cancelled Treasurer's training and Fine Tune your W.I. sessions? No
Will these events be rearranged after the country is clear of this Coronavirus? Yes and the payments will be transferred.
If we have any queries can we get in touch with a W.I. Adviser? Yes if you would like to speak to anyone on the Membership Support Committee please email any of the following Committee members.
Sue Earl-Armstrong -Chair - smea48@yahoo.co.uk
Anne Harrison - anneandmauriceharrison@btinternet.com
Pamela Rudd - pamela47.rudd@btinternet.com
Carol Ambler - carol@ambler.plus.com
Margaret Merrall - mjmerrall@yahoo.co.uk
Sue Butters - george.butters@sky.com
No question is a stupid question, if we don't know the answer we will do all we can to find the answer for you.
These are very trying times but I'm sure we will all come out of this nightmare, wiser and proud of how we all pulled together.
Take Care and Stay Safe.
Following the advice of our Prime Minster, Boris Johnson, on Monday 23rd March the office at Alma House is closed and will remain so until further notice.
There will be NO postal correspondence from the Federation and WI Secretaries are urged to check for email communications daily. If anyone is aware of a Secretary that does not use email please pass this message on.
Any notices, updates or announcements will be posted on Facebook and our Website.
Update
The Trustees have agree that, as a "Duty of Care" to our members we will be postponing all workshops/training meetings /events including Spring Council until April.
The Federation Office will be closed until April but communication can be made via email or telephone. No visitors to Alma House