Fed and Nat Competitions
Key Dates
Closing Date Nora Worth 20th February 2022
Closing Date Queen's Birthday Card Friday 25th February 2022
Closing Date Chairman's Challenge 18th March 2022
All details please scroll down
---
Chairman's Challenge for 2022
Design New Federation Cloth
At the Autumn Lunch I announced a challenge to all WIs - We require a new Federation Cloth for when we have Federation events. There are photos of the old one on the web page and also Facebook- it is the grey background with white embroidery on. Sadly, this cloth has gone missing but has provided the opportunity to replace it.
The colours, materials and textures are your individual WIs choices. A design plan with samples, sizes and colours will be judged and the winning design plan will be displayed at Spring Council in April. The winning WI will then replicate their design and produce the new cloth.
All entries will need to be at Alma House by Friday March 18th to enable them to be judged.
Heather Stoney
---
Great Yorkshire Show 2022
12-15 July 2022
In the January mailing you should find the schedule for this year's show. I hope this will inspire you to enter as the classes offer a wide variety of opportunities for members to participate in.
I know some members are disappointed there are no cookery classes, the reasons being to avoid the criticism received in previous years relating to food waste, not only from the public, but also our own members. Some of the other considerations were a 4-day show in warm conditions - how would the exhibits stand? Not knowing what Covid restrictions might be in place, our seating café area may need to be extended into part of the exhibition area, therefore the number of classes would need to be reduced It is easier to do this now, than to have to cancel classes nearer the show date.
So please look at what can be entered and " Have a Go", to show the public just how skilled you are.
Julie Clarke GYS Chairman
---
Nora Worth Competition 2021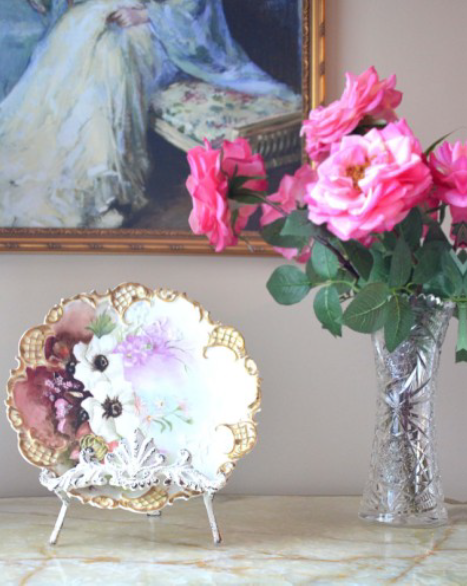 Theme for this year is Granny Chic

Create a piece for you or your home using something you no longer use.
Your exhibit will be judged on Design, Use of material and Creativity
Anything Goes - Google Granny Chic for Ideas Think chinz, frills 1950 to 1970
Your entry to arrive at Alma House by 20th February 2022 carefully labelled with your name and Institute.
The Winner will be presented with Norah's special award At Spring Council in Harrogate 2022
---
2021 National Competitions
Crafting with the Chelsea College of Arts

Are you passionate about art and design? Are you skilled in weave, print, knit, stitch or embroidery? Would you like to team up with some of the UKs most experimental textile designers to create work which brings together the craft, expertise and heritage of the WI with contemporary design? Chelsea College of Arts, in partnership with the NFWI, are looking for skilled and forward-thinking craftswomen of the WI to take part in a project with BA Textile Design students, that will encourage skill-sharing, communication and creativity.
All these documents will be available to download from My WI - you need to log in to My WI first using your email address(registered on MCS) - any issues please speak to your WI MCS Rep or email NYWFWI@btconnect.com then follow this link :
* Chelsea College Project Advert and Application
---
---
Elizabeth Bell Challenge 2021/2022

Running from January – December 2021, WIs are invited to compose a record demonstrating how their members have worked together to engage and support one-another throughout the year; offering opportunities that have united their members, as well as successfully marketing the WI to increase their membership. All members of the WI are encouraged to take part and contribute; from organising activities, photography, managing and writing the record(s), to designing and formatting the final entry. We want WIs to work together as a team and create a piece of work which proudly demonstrates the up's and down's of a year in the WI, as well a recognising the inspirational achievement made by all members that will go towards safeguarding another 100 years of the WI.

All these documents will be available to download from My WI:
* Elizabeth Bell Schedule and Entry Forms
---
Huxley Cup 2021
The design which won the 2021 competition which is a Rainbow Garden showng the full details of the process, research, planting and recycling and sustainability criteria can be downloaded here.
---
Queen's Birthday Card 2022
Cards created for the Queen's Birthday 2022, must incorporate a current WI campaign using watercolour techniques. The card must include an explanation of the campaign chosen; this can be either written or printed and must be on the back of the card.
The full guidelines can be downloaded here
---